This Rider Found the Connection, Community and Inspiration He Was Missing
March 20, 2017
o anyone going through a weight loss transformation or has in the past, SOUL is definitely the place to get connected," says Chicago rider RODNEY THILL, who's dropped an amazing 130 pounds. Here's his story…

I had heard about SoulCycle from a coworker but I went to my first class alone and sat in the back corner of the
OLTN studio
. I had gone through a weight loss transformation all by myself without attending a single group fitness class or having someone by my side. In total, I had lost 130 pounds within 6 months. While it was amazing to feel my healthiest, I felt so alone. Right when I walked into my first SOUL class, I could feel the energy and excitement. (It was a 6:30 AM class, too.)
Sitting alone in that corner, I was super-confused when I hopped out to 3rd and tried to ride to the music — I nearly toppled over with my feet still clipped into the bike! The second song involved "around the world" so you can only imagine how I did with that. However, when we reached the SOULful song, I felt like the room was one person (as cheesy as that sounds) and at that point, I knew that this is what fitness was about! Instead of being frustrated that I didn't get the moves right away, it inspired me to come back and get better every time.
I started doing a ride monthly, then bimonthly, then weekly! The energy, motivation, and music is what kept me coming back. Since I lost the weight, fitness had become an obsession but with SOUL, it helped me accept it as part of my lifestyle. The music is one of my favorite parts about each ride. I find myself in stores or restaurants hearing a song and imagining if it would be a hill song or sprint (is that weird?).
SOUL has impacted the way I look at my health and well being. Everyday, I try to take steps into making myself a better person and when I took my first ride, I knew that this would become part of my life. The full body workouts are conducive to my workout schedule. I pair one to two rides a week with lifting.
I really dig
Brent
's Throwback Thursday rides. They provide a fun way to hear songs from years back while enjoying the benefits of SoulCycle.
Naz
's rooster classes at 6:00 AM are a great way to get me energized for the weekend! Really, I have yet to clip into a class that I have not enjoyed. Sometimes I get so into the arms series that I stop listening to the instructors choreography and find myself a little disoriented. Doesn't help the rest of the class when I sit in the front row (oops). Not to mention, I am 6-foot-4 so sorry to anyone that sits behind me (#extendedbarsforlife).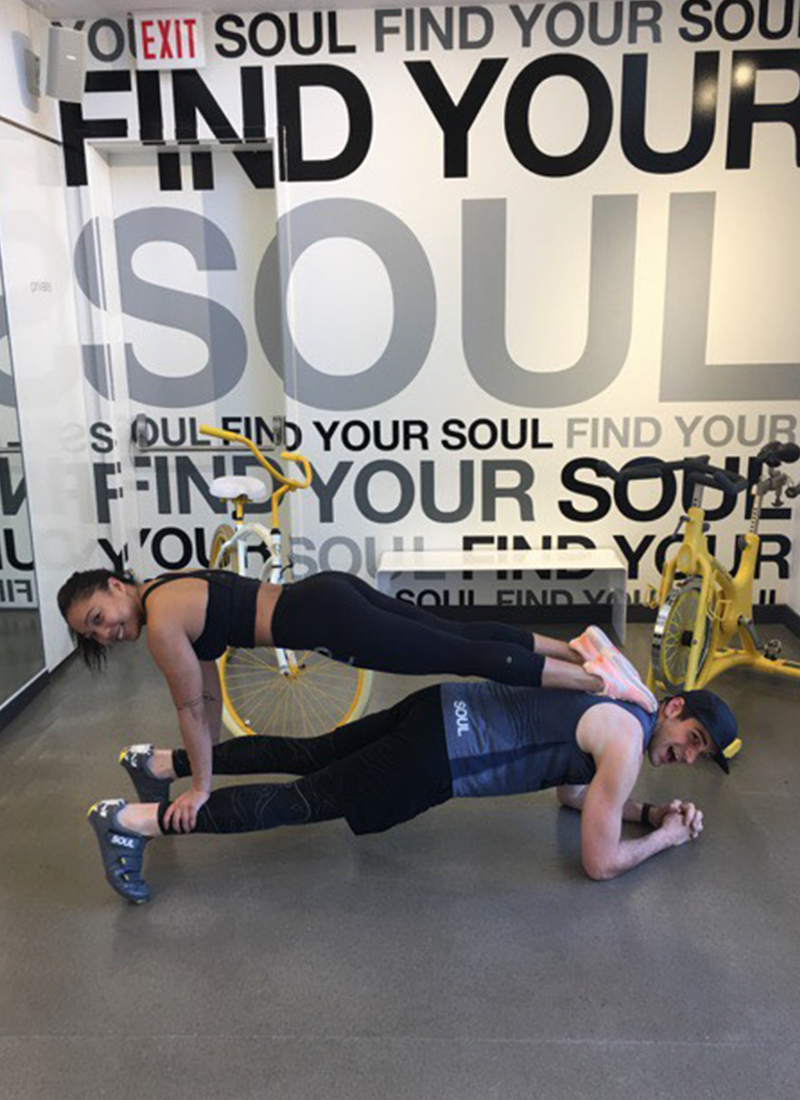 To anyone going through a weight loss transformation or has in the past, SOUL is definitely the place to get connected. The energy, music and health benefits amaze me each and every time. I finally maxed out my resistance last week at my 57th ride and probably got wayyyyyy too excited.
Do you have a Soul Story to share? Email SOULlife@soul-cycle.com! Want to ride? Click HERE to grab a series and book a bike.