"This is what SoulCycle is all about — community and encouragement": Abby Draper's Soul Story
January 18, 2016
Last fall, rockstar ABBY DRAPER pushed outside of her comfort zone in the studio by using five-pound weights. She shares how the pack helped her with her #SoulMission and inspired her on and off the bike…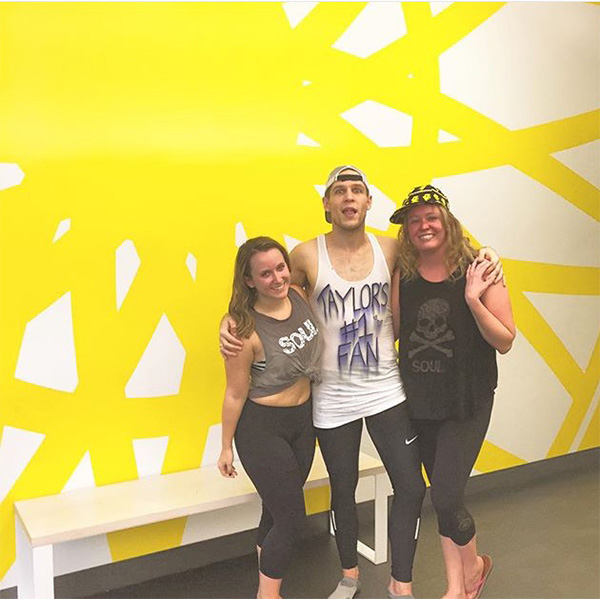 At the end of October, Beverly Hills assistant studio manager Janine (who is the best) asked me to write my Soul Mission on a yellow wheel. After a bit of thinking, I wrote that I was going to ride with ten different instructors during the month of November (shout-out to the incredible Ross, Chris C., Jenny C., Roarke, Edward, Lisa, Laurie and Michael V.)!
A few days later, my friend and I decided that we were going to take the 4:00 PM class in WeHo on Saturday's because, with our busy schedules, we hadn't been able to spend much time together — and because we love Chris, of course.
When we walked in, the front row, where we usually sit, didn't offer two bikes next to each other so we opted for side-bar, which is unusual for us. While we were setting up our bikes and laughing about how odd it felt on the side, we also debated if we should use five-pound weights to really keep things interesting. Veronica, another incredible person from the WeHo front desk overheard this and said, "I love that idea; you guys should do it!" As she exchanged our weights, Chris noticed and made it a point to congratulate us for moving outside of our comfort zone.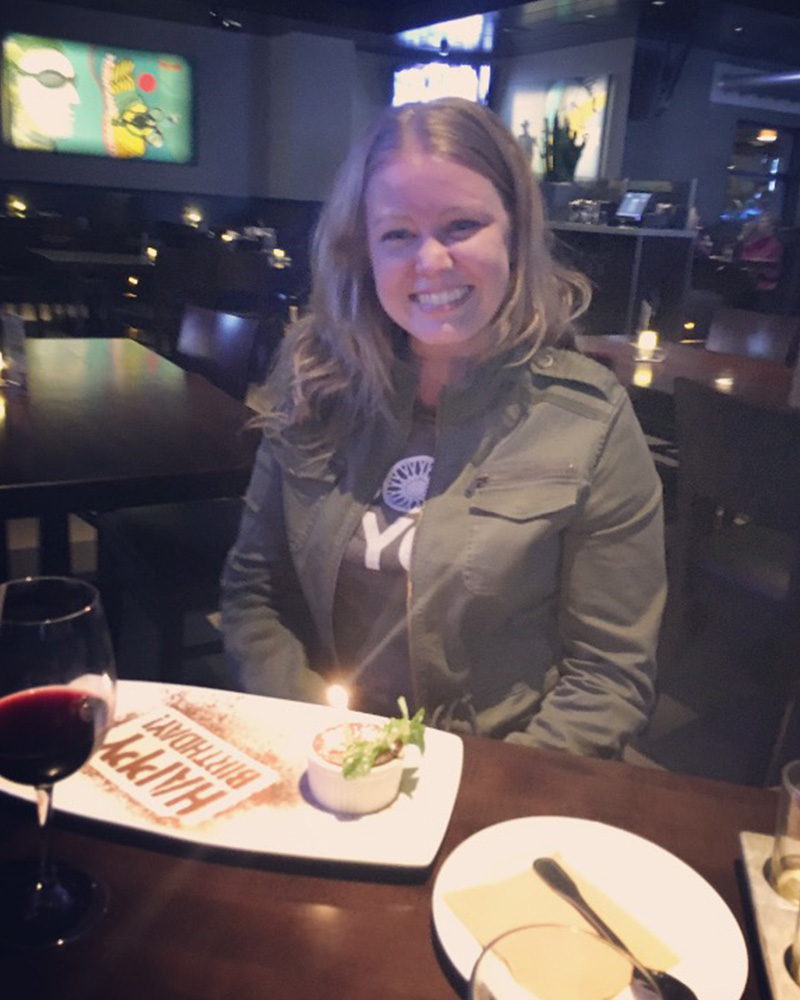 That first week with five-pound weights was tough. Actually, if I'm being honest, none of them have been easy. But it felt great. As class finished and we had our photo taken, we decided that not only were we going to ride at four each week, but that we were going to keep our side-bar bikes and make "Five Pound Saturday's" a routine. When we shared this with Chris, he was supportive, encouraging and wanted to join our new venture.
After the second week of "Five Pound Saturday's" we added the weekly post-Soul dinner, and now the three of us pick a place close to the studio to catch up on our weeks after class.
The third week was a Kanye West theme ride, which was very exciting for my friend and I, as there really isn't anything better than riding to a good rap song, let alone an entire rap playlist. To further celebrate "Five Pound Saturday's" my friend and I also bought tanks for this class that say, "Uh Huh Honey" and Kanye West hats. We wore the tanks through the entire class and during weights, we added the hats. It was a lot of fun to say the least.
This week, our fourth week, we were greeted by the incredible front desk staff (Jenna, Veronica and Madison are the usual Saturday afternoon crew and you couldn't ask for a better group) who have come to know about "Five Pound Saturday's" and greeted us with enthusiasm about how we've continued this.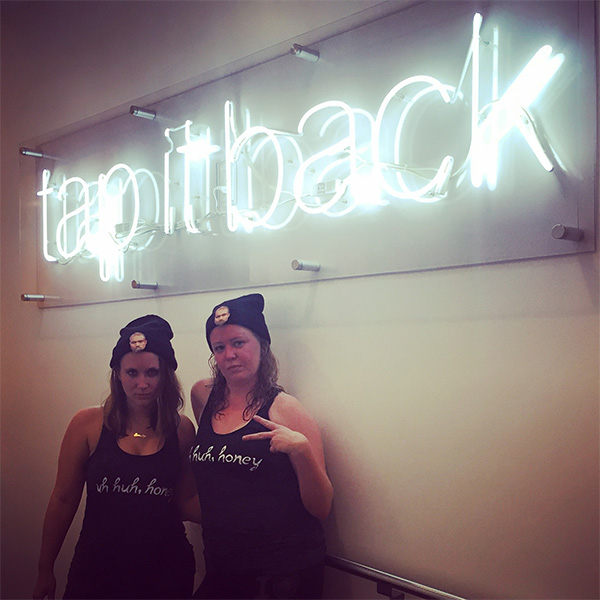 As we were setting up for class, Chris did his usual charming welcome and surprised the room by sharing this new tradition and encouraged the rest of the riders to follow suite by using five pound weights. Immediately, the riders in the room unclipped to upgrade to five-pound weights for this ride. It was incredibly touching.
When we got to the arm series, Chris decided that, to further extend the community, we were not only going to use five-pound weights, but we were also going to follow him and each other through the series in a different capacity — he wasn't going to speak, but instead he was going to lead the series by having us watch him for cues. During the series as I looked around the room at the riders who smiled through the pain I got choked up. This is what SoulCycle is all about — community and encouragement.
We got through the arm series and during the last song, Chris' mic went out. This may sound like a hiccup but it only made the class that much more special. Chris told us that he would take us home using cues from the lights. Any time he turned them up, it was time for us to sprint out of the saddle. The room, high on the energy from weights, did a beautiful job of following each other's lead and we went home with a vengeance.
When class was over, we gathered to take a group photo and every rider congratulated one another and expressed their excitement to come back next Saturday and do it again.
It was a special night, to say the least and as my friend, Chris and I gathered for our post-soul dinner, we all shared the same sentiment – "Five Pound Saturday's" are a new thing and we all can't wait to see who will join us moving forward.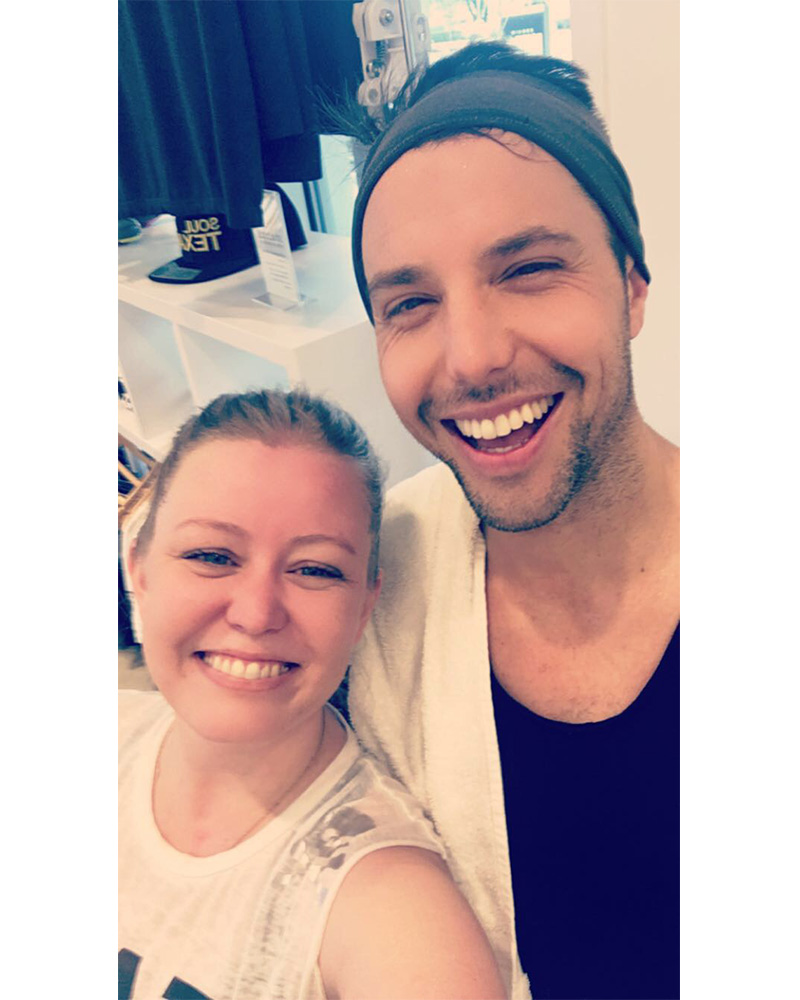 After wrapping up my Soul Mission, I was (and am!) so honored and humbled by all of the SoCal instructors and riders who are always willing to join and support in new challenges in and outside of the studio. If you're in LA, we would love to have you with us for the next Five Pound Saturday!
Have a Soul Story to share? Email blog@soul-cycle.com! Want to ride? Grab a series HERE and book a bike!
• Featured image: Abby Draper (right) with instructor Chris C. and friend.
MORE FROM SOUL