'This Is Time I Dedicate to Myself': Soul Scholar D'Asia on Her SOULful Senior Year
January 14, 2016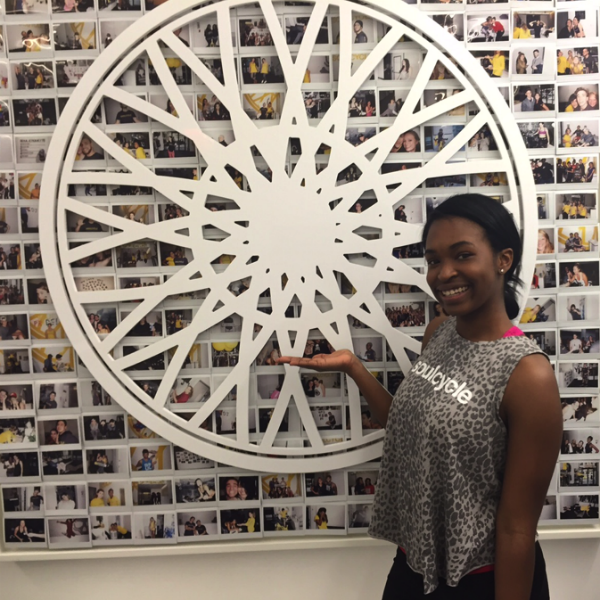 I used to work out regularly, but then I stopped because I got really busy at school. I'm on a premed track. SoulCycle makes me feel better, because it helps me relax. Even though I still have a busy schedule, this is time I dedicate to myself. SoulCycle helps me relieve stress and tension from a long, busy day.
For my first class, I was very excited, but I remember being tired and very sweaty. In my head, I was like, 'Wow, this is only one class. Imagine how I'm going to feel as I progress more and more. It's going to get even more challenging!'
I really like Rachel W. She's very motivating and down to earth, and she always checks up on us to ask us how weren't doing, to ask if we're okay. I admire her. In class, she always says, "Oh, I got you, I got you." It makes me think that even when I feel like giving up, even if I'm having a hard day, she'll be there. She's welcoming. She's very understanding, and that matters. Hearing "I got you" helps me even after class to push myself in everything I do.
I've learned things off the bike, too. Nutrition class was very interesting. I learned a lot about certain foods I used to think were healthy. Things like Vitamin Water and Gatorade have a lot of sugar. I never knew that! Job class was also really helpful. I learned how to present myself for a job interview, what types of questions employers usually ask and what they look for.
Looking ahead, I want to be able to work out with three-pound weights without being tired, to do that without wanting to give up. And to keep the beat of the songs as I ride – I want to better at pacing myself. I love when Rachel plays "Countdown" by Beyonce; I feel like I'm marching to the beat on that one!
My overall goals this year are to aim high, get all A's, and be happy and even more successful. I'm leaving high school and starting college, and I'm excited for what's next.
I used to tell myself, 'I'm too tired, I can't do it.' My mindset has changed.Now, I'm all, 'you can do it, you can do it!' I've found myself. This past Monday's class changed everything for me. It was the start of a new year and I just finished turning in about 90% of my college applications. I felt like it was the start of a new chapter for me. Now, when I'm on the bike, it's more positive thoughts coming in about college and graduation coming up.
If you've never tried SoulCycle before, I'd say go for it even if you think you're not an athlete or if you think you're going to be tired. Even if it's just one class, just try it out. Do it. This is something everyone should do before they die. SoulCycle should be on everyone's bucket list! Try out it because it's really fun. That's the most important part – it's just about having fun on a bike.
For more info on SoulScholarship, email soulscholarship@soul-cycle.com and visit the SoulScholarship Facebook page. Questions or comments? Email blog@soul-cycle.com! Want to ride? grab a series HERE then book a bike!
MORE FROM SOUL
Elizabeth and Julie Talk SoulScholarships
Ronne and Chavion's Soul Journey
'I'm Emotionally and Physically More Confident': Maria's SoulScholarship Story
Inside Our SoulScholarship Program