The Cause That Keeps Michaela Jones Clipping In
October 11, 2016
hen two people close to her were diagnosed with multiple sclerosis, MICHAELA JONES decided to do something about it. She shares how she's riding toward change, one pedal stroke at a time…

You have two very personal connections to multiple sclerosis (MS). Tell us about them.
When I first started dating my boyfriend a few years ago and he told me his mother had primary progressive multiple sclerosis, I didn't know what to expect. Being in the health care field, I know primary progressive MS is the rarest, most rapidly worsening form of the disease and very little is known about how to treat it or even slow down the progression. I have never known anyone personally with the condition. Then, I met her -- a strong, amazing woman who is resilient despite the challenges posed by the disease.
And then, just last year, one of my best friends was diagnosed with MS. It came as a complete shock that someone I knew so well could go from feeling totally healthy to being diagnosed with a potentially debilitating condition. While fortunately, my friend is doing well, I knew I had to do something to show my support for her, my boyfriend's mom and for everyone else who suffers from MS.
How did you first hear about the Bike MS event?
I first learned about Bike MS when researching organizations that raise funds and awareness for multiple sclerosis. I was trying to search for ways to get involved, but when I came across the Bike MS event, I knew I had to participate. It was perfect, as it incorporates my love for cycling with MS outreach.
The rides are held across the country and vary from 15 to 150 miles, and some take place over a series of days. My boyfriend (though not an avid cycler like I am) is taking on the challenge with me too! We're riding in the 30-mile New York City race on October 23, 2016.
Love it. How are you training for the big day?
At SOUL! I first discovered SoulCycle around four years ago when I graduated from college and moved to Manhattan. My sister took me to a class within the first couple days after I got to New York, telling me I "had to try it." While I always try to keep a consistent exercise routine, I am the last person to say that working out comes easily to me. But when I tried SoulCycle, it felt less like a class and more like an experience. I loved it.
So, how's training going?
Training for my Bike MS event at SOUL felt like a plan I could commit too. It feels like I am doing something I want to do rather than have to, while also helping me gain stamina and keep my muscles strong for cycling so I'm prepared for the race. Given that the pace of the race will be much slower than the often fast pace of SoulCycle, I feel I am getting even more of an endurance kick with each class I take. I supplement SOUL with outdoor rides and other cardio.
My boyfriend and I (we are our own team) try to train together at least once a week if our work schedules allow it.
Do you have any mantras that keep you going?
One of my favorite mantras comes from my longtime friend and SoulCycle instructor Madeleine: "Don't wait for it to happen, make it happen." It essentially tells me every day that I can either be stuck wanting, wishing for or complaining about something, or I can take initiative and go for it. I can't just sit around and hope I will complete this race; I need to get up and work for it.
Has anything changed for you since you began riding at SOUL, physically or emotionally?
I have definitely learned that there are ways to feel good and be doing good for your body; you just have to find what that healthy kick is that makes you happy.
I used to dread forcing myself to go to the gym, but when I stopped forcing myself to do things just for the sake of being "healthy" and started investing in activities that I enjoy that are also good for me, I started to feel healthier and, in turn, better about myself.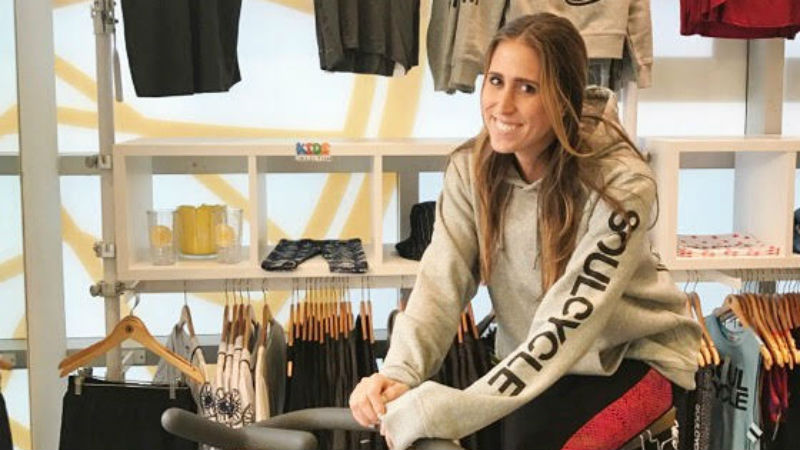 Tell us about your home studio. What does it mean to you?
While technically, my home studio is in Union Square, I often go to the studio on E83 since it's close to where I work and I can stop there on the way home. To me, my home studio means freedom. It means the day's work is over and it's time to let loose and enjoy a good ride.
How can people learn more about Bike MS and how they can help?
To learn more about Bike MS and how you can help, please check out my team's fundraising page. All proceeds are donated to the National MS Society. Thank you!