'Tenacity Saved Her Life': Jordan and Larry Vincent's SOUL Story
May 7, 2015
JORDAN VINCENT, 16, is a SOUL legend. She's been battling brain tumors for 12 years, but her tenacious strength and indomitable spirit led her dad, LARRY, to bring her to SoulCycle Santa Monica for a very special ride last Saturday. Now we're incredibly honored to share Larry's beautiful and inspiring Soul Story…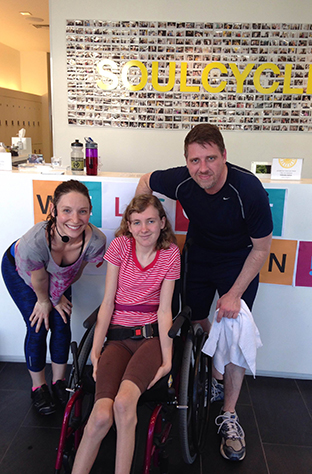 Jordan (center) with instructor Molly Schreiber (left) and dad Larry (right) at SoulCycle Santa Monica
I love what SoulCycle has done to me in only three months. I have had a perennial distaste for exercise. I'm now going to class three, four, even five times a week. At 46 years old, this is the first time I've ever felt positive and excited about fitness. As proof, you motivated me to throw workout clothes into my travel bag on my last NY trip. That never happens! And I not only packed them, I got up at 6:00 AM, braved winter weather for a few blocks and got my soul on NYC style before closing a deal for work three hours later. This is the most empowering exercise regimen I've ever come across. And for that I thank you.
In many ways, I'm sure my SoulCycle story is not that much different from so many other riders who moved from the couch to the saddle. There's truly a magic to the experience and the brand. But I want to share how SoulCycle has played an extraordinary part in the life of my family.
My 16-year-old daughter Jordan is a cancer fighter. She's been battling brain tumors for about 12 years. She's doing well. The tumors are stable, but she deals with the after-effects every day. Sadly, one of those after-effects is severe neuropathy in her legs. She uses a wheelchair to get around most of the time. This was a girl who once danced. Now, she crawls a lot. But she inspires a lot of people because none of these setbacks have sapped her will. She has a beautiful can-do spirit—and she's tenacious.
My sister Lisa jokes that Jordan would make an excellent salesperson because she is a closer. She follows up. She pushes you to specifics. Here's an example. You might suggest that you and Jordan go out for ice cream one day. She's going to ask, "When?" You might say, "I'm not sure. Maybe next week." She's going to come back with, "how about Tuesday?" If you are skillful enough to dodge a commitment right there and then, you can be sure that she will raise the subject again after a short period of time has passed. Once something is in her head, she will not let up.
This lovable and often frustrating character trait has led my wife, Jeanette, and I to be very careful what we suggest. We couch phrases with, "Now, I'm not promising this is going to happen, but…" to insure against the nagging that is certain to come to us in order to exact a promise. Jordan is always closing. Truthfully, it is part of her magic. The tenacity has often saved her life. When she's channeling that focus and follow-through, she's nearly invincible.
Such was my predicament about a month ago. Jordan and I were sitting in the living room watching television together. We were discussing plans for breakfast over the weekend. She offered to get up at 7:00 AM and I said, "that's too early. I'll still be at SoulCycle." Her raised eyebrow was the beginning of my fate and the impetus for a remarkable day last Saturday.
"Maybe I could go with you to your new gym, Dad."
"I don't think that would work, honey."
"Why not? When I was little you took me to the gym."
She was right. When she was very little, during one of my many short-lived flings with a gym, I enrolled in one that had a daycare center. Once or twice I took Jordan along with me and checked her into daycare while I worked out. I tried to explain this to her but I quickly butted up against an ugly reality: SoulCycle is an intense workout.
While I have seen other parents bring their teenage daughters to a SoulCycle class, there was no way that I could bring Jordan. Jordan has a seizure disorder. I worried that I would have a hard time tending to her if she had a seizure episode in the middle of a packed class. And then there's the fact that her legs are simply not strong enough to do the workout. I really didn't want to tell her this. I hate it when I have to remind her of her limitations. But I did tell her.
She said, "Oh," and then got very quiet. I felt an inch tall and pregnant with guilt. That's what drove me to make my next statement.
"Maybe I could call the studio and see if we could stop by one day when they don't have any classes going on. I could show you the studio and the bikes we use."
Her face lit up instantly and she said, "I think that would be a good idea!" And then, like clockwork, she followed up with, "When do you think we could do that, Dad?"
I brushed her off, but she raised the topic again that day… and the next. So, I wrote an email to the general inquiry address on the SoulCycle website. I explained my situation and made the request to visit the studio during the downtime. When Jordan asked me the next time, I could legitimately say, "I sent them an email." This satisfied her momentarily. Then came the multiple questions about whether or not SoulCycle responded. It was still the weekend. I told her it would take awhile.
It didn't.
I got a response first thing Monday morning. The New York headquarters team had already reached out to my local studio. They said they wanted to do more than just open the doors for Jordan. They wanted her to experience the ride. 24 hours later, they'd concocted a plan and enlisted the service my favorite instructor, Molly Schreiber. Jordan was invited in to do a 15-minute ride with the our friends, family and the SOUL staff.
The big question for me was the ride. I know my daughter and I knew that she would want to climb on that bike. But I wasn't certain she could … or even if it was a good idea. We'd be pushing Jordan by getting her on the bike. And the environment would be tricky. It would be hard to hear her if she felt a seizure coming. I kept thinking the best place for her might be in her wheelchair, observing. But I knew deep down she would never settle for that.
We arrived at 3:00 PM to find a throng of people in the lobby. The studio made a big sign that said "Welcome, Jordan." We greeted everyone and then Jordan met Molly, my favorite instructor.
I'm a rooster and I started taking Molly's 6:00 AM classes about two weeks after my very first ride. I'd gone through two or three other instructors by that point and, while I liked them well enough, my first class with Molly changed my relationship with the workout and the brand. It's no surprise that her classes are almost always full. She has the power to rally so much energy in a room. She's tough but fun. She takes all the pretense out of the workout, encouraging riders to say hello to one another, to challenge yourself because that's really all that matters, and to never lose sight of the fact that "we're just dancing on bikes."
In her classes, Molly achieved something I never thought possible. She made me want to come back. I'd leave the studio drenched in sweat and out of breath, but feeling really good. Feeling happy. Maybe this was that endorphin rush everybody kept talking about. I didn't know. I just wanted to do it again. I've actually caught myself smiling during her workouts. Insanity!
I was eager for Jordan to meet Molly. But you never know what to expect with J. She can sometimes come across as aloof, usually when there's a lot to process. She was a little reserved as Molly shook her hand, but that didn't matter because the next words out of Molly's mouth were, "You want to see where your Dad's been going?" Jordan said yes and we were wheeling her into the studio. It was perfect. The lights were out. The candles were lit. All the bikes were staged and ready to go. The folks at SoulCycle even decorated them with little glow-in-the-dark bracelets.
As I suspected, Jordan wanted to get on the bike, and Molly encouraged her. So I helped her get into some cycling shoes while Molly got a bike setup. Meanwhile, our friends and the SoulCycle staff filtered into the room taking up positions on bikes to the left and right.
Time moved so quickly. Before I could quite process it all I was on a bike to the left of Jordan. She was pedaling. She was riding! Molly cued up some Nick Jonas (a very nice touch) and started leading a ride just like it was any other class. And there was no mercy. It didn't matter that I'd taken a full class earlier in the day with her. Molly singled me out and asked Jordan if her dad should turn up the resistance and push harder. Jordan nodded, of course.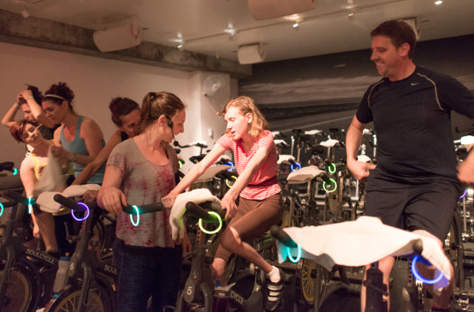 Though it was only a 15-minute class, it was a whole SoulCycle experience and just as challenging as the 45-minute version. It was actually more so for me because I was nervous about how Jordan was doing. In the moment, all of my attention was on the girl. It was only in reflection, about an hour later, that I truly appreciated how spectacular and special this experience was. I rode next to my daughter in a SoulCycle class! I rode with her, surrounded by friends, and supported by a beautiful community of people.
To be completely candid, my stomach was doing somersaults an hour before the class. Though my wife and I have always been public about
Jordan's Journey
this was somehow different. In class, you have to let your guard down and focus on the physical challenge. You're reminded by the instructors to offload all the worries and distractions waiting outside in the world. They tell you that this is your time. It's intimate. It's the reason why classes bond together. It's why the room is dark. It's why we form that close relationship of trust with the instructor.
For the past three months I've attended class as a relative stranger. I sit toward the back, where I won't be a distraction. I don't have allusions that I'm a good rider. I'm working on it, trying to build up strength, but I know I have a long way to go.
Now, things have changed. I'm not really a stranger anymore. I've let my studio into my life. What they did is profound evidence that I'm in good hands. But I am now also accountable. I have to push myself and keep up what I've started. I have to do it for all of them, for Jordan and for myself. That's kind of scary. And kind of great.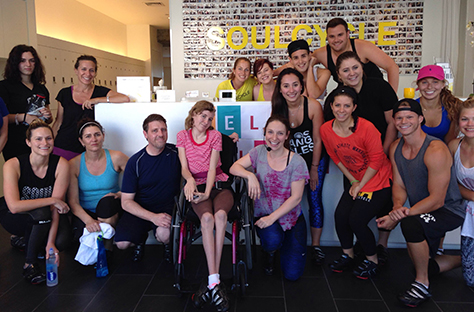 While she might have been cool and coy at the studio that day, Jordan talked about the class constantly until we said goodnight. She worked up quite an appetite, too, wolfing down a well-earned steak a couple of hours later as she and her mother and I reminisced on how powerful the day had been. We've been blessed by many emotional steps on these dozen years with cancer. Riding SoulCycle with Jordan is now one of my fondest memories.
I am proud to be part of the SoulCycle community and very grateful for the kind, generous and absolutely selfless proof they provided that people are good, and no matter how much adversity we may face we can find hope when we ride together.
You can follow more of Jordan's Journey HERE.
Do you have a Soul Story to share? Email blog@soul-cycle.com!