Sydney's Healthy Resolution
January 15, 2015
Did you make a New Year's resolution? NYC instructor SYDNEY MILLER did, vowing to ditch her diet soda habit. Now halfway through January, she talks about what inspired her decision, how she's handling it, and why her cravings have fizzled…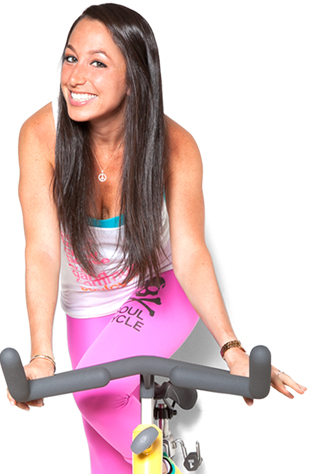 Tell us about your New Year's resolution.
My New Year's resolution this year was to give up diet soda and go au naturel in the beverage department.
Why did you decide to give it up?
Before a few weeks ago, I would have three cans of diet soda on a typical day (sometimes more). There has always been tons of bad press surrounding diet soda and all of the negative long term health affects, but every time I found myself motivated to cut back and drink less, I always ended up back where I started.
What changed?
I had a terrible stomach virus right before the holidays and it took a few days to get my body back to food, fluids, etc. Not only could I not drink diet Pepsi but I didn't want it. I was drinking a ton of water and each day that went by I felt more like "maybe I could really do this." We were promoting #decisthenewjan here at SoulCycle and rather than wait to get started on a resolution, I decided that from there on out I was done with diet soda. I haven't had one ever since!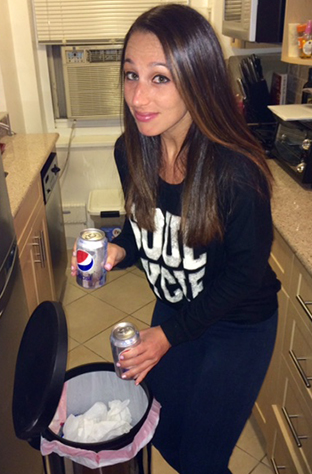 And how do you feel?
I've felt great! Cutting out diet soda has caused me to replace it with a ton of water. I am much more hydrated, my skin already feels better, and I feel less bloated (most of the time).
What's been the hardest part?
The hardest part is choosing not to drink a diet soda at dinner when I'm at a restaurant or out at the movies. Habits are extremely hard to break, no matter what they are,
and I am working toward making water and ice tea my new habit when I'm out.
What's kept you on track?
As with any "addiction," having just one can set you back completely. I have come so far in such a short amount of time and I know that as I continue to stick to my new habits, it will become totally natural.
Are you going to reward yourself if you give it up for good?
I think the reward is just living a healthier lifestyle and feeling better every day. I preach all the time in my classes about how making change can be uncomfortable but we have to break through to see the results we seek — now I'm taking my own advice.
Awesome. Anything you want to add?
Yes. If you're with me and I want to have a diet soda, please remind me that I publicly stated on the Internet that I am sticking to this one!
Catch classes with Sydney at Soul 19th Street and Soul Union Square! Questions or comments? Email blog@soul-cycle.com!