Stephanie Pearl's Tips for Pregnant Riders
October 7, 2015
Instructor STEPHANIE PEARL is expecting a little rockstar! Boy or girl? Before she gives birth this winter, she reveals her baby's gender — and shares her top tips for tapping it back with a tot on the way…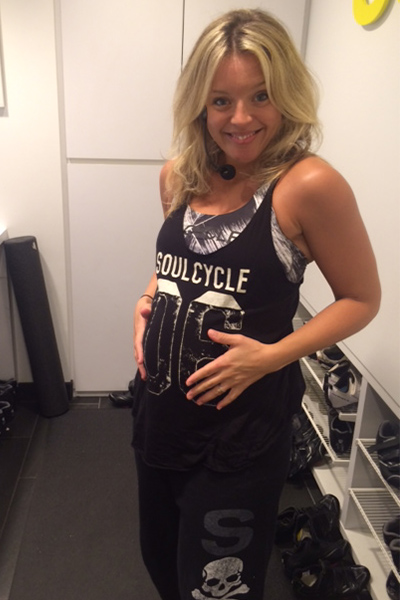 As I tap it back straight into my third trimester (and yep, still rocking that podium!), I want to share a few tips that have kept me and my growing belly feeling great, staying healthy and strong — both on and off the bike!!
KEEP DOING YOUR THING…
If your thing is SoulCycle and it's something you and your doctor feel good about, you don't need to stop just because you're pregnant! As long as exercise has been a part of your life leading up to your pregnancy, there is no reason to change up a healthy, positive part of your life. (Of course, get your doctor's OK!) Pregnancy is a natural part of life — not a disability! Continuing your routine as naturally as possible will only help you! Sure, there will be days when fatigue or morning sickness make it tough but sticking with the things you love will keep you happy and stress-free — which is one of the best things you can do for you and your baby's health.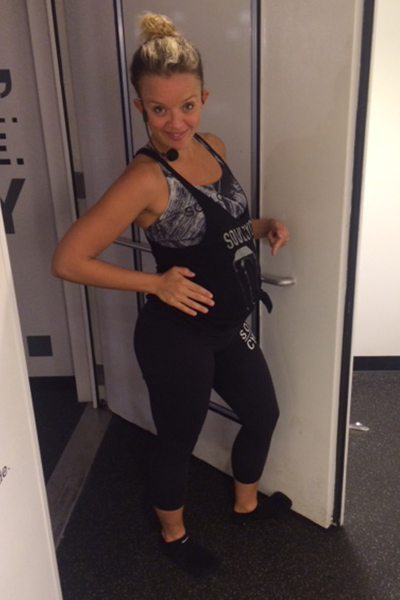 … WITH SOME ADJUSTMENTS
Your growing belly doesn't need to be a signal to quit, but it might be time to consider some adjustments. The most important thing: Listen to your body. I know, I know, what does that mean? Well, you ride as you normally would and if you don't feel well, make a change. Pay attention to your breath: Are you feeling breathless? Pay attention to your temperature: Are you feeling too hot? Are you getting tired? Maybe turn the resistance to the left and let your legs roll out in the saddle. Your body is designed for this so trust it, it will tell you what you need.
GO EASY ON YOURSELF
This is not the time for competition and ego! If you need to take it easy, it's all good! Maybe you don't do every run out of the saddle or you back off those core crunches on the back bar. I have classes where I can ride the whole time and others in which my body tells me to hop off for a few minutes, hydrate and reset. This can be tough for you front row warriors (and us instructors) but remember this is temporary and doesn't mean you're not working hard....you will be back in no time! Don't forget: Your work on the bike is not the only physical activity going on in your body. Creating a life is an incredibly demanding physical feat that requires a ton of effort. Believe me, you ARE working! Own that bump and no matter how much you are up for that day, walk into that studio like you own the place! You are still getting a badass workout and just being there is enough!
GIVE YOURSELF EXTRA CARE
Pregnancy intensifies everything when it comes to your body, which makes body work and body care not only feel amazing but become essential. Massages, stretching, foam rolling, prenatal yoga (my new obsession), additional light strength training, meditation, and always more stretching. Let's be honest: These are all things we could do more of whether pregnant or not!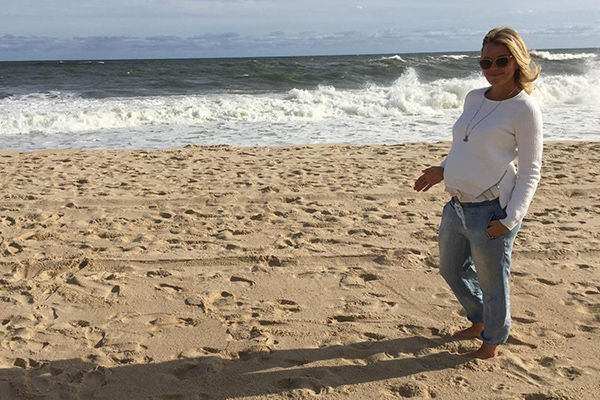 NOURISH AND HYDRATE
This is something we should always be doing but it's WAY more important while pregnant. Aside from the work your body is doing while prepping or recovering from your workouts, your body is constantly busy 24/7 creating something major so it needs a little extra sustenance!
* I usually drink a bottle of water before class, one to two during class (there are always two on my bike) and then both a water and a coconut water after class.
* I always have a snack before class - usually Ezekiel bread with almond butter or some cereal with blueberries if it's in the morning. Later in the day, I might have an apple or banana with some nut butter and wheat crackers.
* After class I make sure to have a meal and not just a tasty smoothie! My favorites are eggs and avocado on toast, a big salad with protein, or wheat pasta with veggies and turkey meatballs and, yes, pizza when I feel like it.
* Throughout the rest of the day, I have more fluids — I also add an electrolyte-enhanced beverage like nuun or Emergen-C and more snacks! Fruits, cheese, nuts, and smoothies are all staples.
* Treats are essential, too: Baby has absolutely given me a sweet tooth so the daily dose of dark chocolate or an oatmeal or peanut butter cookie has been pretty necessary.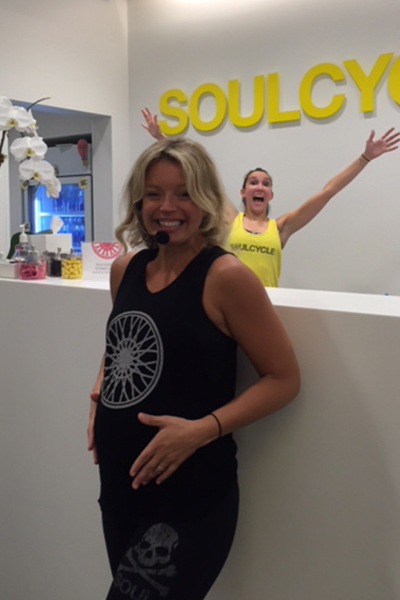 SLEEP
My daily naps are everything. Sleeping through the night is tough these days so making up a little time is crucial. Not only do I need it for rest and recovery but also for saving up for when those precious hours are a little harder to make happen!
Questions or comments? Email blog@soul-cycle.com!
MORE FROM SOUL