SoulScholarship Story: Tyler Simon
December 10, 2015
In 2015, SoulCycle officially launched its SoulScholarship program, which gives New York City students the opportunity to ride regularly at SoulCycle and attend seminars about everything from healthy eating to career preparation. We talked to SoulScholar TYLER SIMON about how tapping it back with the pack has impacted her life...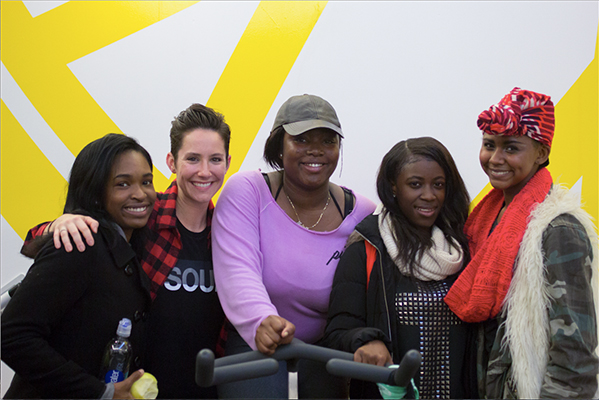 My name is Tyler Simon, and I attend The Urban Assembly Institute of Math and Science for Young Women in Brooklyn. I am in Phase One of the SoulScholarship program in partnership with the Carrera Program at the Children's Aid Society.
Before I started participating in SoulScholarship, I hadn't really prioritized fitness or a healthy lifestyle. I always wanted to, but I just never thought I had the time. I used to hate working out, on top of that. I had a gym membership, but I would barely go. Ever since I started riding at SoulCycle, though, I look forward to working out. I love it, and I am really committed. I haven't even missed a class.
With the help of the program, I've learned so much more about eating healthy. I've been really trying to incorporate that into my daily life by buying organic things from Trader Joe's, and making a juice or smoothie every day.
We've been riding regularly with instructor Rachel Warren in Brooklyn Heights. I was so scared for my first class! I thought I wouldn't be able to keep up, and I put myself all the way in the back of the class so I wouldn't be seen. I was scared everyone else would be so advanced.
The music kept me going, though. It was the most important thing for me personally in the class, and I loved it. I sang along, and that's what got me through that class and all the other classes. My favorite song she's played so far has been "When Dove's Cry" by Prince (I'm a huge Prince fan). I don't know why, but that has been my favorite song that I've heard.
SoulScholarship has helped me set a lot of goals for myself. Fitness-wise I definitely want to become healthier and keep up with the class. I can keep up now, but I feel like I could get better and improve more with keeping my resistance up. I also want to lose weight and become more fit and healthy overall.
I love the whole SoulScholarship program, and I'm really grateful that it led me to SoulCycle. I tell everyone I know that they need to try it, because this is the best thing that's ever happened to me. People have this expectation of indoor cycling, but it's different, and I want to influence people to come because it's so special. I love it!
• Featured Image: Tyler (center) with instructor Rachel Warren (left of center) and friends
For more info on SoulScholarship, email soulscholarship@soul-cycle.com and visit the SoulScholarship Facebook Page.

Questions or comments? Email blog@soul-cycle.com!

Want to ride? Grab a series HERE and book a bike!
MORE FROM SOUL