'SoulCycle put me back in touch with myself': Davina Adjani's Soul Story
January 20, 2016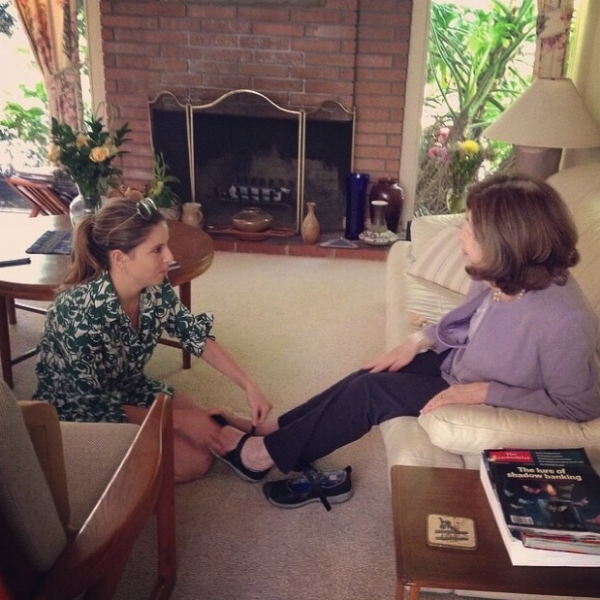 I was born with a hole in my heart. Doctors told my parents I likely wouldn't survive, yet here I am, a 26-year-old living in Los Angeles, living to tell the tale of how that scar across my chest is more than just a line; it's my medal. But I didn't always see it that way.
I weighed just six pounds when I was six months old and was unable to gain weight (a problem I no longer have!). My mother took me to a doctor who told her I was completely fine, but intuition led her to take me to someone else. The second doctor informed her that not only was I quite ill, but I needed to have surgery in order to live. My parents were instructed to feed me with a bird feeder every hour and take note of any ounces I gained in a little checkbook. Nurses were at the house around the clock as well as housekeepers, since any bacteria could kill me. On May 3, 1990, during a grueling nine-hour surgery, I was given a little patch over my heart for the muscle to grow over.
As I grew older and my heart grew stronger, I became especially close to my grandmother, my Oma. We shared an incredible bond. We always knew when the other would call, shared a love for doing absurd dance moves in grocery store aisles, and sported matching hair and eyes. It's as if we were the same person. We were also both survivors; while I was born with a hidden heart defect, my Oma was hidden from the Nazis in Holland during World War II. She taught me to never take life for granted.
Then, in 2014, my heart threatened to break anew: My grandmother was diagnosed with pancreatic cancer. She would tell visitors, "I'm not accepting my sentence... Davina wasn't supposed to make it, but here she is," before turning to me and giving me a rub on the back.
I took my first SoulCycle class at the
Marin studio
with my mother in October 2014, shortly after Oma's death. I was rather hesitant at first, but couldn't say no to my grieving mother. As we did tap back push-ups on the bars together, I could feel the amethyst I had just inherited from my grandmother – the necklace I had never seen her take off – hitting my collarbone. When I looked down, the pendant and the beginning of my scar were all I could see. Then, the instructor told us to think of something we were trying to overcome, reminding us that our time on the bike is a moment in our lives when we can connect to our inner strength. "Halo" by Beyoncé started playing, and I felt like I had reached the ending credits of a movie. I was finally at peace with the fact that although my grandmother was no longer physically with me, I had not only inherited her strength, but had had it with me all along. Her strength is what I believe enabled me to survive open-heart surgery when everyone else had given me a death sentence.
I know that SoulCycle is a source of strength for many attendees. It goes way beyond burning calories and attempting to get Giselle's body. What the instructors try to remind us and what we constantly need to remind ourselves of is that our work on the bike reacquaints us with our strength and shows us that we are a lot tougher than we think we are. Of course a class is an opportunity to display our physical strength, but we walk out feeling renewed because in that studio, we realize we can endure more than we ever assumed.
The scars we carry – both physical and emotional – are evidence that despite the obstacles that have presented themselves to us, we can survive and even thrive.
SoulCycle put me back in touch with myself. It reminded me that I can handle a lot more than I thought I ever could. So, put a little extra resistance on the wheel on that next "mountain" and go for the two-pound weights instead of the one-pounders in your next class. Because the heaviest thing you've already had to carry is off your shoulders. The strength you need is within you, and it has been all along.
Do you have a Soul Story to share? Email blog@soul-cycle.com! Want to ride at SOUL? Grab a series HERE then book a bike!
MORE FROM SOUL: