How SoulCycle Helped One Amazing Rider Pass The Bar Exam
November 30, 2017
ashington, D.C. rider LINDSAY BUCHANAN recently crushed the bar exam, and with a little help from SOUL. Read her inspiring story, ahead!
When I started riding at SOUL, I never thought that it would revitalize my spirit in the way that it has. This community has helped me change my life and has helped me work through some of the most difficult challenges I've ever had to overcome.
When I took my first steps into a SoulCycle studio in May 2016, I was about to start my third and final year of law school, and my self-confidence was at an all-time low. Due to the stress of school, I had stopped exercising — something that I had always loved — and was not taking care of myself. I felt like my life had fallen into complete chaos. I wanted to make a change and take an exercise class, but SoulCycle had always seemed out of reach for me. I had made so many unfounded excuses about why I shouldn't or wouldn't be able to go to a class: I always felt that I wasn't fit enough, cool enough, or "enough" enough to join the pack or keep up with the choreography. I feared that others would judge me.
Despite all this negative self-talk, one day — as if by some divine intervention — I decided to take the plunge and booked my first class with KATHLEEN. My first 45 minutes in that room were transformative. The energy in that space was so positive and supportive. I escaped into myself and felt comfortable there for the first time in a long time. I was hooked.
Over the next few months, whenever I felt stressed about a reading assignment or needed to release any anxiety about an upcoming assignment or exam, I ran to my happy place at MTVN. Whether I rode with NATALIA before my Constitutional Law classes on Wednesdays and Fridays, or with JARED in between library visits on Saturdays, I always left the studio with a greater sense of sanity. Monday and Wednesday nights riding with KATE C. became my saving grace. Kate became an important person in my life — she was always there with a kind word or a much-needed laugh, she listened to my worries and kept up with the important steps on my journey, often asking questions like, "How'd that presentation go?" or "Have we heard back about that exam yet?" My friends at the front desk, like Simone, were also always there to cheer me on.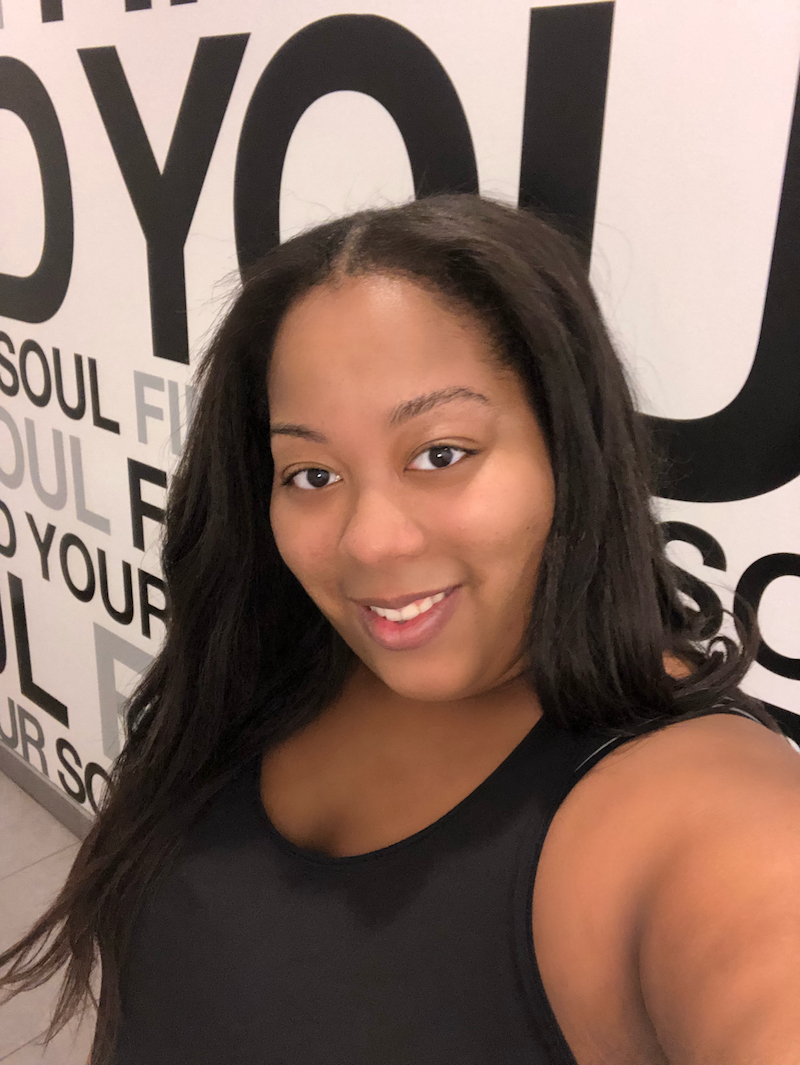 After law school graduation, I moved home to Texas for two months to study for the bar exam. I started putting in 10-hour days of studying, seven days a week. I soon found that I needed some time to unwind from the pressure of undertaking this huge goal, and started riding three or four times a week at ROTX in order to destress after hitting the books all day. PINIJ's out-of-this-world energy and crazy theme ride outfits always kept me laughing and smiling. Rides with CATIE CHANG (my absolute music twin!) kept me grounded and ready to tackle anything that the day had in store for me. CAT G., who had also taken the bar exam a couple years before, not only gave me testing tips, but also led some of the most fun rides I've ever been in. Often, as I flipped through my bar review flashcards waiting for the studio doors to open, fellow riders who were already barred attorneys would give me helpful advice and reassurance, or share funny stories about their own bar review experiences. Houston SOUL people have huge hearts.
The night before my exam, Kate C. sent me the most heartfelt message, cheering me on and reminding me that I totally had what it took to pass the exam. Although I already felt supported and prepared, that last little bit of encouragement gave me the confidence I needed to go in and really take the test by the horns.
After months of anxiously awaiting my results, I just found out that I passed the bar! I put in many hours of hard work, but I know that I could not have done it without my team supporting me all the way. I joined the SOUL community to help me accomplish my fitness goals, but it has helped me achieve so much more. The clarity and confidence I get from spending my time in that beautiful dark room with these crazy, wonderful people has made me a better friend, daughter, sister, and student — and now, a better lawyer. I try to find time to tap it back twice a week at either MTVN or 14TH. I love my new job and the rockstar team of SOUL people who have helped me get to this point. Late nights of lawyering mean that I've had to embrace the rooster squad lifestyle, but I wouldn't have it any other way.
Feeling inspired to ride? Grab a series HERE.