How One Amazing Rider Used SoulCycle to Summit Mt. Kilimanjaro
June 6, 2017
t's the ultimate climb: 19,341 feet to the top of Mt. Kilimanjaro. Read on to see how rider KELLY HARROLD used her time on the bike to reach new heights.
SoulCycle's arrival in Chicago in the spring of 2015 happened at just the right time — a little more than a month before my wedding. Eager to intensify my last few workouts, I climbed on a bike in BRENT's Wednesday morning 7:00am class. I've been in that early Wednesday class nearly every week since.
My sisters introduced me to SoulCycle over Christmas one year while we were home in
D.C.
I distinctly remember that first class — how loud, how fast, how hard, but most of all, how invigorating it was. Mind blown, body exhausted.
I have a regular gym routine and tried various group workout classes, but SOUL was something very different. It's not only helped add variety to my cardio workouts, but it's also replaced my yoga practice to some degree. The pace and intensity of the class helps drown out the noise of daily life, the darkness in the room transports you and by the end of each session, my mind feels distinctly sharper, more awake and more aware.
Fast-forward to summer 2016, and my husband and I decide to climb Mt. Elbert, the highest peak in the Rocky Mountains and the second-­highest summit in the contiguous U.S. at a peak of 14,440 feet. It's an established trail, no particular mountaineering skills necessary, but it is HIGH. You must summit by noon to manage the risk of thunderstorms, so we set out before dawn with two friends.
This hike was a test — we had postponed our honeymoon in the hopes of climbing Mt. Kilimanjaro in early 2017. Mt. Elbert was, by all accounts, a success.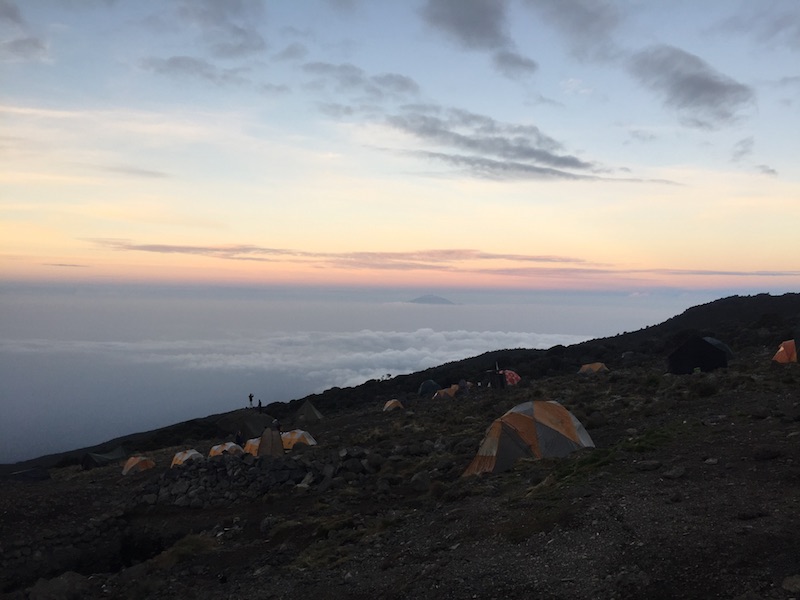 We made it to the top and down, all in one piece. The air on the mountain was thin and the higher we got, the more difficult it was to breathe. As I paused, taking momentary breaks on the mountainside, I noticed (with a degree of amazement), how quickly I was able to regain my breath and keep going.
Was I breathing hard? Yes. But was I familiar with this feeling? Very. Could I pause, slow down and then power through? Absolutely. I do the same thing in every SoulCycle class. Being on the bike taught me to push past that threshold of breathlessness. I'd reach that peak, where I'd be tempted to stop, but instead, I'd force myself to overcome that fear and discomfort — as I had been reminded countless times in SOUL, it's only temporary. Oxygen will once again fill my lungs. I must not allow my mind to slow down my movements and jeopardize my progress and my strength.
Along with my increased endurance, I also reached a new degree of mental toughness. Your belief in yourself and in what's possible dictates the outcome — that's where the power lies. In learning to tolerate varying degrees of discomfort, I set out for one of my greatest physical and mental challenges yet.
My husband and I left Chicago on February 16, 2017 and began our journey to Arusha, Tanzania to climb Mt. Kilimanjaro. This trip would be our honeymoon and an adventure that would get us out of our comfort zone and bring us even closer.
We were both aware of the risks involved and willing to embrace the uncertainties. Within 48 hours of arrival, we were at the Machame Gate, conducting final check-­ins and meeting our porters to begin our climb. We'd spent the night before getting to know our American team: three doctors from Amarillo, Texas, another doctor from Miami, and our guide Ben, a man from Jackson Hole, Wyoming, who has summited Mt. Everest four times. Needless to say, the caliber of expertise in our group was reassuring.
Over five days, we zigzagged up the mountain, gaining elevation, losing it, and gaining more again. At lunch on day three, Ben began his routine briefing by announcing our new altitude threshold of 14,638 vertical feet — a mile marker in my mind.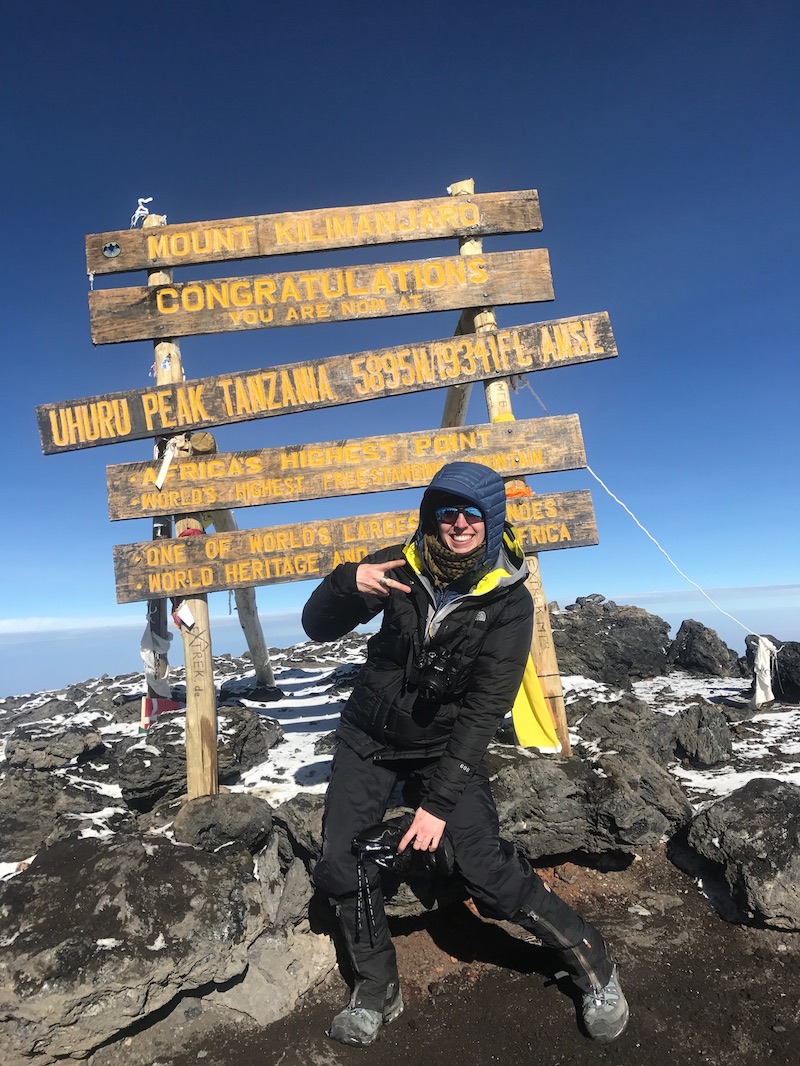 We were now above the elevation of Mt. Elbert and still climbing — we had three more hours to go that day. Using a mountaineering technique called the rest step, we hiked using the full strength of our muscles in one leg, bolstered by the support of the skeletal structure in the other. A hiccuped step, which makes hiking a pretty slow and odd sport to watch. Either way, that step works. It conserved critical energy and kept us moving at the proper pole (pronounced 'po­lee', Swahili for slowly, slowly) pace.
I'm a fast walker by nature and that pace nearly killed me. On day five — summit day — we walked in the dark, bitter cold for seven hours (single file, no less!) at the slowest, most tortoise­like pace I could possibly imagine. If it weren't for the playlist I put together, which was partially SoulCycle-inspired, I think I would have lost my mind. We were going to summit together as a full team whether I liked it or not, so I kept my frustrations to myself.
Chin down, jaw clenched, head beginning to pound due to the altitude, I listened to my music. I looked up at the vast galaxies above, practiced my rest­step and power­breath (a climbing technique similar to ujjayi breath) and kept an eye out for any inkling of a sunrise. Dawn and the summit could not come soon enough. We'd come so far, I had no choice but to be patient and persist.


Quelling doubt, I pictured myself back on the bike at 7:00am, powering through another playlist, another climb in the dark. I channeled my beloved Wednesdays on the final stretch of my hike, reaching for motivation when I needed most. Thanks to words of inspiration from Brent, the final push has become part of my training routine and part of my lifestyle.
It's the doubt that creeps in near the peak that can be destructive if you allow it to be, but all things are possible. I brought that energy with me out onto the mountain. Making it to the summit was not just about being at the top. It was the reward for my preparation and the journey that got me there. It's a slow journey, one that I'm slowly beginning to accept is is never finished. SOUL may need to start making mountain gear.
Feeling inspired to ride? Purchase a series HERE.