"SoulCycle helped me find balance, peace and inner strength": Whitney Ferguson's Soul Story
December 15, 2015
"I feel happier, I have energy, and I have an awesome new crew of supportive friends whom I treasure dearly," says WHITNEY FERGUSON, who recently rocked Turn It Up 20. "With SoulCycle, I finally have a healthy outlet and escape."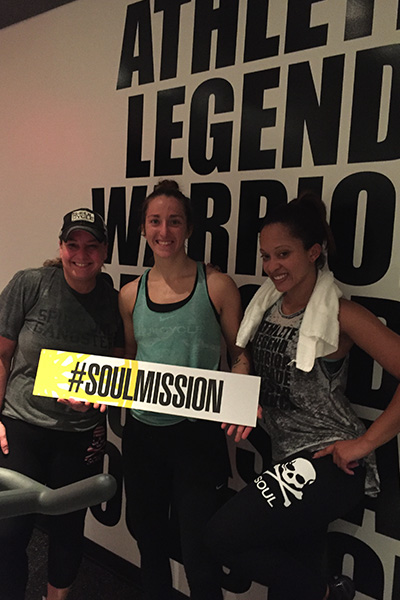 I started going to SoulCycle because of my Mom. We were looking for a fun activity to do together and since we were both hooked on YouTube videos of hip-hop themed indoor cycling classes, it seemed only natural to give it a try. Going into it, I had no idea of the deeper impact Soul would eventually have on me. (That's me above right, with instructor Sam Scaffidi.)
Our very first class was with Trammell at E83rd. Initially I felt intimidated and nervous. I was worried about being able to keep up with the other riders, staying on beat, and not getting winded. However, as soon as the first song dropped, I was completely in the zone! It was just me, my bike, my own version of Trammell's challenging choreography, and good music!
My first ride was thrilling: great instructor and awesome energy. It was a workout like nothing I've ever done before. I loved it, but it took me about a year to return to Soul. Not because it wasn't a great experience, but working out and investing in my health just wasn't a priority of mine at the time. I was the queen of excuses. Every time my mom would try to get me to go back, I either had to work, I was tired, the commute was too long, I had a headache, I felt a leg cramp… you name it!
It wasn't until I got a lengthy speech from my doctor, suffered a few episodes of anxiety attacks, and experienced continuous crying spells that I finally realized I had to make a change in my life. A change that after attending my first class with Sam Scaffidi, I became dedicated to making.
SoulCycle has helped me find balance, peace, and inner strength. It's the best 45 minutes in my day, where I can just get lost in the moment and be free. Prior to Soul, I was burnt out from work. I had restless, sleepless nights during the week and just wanted to stay in bed over the weekend. I had zero motivation to do any type of physical activity.
But after taking my first class with Sam, all of that changed. It was a gradual process, but I soon became hooked. I wanted the challenge; I wanted to be better; I wanted that moment in my day where I could just be present. Her classes lift me to a high. She is such an inspiration and a true follower of all of the guidance that she gives us. I always finish her class feeling better than when I started.
TIU20 was everything that I needed in my life. I was determined to complete it not just to win a bag, but to win at life. At the beginning of 2015, someone close to me said that I had a track record of never completing things. I talked about wanting to do everything under the sun, then started but eventually ended up quitting. This has stuck with me ever since.
I saw TIU20 as my opportunity to break that track record. I felt that if I could complete a challenge that was both a test to my physical and emotional strength, then I could complete anything I put my mind and heart into. TIU20 also helped me to put my health and well-being first for a change. I found balance and stillness in the midst of the chaotic and stressful retail industry that I work in. I created a schedule and tracked the classes that I planned to take vs what I completed which in turn led me to work more reasonable hours and get a good night's rest!
Sam made showing up (which meant traveling from the Bronx to Bronxville, East 83rd and 54th Street) the easiest part of the challenge! Aside from my mom and her best friend who ride with me, there is a great group of repeat riders in Sam's class that have essentially become our family. We have our own group chat that we use to coordinate schedules and motivate each other which helps add to the fun of being in class.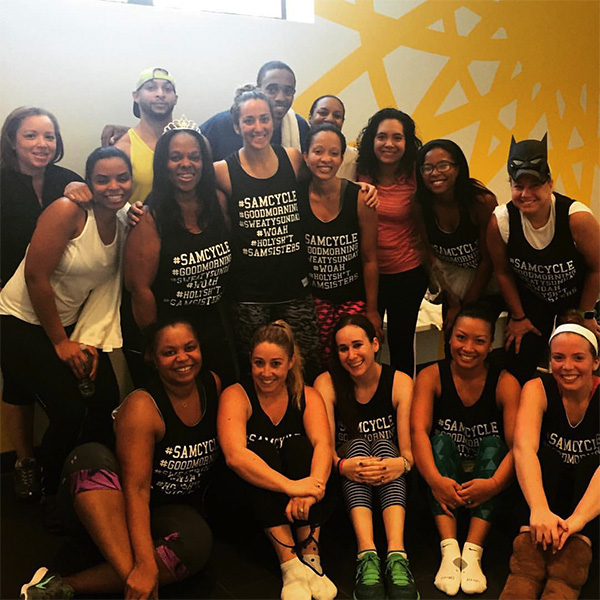 My fellow Soul rider, Shira Siry, was an unexpected huge source of inspiration. Even after she had completed her challenge, she kept showing up to Sam's classes cheering me on and counting down the rides with me. At the beginning of each class she would give me a tap and remind me that I was almost there. She skipped an outing with her friends, just to be at my final class last night. During that class, she switched my weights to 5 pounds and said "go heavy or go home this is your 20th ride!"
It's that kind of excitement, support and motivation that you need to complete such a challenge. And that's what I got from being in Sam's classes. I always finished a ride feeling stronger and eager to try harder the next time. During class, it was as if she always knew exactly what I needed to hear in that moment to get me through. During a long sprint she reminded me that I was not alone: "I can't do it for you, but I'm right here with you," she said. In moments that I wanted to give up she would often go: "I know it hurts. Fight through it. Believe that you can and you will." I repeated that line to myself all throughout the challenge.
In sharing her own personal experience Sam reminded me of the importance in not comparing myself to others. We all have our own journey and what is right for one may not be right for someone else. Having just entered my thirties and being in a "self-critical/what happens if I did everything wrong in my 20s?" phase, hearing Sam's story was the best form of reassurance. It reminded me that I am exactly where I am supposed to be right now and doing better than I give myself credit for.
Words don't fully describe how much this challenge has meant to me and everything that I got from being a part of it. Going to Soul at least three times a week is my stress reliever. My body feels sluggish when I don't, and I feel like something is missing from my week. This is the first time in my life that I have consistently kept up with working out. The happiness that I get from Soul and the sense of relief makes it that much easier for me to prioritize my health.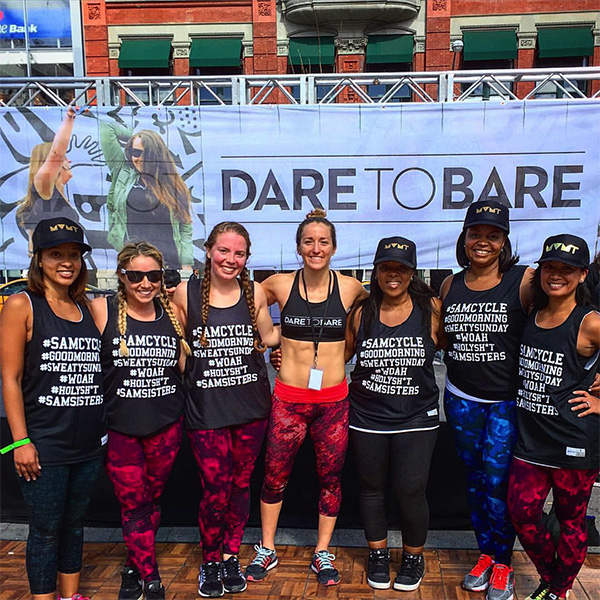 Physically I feel stronger and in better shape than when I first started riding. Little things like running up the stairs in the train station no longer leave me gasping for air. I am more open and willing to trying different fitness activities like taking a fellow rider's yoga class and participating in the Dare to Bare event (above) for Movemeant back in October.
If it wasn't for SoulCycle, I would have never thought to partake in such an empowering fitness event such as TIU20. Overall, SoulCycle makes me feel like a rockstar, by all definitions. I feel happier, I have energy, and I have an awesome new crew of supportive friends whom I treasure dearly. With SoulCycle, I finally have a healthy outlet and escape. But if you ask my mom how has Soul impacted me, she will simply say it gave her the old Whitney back.
Do you have a Soul Story to share? Email blog@soul-cycle.com! Want to ride at SOUL? Click HERE and book a bike!
MORE FROM SOUL