How SOUL Became a Haven for One Mother Facing the Unimaginable
June 27, 2017
ew York rider CAITLIN ELLIOTT found a moment of solace at SoulCycle as she weathered an unthinkable storm with her family.
I first tried SoulCycle in the summer of 2011, when my husband and I were living on Manhattan's Upper West Side. I had always loved spinning and heard amazing things about SoulCycle.
"It's so much more than spinning," my girlfriends had told me. "It's a workout for your mind, body and soul. You'll feel amazing afterward. You've got to try it."
So I did. My first time left me so breathless and exhausted that I had to get off the bike midway through. As I chugged my water and sat watching the other riders, I felt frustrated, but also determined. Everyone was working so hard but still having so much fun. They all seemed to be moving as one; the energy in the room was incredible and I wanted to be part of it.

It took me a while to commit to SoulCycle, but I'm so happy I did. In 2013, I found myself in NICHOLAS' class. It was the first time everything clicked for me. He cracked me up, made me smile, kicked my butt, and always made a point of saying hello. Before long, I started to feel significantly stronger and happier. I was hooked on the amazing high I felt after every single one of his classes and visited a number of different studios all around the city just so I could ride with him.

After moving to New York's Westchester County in 2015, I became pregnant after experiencing a painful miscarriage only months before. I was terrified of working out, and became increasingly stressed, anxious and paranoid. After a difficult, high-risk pregnancy that left me on bedrest for 15 weeks, my sweet baby son was born. He was beautiful and perfect in every way. Even then, he lit up a room with his gentle and loving disposition. A few weeks later, during a routine wellness exam, his pediatrician felt a mass near his left kidney. We were then sent to the hospital, where we were told it was neuroblastoma, a rare form of cancer that primarily affects young children and infants.
Our lives were forever changed.
My son's tumor was successfully removed during surgery, but after a year of quarterly checkups with his oncologist, two recurrence scares, and debilitating "scaniety," stress and anxiety levels were at an all-time high. Every night I would lay awake, praying the cancer would never come back and wondering how we'd be able to cope if it did. He was too young. He was too special. He had already been through much.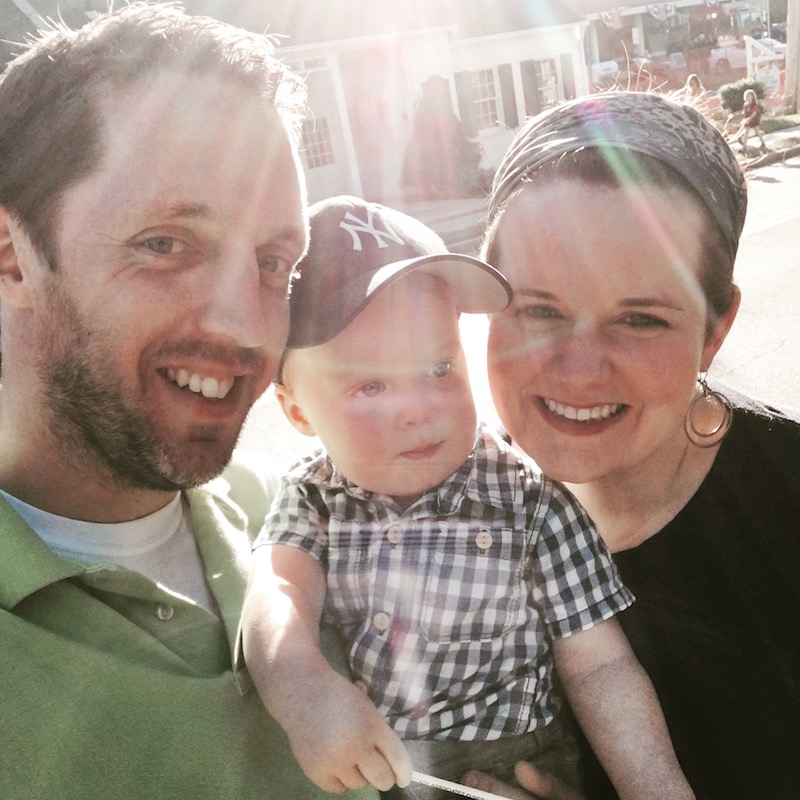 I began to feel like I was losing my mind. I was paranoid about everything and everyone. I just wanted to stay inside with my son where we were safe. I didn't want to socialize or talk to anyone because the cancer always came up, and once I started talking about it, I couldn't stop. It was frightening and painful every time. I stopped taking care of myself and gained a lot of weight. I just wanted to hide under the covers and never come out.
That Christmas, my husband got me a gift certificate to SoulCycle. "It makes you happy and you miss it," he said. It took me three months to build up enough courage to walk into the
RYE BROOK
studio, where I took
LESLIE
's class for the first time. I can honestly say it was one of the best decisions I've ever made. SoulCycle and Leslie helped bring me back to life.
Leslie's class changed everything for me. I've had so many breakthroughs on the bike because I always feel like I can truly let go and lose myself in the music. She pushes me harder than I ever thought possible, and I always feel strong, clear and happy when I walk out of her class.
I now ride with her at least twice, sometimes three times a week. I will always be grateful to her for helping me through one of the most difficult periods of my life and for helping me be the best mother I can be.
Last month, when I received a round of results on my son's health, I rode with Leslie that very day. She had no way of knowing what I was going through, but she gave me the warmest hug before class started. She has such a kind nature and warm aura; that one simple hug really lifted me up. I am probably one of the quietest and shyest riders in the class and routinely sit in the back corner, but Leslie always takes the time to find me. It's a crazy time for me and my family right now, but I know I can forget all the anxiety, stress and pain for at least 45 minutes when I ride with her. I feel stronger not only physically, but mentally, and I will always be grateful to her for that.

Feeling inspired to ride? Purchase a series HERE.