Soul Story: Sheeva Talebian
October 9, 2014
"I never practiced self-breast exams until six months ago when I felt a lump," says longtime Soul rockstar SHEEVA TALEBIAN. Though she's a physician, Sheeva didn't think she was at risk — but a second lump proved to be invasive breast cancer. Post-surgery and back on the bike, Sheeva shares her brave and courageous Soul Story…

Sheeva with her daughter
As a fertility specialist, I routinely encourage self-breast exams and screening mammography for my patients. I have also taken care of young breast cancer patients undergoing fertility preservation treatments over the years. Nonetheless, breast cancer was not on my radar of things to worry about.
At age 38, with no family history, no risk factors and a recent normal mammogram, I felt a lump in my breast that led to the diagnosis and treatment of my breast cancer. In less than a month, I was back on the bike at Soul and back taking care of my patients only with a great appreciation and passion for life and health.
I was six months pregnant with my son when I took my first Soul class with Melanie at the West 72nd Street studio. I had been indoor cycling for years and pretty much had become a "spin snob," traveling the city for various instructors. But no matter whose class I took at Soul, the energy was explosive and I was hooked.
For several years, Soul had become my 45-minute escape. It is my time to refuel and recharge. I love my career as a fertility specialist but in addition to being a mother, I do feel emotionally depleted at times. By giving myself that 45 minutes, I am a better person. I leave with a sense of calm, gratitude, and strength.
I came to appreciate this even more when I was diagnosed. I had about two weeks from the time of my breast cancer diagnosis and my surgery. Going to Soul during that time helped me prepare for the unknown and allowed me to stay focused. I took Laurie Cole's class two days before surgery and she said, "Remember, Sheeva, you have many Soul rides in the bank." I knew she was referring to the physical and mental strength that I'd developed over my years of riding.
Admittedly, I never practiced self-breast exams until six months ago when I felt a lump on my left breast that was painful. Imaging and a biopsy confirmed it was benign. I have no family history of breast cancer and in fact have protective factors (I'm thin, I don't smoke, and I breastfed my children). Nonetheless, this episode alerted me and I started to check more frequently.
This summer I felt a new lump on the opposite breast. It felt like a tiny pea just under the surface of my skin. After waiting a month, it was still there and I had repeat imaging. The radiologist was not as reassuring this time and I left in a panic. I did some research and came across Dr. Susan Drossman, from whom I sought a second opinion.
When she walked in the room, we realized we had been riding together at Soul for years. I was immediately reassured being under her care and while she was concerned, I was not in a panic. She performed the biopsy and the next afternoon called and told me the biopsy showed "invasive breast cancer" and she suspected I had early cancer cells surrounding the area.
The immediate days after my biopsy results were really the worst. Not having details or knowing how extensive it could be. All I could think about was my children and how this would impact them. My husband, close friends and family rallied around me to help me move forward.
Within a few days I saw a surgeon at Memorial Sloan-Kettering, Dr. Alexandra Heerdt. Her bedside manner was unbelievable and again, despite this diagnosis I felt reassured. She gave me the option to undergo lumpectomy or removal just of the affected breast but I wanted to be as aggressive as possible.
One week later, I underwent a bilateral mastectomy with lymph node sampling. Initial findings during the surgery suggested no spread to the lymph nodes. Testing confirmed these findings; however the pre-cancer cells were throughout the entire breast and my decision to remove both breasts entirely saved me from needing additional surgery. I will not need chemotherapy and will take a medication, Tamoxifen, for the next 10 years to lower my recurrence risk. I am experiencing some hot flushes at night, but I never mind a good sweat!
I do believe that being so fit and healthy allowed me to have a remarkable recovery. I was walking immediately. I took advantage of time out of work and spent every day with my children and visited with family and friends.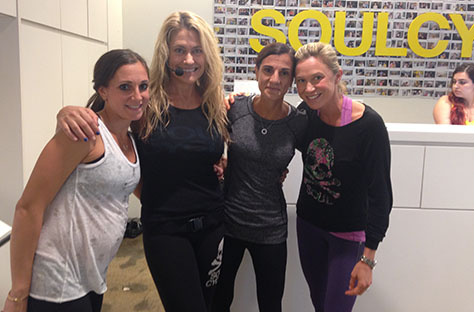 Sheeva (second from right) with her sister (left) and friend before a ride with Master Instructor Janet Fitzgerald
I was back on the bike in less than a month. I took Janet's 9:30 AM Saturday class at West 77th (a ritual when I am not working) exactly one month post-op. I was simply grateful to be back riding with my community.
Friends often ask me how I knew this lump was not normal and what made me go for further testing. I was not actually concerned (nor was my own gynecologist) by the feel of it. It was tiny, round, smooth and mobile. Not how the textbooks describe breast cancer. What alerted me was that it was new.
So the best advice I can give is to start doing exams and learn the architecture of your breasts. If you feel something, go to your doctor. One-eighth of women will develop breast cancer and most of us don't have a family history or risk factors.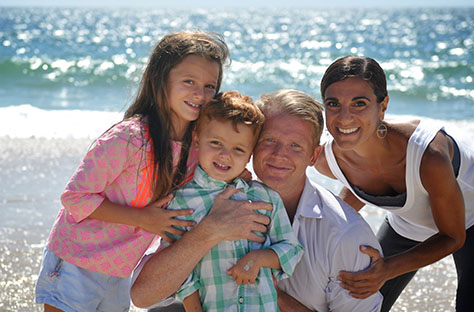 Sheeva with her family
We are stronger than we know. I see strength in my patients, friends and family and I am inspired by them. We are also stronger together than alone. Having the support of my friends, family and colleagues during this time helped me stay positive and present for my children. Ultimately, they are what matter the most. If I could inspire them to be strong, compassionate and kind, I have succeeded.
Forty percent of diagnosed breast cancers are detected during a self-exam by women like Sheeva. Doctors recommend women of all ages do a breast self-exam at least once a month. Find our laminated tags with how-to tips in Soul studios now.
Do you have a Soul Story to share? Email blog@soul-cycle.com