Soul Story: Scott Brown
April 2, 2014
Over the past 12 months, SCOTT BROWN has gone from nervous first-time rider to SOUL warrior, tapping it back in the front row. Now an incredible 95 pounds slimmer, Scott says the SOUL Brentwood team has been a big motivator. "There is so much positive energy, acceptance and love in that place," he says. "Everyone just wants you to succeed and be your best." Scott shares his SOUL Story…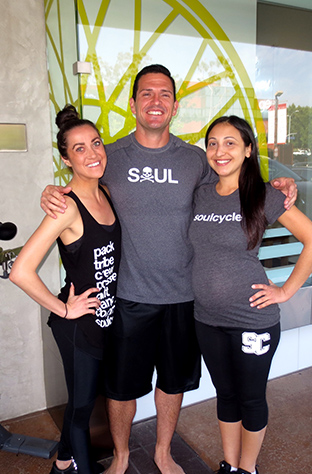 Scott at SOUL Brentwood with studio managers Liza Pasciuto (left) and Melissa Brescia
What first brought you to SoulCycle?
I had just returned from a work trip and I felt awful. I was so out of shape and had been slowly putting on weight over the past few years. I finally decided I needed to make some changes and get back to working out. I started by going to the gym and trying to do some of my old workouts but I quickly realized that wasn't good enough. My brother was the one who suggested I try taking an indoor cycling class and was the one who mentioned Soul to me. His friend was a manager at a different studio where my brother rides and he was the one that actually told him to have me check out Soul.
And how was your first visit?
The first class was a little intimidating. I walked in and it was like a big club where everybody knew each other and knew exactly what they were doing. I was very, very nervous. I could hear the music pounding through the door and it made me wonder what the hell I was in store for. Then the class before mine let out and all these people rolled out, soaking wet and red-faced, looking like they had just been through the ringer! That just made me even more nervous and put a little doubt in my head if I was ready for this. Fortunately the front desk staff were absolutely amazing and could not have been kinder or more helpful. Maybe they saw the "deer-in-headlights" look on my face and took pity on me but I think it was more a function of just how awesome they are at Brentwood. They got me shoes, helped me set up my bike, really made me feel welcomed there, more at ease and gave me some confidence that I could do this.
What was your first class like?
My first class was with Laura Crago. Looking back on that, I feel like I won the lottery having Laura for my first instructor because she was so freakin' awesome. I think she was the only instructor I would take for the first two months. Having said that, I didn't think I was going to make it through that very first class. I sat in the back row trying to hide a little bit. I was lucky to have a bike next to a regular rider named Melanie, who was so sweet and encouraging. About 15 minutes into that first ride I was gasping for breath and all I could think of was "I'm going to have to get off this bike and slink out of here in shame while all these people watch me." Fortunately, Laura just kept talking and saying all these amazing things, I got my second wind and made it through. I felt so good after that first class and couldn't wait to come back for the next one.
What's changed since you started at SoulCycle?
Well, I supposed the most noticeable change is the 95 pounds that I have lost. I started noticing the changes almost immediately, losing weight quickly and my energy level was so much better. Coming to Soul helped get my cardio back in a big way and really helped facilitate my other workouts too.
Wow, that's amazing.
I've also met a ton of amazing people and new friends. Some of my friends give me a hard time because I talk about Soul a lot but that is because it really is an amazing place. ESPECIALLY the Brentwood Studio! There is so much positive energy, acceptance and love in that place. Everyone just wants you to succeed and be your best. I definitely think I have taken more of that positive attitude into my every day life. Also, something that Angela talks about a lot is approaching the world with an attitude of gratitude. I love that and it makes me realize how lucky I truly am.
Do you have regular classes you always take?
As I mentioned, for the first two months I refused to take anyone other than Laura Crago. Then, I finally decided to try Gina Heekin's class and she just knocked my socks off. She's just a tiny package bursting with energy and love! I think my first class with her was one of her "Fuego Tuesdays" and I was hooked. After a few more weeks, the managers at Brentwood Melissa and Liza convinced me to try Angela's class. I had heard how tough her classes were and wasn't sure I was ready for it but the only thing I wasn't ready for was just how incredible and inspiring Angela is! Those three ladies are flat-out awesome.
Did you alter how you ate?
Changng my diet was something I started to do once I decided I needed to make changes in my life to get healthy. I used to be addicted to sugar in such a bad way. When I started watching what I ate, I tried a bit of a Paleo diet but now I mostly eat organic food and I've cut out white sugar. I still have cheat days where I have pizza or ice cream, but when I do, the next day I really feel it and I don't have the energy to work out like I usually do. But one great thing about Soul is that most people that go are like-minded so you pick up some good tips and ideas on how to eat well.
And now you're a front row rider!
I used to ride in the back row, hidden. But once I started to get more confidence, Liza stuck me in the front row. You get energy of room coming toward, and that is awesome. The Brentwood studio is such an intimate and amazing community, and I feel so grateful to be part of it.
Got a SOUL Story to share? Email blog@soul-cycle.com!