Soul Story: Sara Selbert Savov
May 19, 2014
Meet Stewart, a true SOUL child. His mom, SARA SELBERT SAVOV, tried for years to get pregnant. When IVF treatments didn't work, she took a break and began riding at SoulCycle. "I poured everything I was feeling onto that bike," she says. "Having that release was exactly what I needed." Four months later, Sara got pregnant naturally — and now this little rockstar is four months old. SARA shares their Soul Story...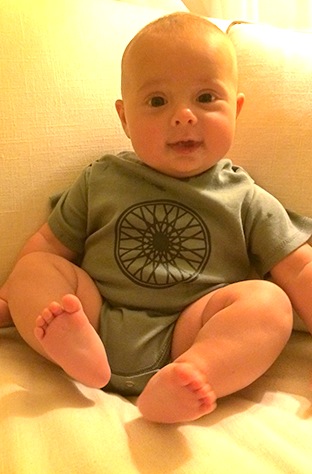 When I first started riding at SoulCycle it was because I was trying to get back in shape. I had gained a lot of weight while going through several unsuccessful infertility treatments. I'd been trying literally everything to pregnant: I took Clomid for three months (during which time I had an ovarian cyst the size of a grapefruit and had to be on bed rest), I did three months of IUIs, and I had two rounds of IVF. But nothing worked and it was incredibly stressful. Each day, I got more bad news than good while staring at ovulation predictor sticks.
I was trying to be chill about it, but it was impossible — and so frustrating. As a woman, not being able to get pregnant and do something you've wanted to do for your entire life is awful. You have so much hope and expectation but then the pendulum swings. It goes from hearing "You might have twins!" to getting your hopes dashed the moment a nurse calls you with one flat "it's negative" over the phone.
In January 2013, after my second round of failed IVF, I decided to take a break. I simply wasn't strong enough emotionally (or maybe even physically) to continue fertility treatments at that point, and the doctors told me that my next step was to consider adoption. I needed to take some time off from trying to have a child – no matter how – and revisit in the fall.
I felt so discouraged and so out of shape. I had always been active — I ran three New York City marathons — but the fertility treatments plus the bed rest and the lack of exercise caused me to get heavier. And not only did I feel bad about myself but I had no outlet to relieve these feelings.
I needed to find myself again, and the next day I went to SoulCycle TriBeCa, hoping to find something to get me out of the depressed state I was in. I had taken a few SoulCycle classes during my marathon training, just trying to mix things up, but I definitely wasn't a regular.
When I went to the TriBeCa studio, I was pretty nervous because it had been so long since I had ridden and I was basically starting over. I spent a lot of time talking to a girl at the front desk, and I ended up telling her my whole story even though we had just met! She was so sweet and welcoming, which helped me feel more comfortable. Turns out, that girl at the front desk was Krista, who happened to be hanging out with the front desk crew before she taught class.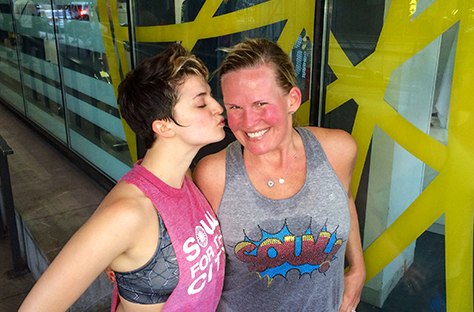 Sara (right) with instructor Krista Bonura
That first class with Krista was amazing — she was so caring and encouraging. From there, I started riding every single day. It helped me work through everything on my mind, dealing with loss and coping with the belief that you couldn't do something you so badly wanted to do. I poured everything I was feeling onto that bike. Having that release was exactly what I needed, and Soul TriBeCa became like home, a place where I felt safe.
In addition to riding with Krista, I started taking classes with Bethany, Nina and Emily Fawcett, a really strong core group of women who are so strong and empowering in their own ways. They each have different ways to saying things that inspired and strengthened me. I also love riding with Nick Spadaro. His positive energy is infectious.
After riding every single day for four to five months, I found out that I was pregnant. I was completely surprised as was my doctor. They call it a doorknob pregnancy — when you are ready to leave the doctor's office, lose faith and have your hand on the doorknob, you get pregnant.
It felt like a miracle. I don't care what anyone says, I believe that if it weren't for SoulCycle, I don't think I would have been able to get pregnant. I believe it is all about the mindset. It's so healthy. It was four to five solid months of tapping it back every day before my son was conceived.
I got pregnant in May, and for the first few weeks, I had no idea. I just kept riding. When my doctor asked me about SoulCycle, he said, "Are you really serious about doing this?" I would go straight to my doctor's office after class — and I said, "Absolutely." I rode almost every day until my 37th week. It kept me super happy.
I delivered my son Stewart by C-section and three weeks later I came back to SoulCycle. Even though that's considered soon after having a C-section, my doctor gave me his blessing. I just knew what I had to do for my mind and my body.
Since then I have lost 49 pounds — I had gained 20 from the fertility drugs and then more during pregnancy. I have a little bit more to go, but I feel great.
Stewart has such strong legs and we wears his SoulCycle onesies with pride. He's been into Soul TriBeCa and hung out with the team. That is my family down there! They are the most loving sweet group.
Soul truly kept my sanity through a time I didn't think I would survive. I would have completely lost my mind if I had not gone to SoulCycle. After a year of disappointment with so many failed pregnancy attempts, there is not much you can do to come back from that low. But SoulCycle gave me so much support and relief — and helped me become a mom. I am so grateful to SoulCycle!
Do you have a Soul Story to share? Email blog@soul-cycle.com!