Soul Story: Nancy Fawson
December 10, 2013
Five months ago, NANCY FAWSON got diagnosed with cancer and immediately underwent surgery. After a painful recovery, she discovered SoulCycle Marin, which has helped her find both inner strength and physical stamina. The mom of two shares her Soul story.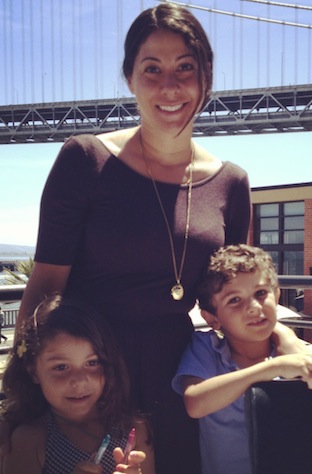 Nancy (with her two children) in May 2013, right before her breast cancer diagnosis.

Five months ago I was diagnosed with breast cancer and soon after underwent a bi-lateral mastectomy and DIEP flap reconstruction (where a surgeon takes fat, skin, and blood vessels from your abdomen and moves it up to your chest to rebuild your breasts). It was a long and complicated surgery but the hardest part for me, besides not knowing if, or how far the cancer had spread, was the recovery. I stayed in the hospital for a full week, being flipped from one side to the other like a pancake so that I wouldn't develop bedsores. I couldn't move at all by myself and over the next several months, my recovery was slow and painful.
At first, I couldn't get out of bed, get dressed or shower without help. Though I was eventually able to get around the house on my own, it took a few months before I could take care of my two children again. My heart broke that I couldn't hug them, bathe them or put them to bed. As time went on, my body started to heal from the surgeries but I still felt weak and vulnerable. I constantly worried that the cancer would come back and wondered if I would ever feel strong again. Each time I looked in the mirror at my new body, now covered in scars and deep bruises, I felt loss, helplessness and fear.

When I learned that my cancer had been completely removed by the surgery, I was extremely grateful. That helped me view myself through a different lens. Though my body was not perfect (it turns out that it's hard to get abs to look like breasts), when I thought about the technological and medical advancements that led to the creation of my new body, I couldn't help but feel amazed by it. My uneven breasts, nipples made from skin grafts and huge scar from hip bone to hip bone across my abdomen represented scientific achievement, ingenuity, strength and resilience. I was determined to honor my "new" and now healthy body and the new chance at life it represented. I wanted to be strong again for me and for my family.

As soon as I got the all-clear from my doctors, I began exercising. I started with a gentle yoga and eventually moved onto more challenging practices. Soon, I was ready spice up my routine. I wanted to add strength training and cardio and was ready to have some fun.

That's where SoulCycle came in. I was definitely intimidated before my first class. How could I keep up with everyone when I had barely any muscle tone in my arms or chest and my abs were a mess? Once the lights went down and the music came on, I was completely swept away. I had so many emotions during that first class, from fear and inadequacy and eventually strength and pride. Though I was not the fastest rider (I could barely keep up with the pack) I kept pedaling anyway and didn't stop the entire time. The energy, music and the positive messages of strength from the instructor really resonated with me and I was hooked after my first class.

Now, whenever I feel tired during a class, I remember the time, not long ago, when I couldn't even stand up on my own. I think about how far I've come and how amazing and strong I feel now, then I reach down and turn the resistance knob a touch more to the right and pedal through.

For me SoulCycle is not about losing weight or becoming skinny; I could care less about achieving a thigh-gap. SoulCycle has helped me tap into my inner strength and use that rebuild my physical strength. I walked into the studio feeling vulnerable and weak and now, just a few months later, I feel strong and amazing — like an athlete, a warrior, a force.

Nancy and her six-year-old son in October 2013, four months after her mastectomies, during the Peak Hike for Prevention. Her son walked the entire seven miles with her to raise money for the Breast Cancer Fund.
Nancy is an attorney turned freelance writer and blogger, who writes for the Southern Marin Mother's "Crier" and on her blog. Have a Soul story to share? Email blog@soul-cycle.com!