Soul Story: Michelle Elzay
February 16, 2015
MICHELLE ELZAY's Soul Story is one of courage, strength and incredible resilience. After she was diagnosed with cancer, riding at SoulCycle not only provided solace but boosted her body's endurance while undergoing debilitating chemotherapy. An athlete, a warrior and an incredible inspiration, Michelle shares her Soul journey…
Michelle (right) with husband Matthew and instructor Parker Radcliffe at Soul NoHo
I first came to SoulCycle at the insistence of my cousin, rider Tahra Collins, who knew that I would love it. Being the general misanthrope that I am, I tried to dodge her. I finally relented attempting to meet her at at Noho on October 13th 1013, for which I showed up an hour early and wound up squeezing into Akins class alone. I was clueless at to what exactly I was doing, but the endorphin rush alone kept me coming back.
I ran my first road race at age 8; exercise for me had been a solitary activity, similar to my design and art practice during which I spend and great deal of time alone. But my solitary motivation, along with my knees were dwindling. Watching the bodies of the front row move in unison was such a trip for me, I loved tapping into the collective energy of the room. Soon after Akin, I tried Parker and the two are the perfect foils for me: Akin is over the top athleticism vs Parker's athletically spiritual dance party.
I had thought that for my 1 year Soul Anniversary I would invite a group of friends to ride with me… Instead on September 23rd of 2014, I was diagnosed with stage 3 metastasized breast cancer. I would start five months of chemo the following week. I was also told that while daily exercised is encouraged (walking is considered exercise), SoulCycle would be too much for me. I was heartbroken. I even called and emailed the NOHO studio before my favorite Sunday ride with Akin telling them I had cancer and this would be my last ride for months — I got moved to front and center.
During that class, the energy was on fire. Akin kept giving me shout-outs, his motivational banter while on the bike felt as if it was directed at me. I left encouraged. Tahra suggested that if I love Soul so much that a try and go, sit in the back and just move my legs. The nurses agreed that if I hydrated enough I could do it.
As soon as I felt well enough after the first round, I returned. It turns out I COULD ride and it made me feel so much better. I had never felt so grateful to exercise. I smiled though the entire class. I kept coming back, bald and bloating from the steroids — the room buoyed me.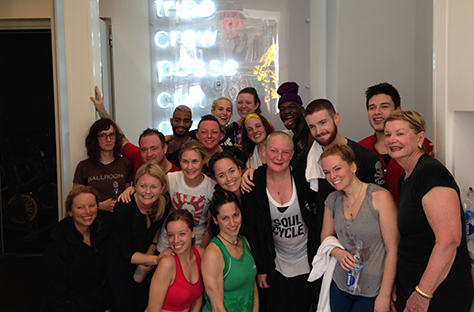 Akin's support was unwavering, the support spread to regular riders across the room, support from the front desk staff, hugs from the cleaning staff.
With six weeks of treatments left to go, my veins started to blow out. The nurses and doctors thought a permanent port line in my chest was surgical overkill, but they had trouble scheduling a pic line (a permanent IV in your arm which can easily tear out). A nurse gave me some suggestions to increase blood flow to my veins; I did research on my own: All cancer websites indicate that while veins will recover after treatment, they will not do so during.
I changed the time for my Friday chemo infusion to later in the afternoon so that I could ride with Parker at 10:30 AM beforehand. The first day we did this we had a MIRACLE: One vein on my right arm recovered. It went from taking three hours to locate a good vein to three minutes. That same vein held up until my last chemotherapy infusion last Friday. The nurses see over 200 women a week at infusion and they have never seen someone recover like this. On Friday we did a group ride with Parker and I had my final infusion after.
Chemotherapy takes over your body. It seeps into your mind. If to be human is to feel, to be physical, to love, to eat and taste, to be analytical and think… all of this is compromised. All sensations are neutered; you become a sub-human version of yourself. An amount of energy I was not even conscious of goes into staying afloat.
The steroids bring you down to a point of blackness that feels insurmountable. And then at moments, you can walk though a snow storm and marvel at the flakes… feel the endorphin release of a Soul class and remember that to move is to be alive… to feel gratitude — and, for the first time, understand humility. Soul during chemotherapy is what helped me hold on to my humanity.

Do you have a Soul Story to share? Email blog@soul-cycle.com!