Soul Story: Mary Sepassi
December 21, 2015
Rockstar MARY ROWE SEPASSI tapped it back throughout her pregnancy and even took a class the day before she delivered! Now two months after giving birth to a healthy baby girl, she shares how riding with the pack gave her strength and courage as she became a mom...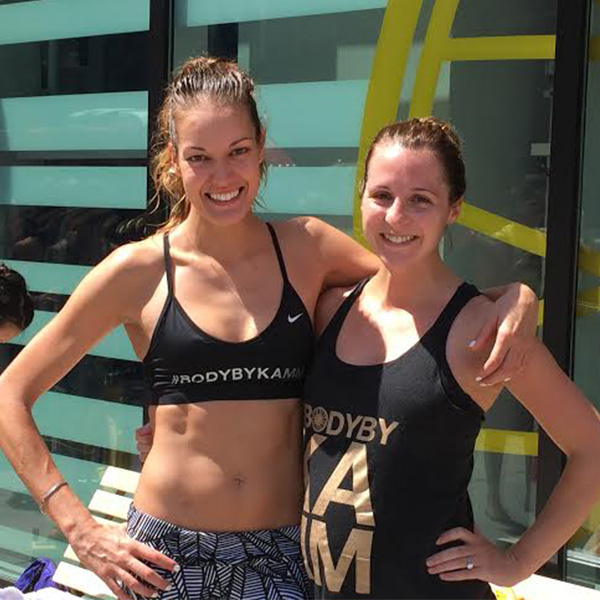 Two years ago, I was looking for a new workout because my previous workout routine felt stale and lonely. My friend Cassie — who had been a Soul devotee for a few years already — invited me to join her for a class. It was love at first ride!
I really wasn't sure what to expect for my first ride, and I felt nervous because everyone who lined up to go into the studio looked like they were professionals. I was in good shape though, so I just crossed my fingers and hoped that I would be able to keep up. It was a Saturday morning in Union Square, so it was pandemonium; as soon as the music started I felt the energy in the room and the 45 minutes flew by. I enjoyed the feeling that everyone was in it together to get the best workout and experience possible. Afterwards I felt the burn and was ready to book my next ride.
After trying a few different instructors, I started riding regularly with Amanda K. I left each class feeling like I was pushed further and harder — and the results were there to back it up. Not only did I feel stronger while riding, but my body was responding to the workout and my muscle tone was changing in a way it hadn't since I had participated in high school sports.
The 45 or 60 minute classes became a time that I could let go of my day, just enjoy the music and the energy of the room. Amanda makes each class different and challenging, which requires focus to perform at a high level. While it requires a great deal of exertion, Amanda K.'s classes make me feel like I've hit "refresh" on the rest of the day. I always leave SoulCycle in a better mental and physical state than when I walked in.
I had been riding regularly for about a year and half before I became pregnant. One of the first questions I asked my doctor was, "Can I keep going to SoulCycle?"
Fortunately, she answered affirmatively and told me to keep riding as long as it felt okay. I rode three to four times per week through my entire pregnancy and it helped make me feel "normal" when so much was changing in my body and life. Riding continued to help manage stress and cope with pregnancy's side effects (e.g., morning sickness/nausea). Even in my third trimester, when it was more difficult to stay out of the saddle for long runs & tap backs, I welcomed the challenge. Amanda's riders are intense and on-point, which appealed to my competitive side to make sure I could still hold my own on the bike!
About two and a half weeks before my due date, I took a vacation day, just to enjoy one of the last Fridays I would have on my own. I started the day with a 7:30 AM ride and at the end of the ride starting having what I thought were Braxton Hicks contractions (don't worry I was still on beat...priorities!)
That evening my water broke, but I didn't realize it. The next day my husband and I went to the hospital, under the impression that I was not in labor, but nonetheless we were told my water had broken and I would be having the baby! Fourteen hours after arriving at the hospital, our daughter was born!
While I would not say the delivery was easy, I know that keeping up with my workout routine and particularly SoulCycle truly helped me through it. My stamina had been built up and my core was strong which is essential while pushing (the doctors even remarked on it!). The breathing and lung capacity you build riding helped me through the delivery, keeping my body and mind in the zone.
After the delivery I was surprised at how my muscles were sore from the strain — but couldn't imagine how sore they would be if I had not been working out through my pregnancy. My postpartum experience has been positive so far, and again, I can credit my recovery to SoulCycle. I recommend to any expecting moms out there to stick with their workout routine right until the end — it will pay off!
Being a mom has been more amazing than my already high expectations! It is hard to describe how you much love fills your heart for your new baby as well as your spouse right after the baby is born. There have been some challenging days and nights, but overall my daughter is a very sweet baby and many remark she is "so chill!" (which is probably a credit to how I managed my stress through pregnancy — thank you SoulCycle!)
I have finally been able to get back on the bike just this mid-December, six weeks after my daughter was born! I have definitely missed having Soul in my life; both the community and the energy that I gain from each ride. I am looking forward to building my strength back up, seeing my Soul family and making my way back to the front row!
Overall, Soul has helped me over the past two years through very stressful work times as well as working through personal challenges. In addition, it has provided me a place to celebrate happy occasions of my own as well as others! I love riding with friends, meeting new people at Soul and having my husband ride with me on weekends. Soul is part of my weekly routine, and I can't imagine it being any other way.
My favorite memory from SoulCycle was at W77, after I had been riding regularly for about nine months. I had slowly made my way up to the front (but all the way over on the side — not as much pressure!) Each ride, I worked to improve my form, stamina and strength. One of the hardest parts for me was focusing on my breathing to ensure I could last with perfect form through long runs out of the saddle to faster beats.
I had made my way a little closer to the center of the front row and it was the last song of a particularly challenging class; one of my favorite remixes at the time. The bike next to me was empty and Amanda had moved there to ride the last few songs — during the final run I was determined to stay on beat and keep form, it was over a minute long and I was feeling the pain — Amanda reached over and grabbed my hand for a second encouraging me to keep with it. It felt great to have an instructor who truly cared about me reaching my goals and succeeding.
I want to thank the SoulCycle community, the riders, staff and instructors for constantly providing support and investing in their riders. No other fitness class that I've tried has provided the same positive experience consistently. It truly is appreciated and helps so many riders through changes/challenges in their lives as well as times of celebration.
And to all the expecting mamas and new moms out there — I look forward to cheering you on your next ride!
Have a Soul Story to share? Email blog@soul-cycle.com! Want to ride? Grab a series HERE and book a bike!
MORE FROM SOUL