Soul Story: Lizzie Hornick
October 1, 2015
LIZZIE HORNICK was shocked and scared when she was diagnosed with breast cancer six years ago. But when she clipped in at SOUL, she found strength and a support system that helped her beat cancer, shed 35 pounds and transform her life. She shares her story…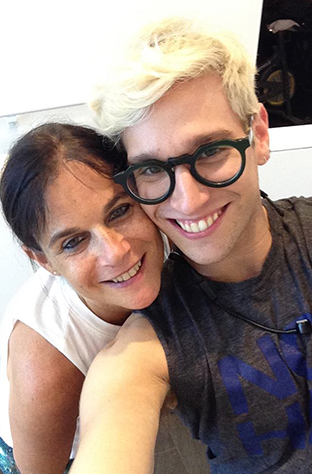 Six years ago, I received the grim diagnosis that every woman dreads to hear: Breast cancer.
When I walked into my radiologist's office for my annual checkup with absolutely no physical symptoms, I had no idea of what lie ahead. Of course my mind vacillated between confidence and gut-wrenching panic as I waited for the results of my mammogram in the examining room.
As fortune (or misfortune) would have it, my radiologist wasn't going to make me wait — she saw something abnormal, and she was pretty sure it was cancer in its earliest form.
Fast forward to a few days down the road — all the tests confirmed positive for stage 1 breast cancer, and I began the journey towards recovery and cure.
I am lucky. My cancer was caught early enough so that treatment included a lumpectomy and 30 days of radiation treatment. I was able to continue to work part time at my teaching job, and life — for the most part — went on.
But I will tell you this: That diagnosis changed everything for me. I have never felt the same, nor looked at myself in the same way ever since. Facing one's mortality is a breathtaking, life-changing experience.
At the time of my diagnosis, I was also 35 pounds heavier and my exercise routine was, well… simply walking the streets of New York City. It was my oncologist who finally said what I needed to hear: "Daily activities don't really count as a form of exercise."
"Lizzie," she said. "You've got to exercise for the sake of exercise."
I remember her mentioning SoulCycle, but I tucked that thought into my back pocket for a few weeks until I ran smack into the pristine white façade of the East 83rd Street studio.
When I walked in, oh my goodness, the staff was so welcoming and encouraging. I signed up for a class the very next evening. Of course, I was totally captivated by the darkness, the music, the sweat and, most importantly, the SOUL.
Throughout my first few years, I rode two or three times a week. I moved around from instructor to instructor, and kept myself hidden deep within the second row. It wasn't until I felt my ride in my core and my legs were able to keep pace with the fast jogs and that I knew I was ready to journey up into the front row.
My metabolism seemed to speed up as I increased my class load to six times a week. I also decided to work with a nutritionist to rid myself of my toxic sugar addiction. Learning to eat healthy, combined with daily SoulCycle classes, fueled my physical transformation.
Ultimately I was able to finally shed my baby weight (about time — my son was already in college!) But by far, my most exciting accomplishment was my arms. Who said women in their 50's can't have fit, muscular arms?
I am not one of those riders that choose classes based on the most convenient location and time. Over the years, I have latched onto instructors who have taken an interest in my ride and whom I feel a mutual chemistry with.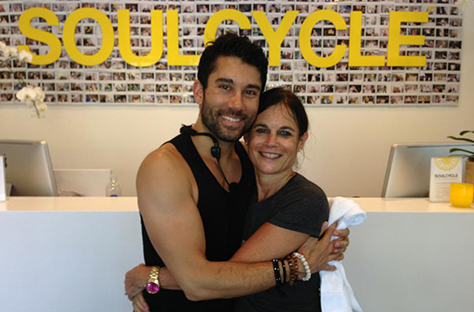 Early on, Nick Pratley and Ayana Curtis were among my favorite Upper East Side instructors. While SOUL is the cornerstone of Nick's ride, Ayana taught me the importance of riding in sync with the pack. It was in her class that I perfected pushups on the bike. But time stands still for no one. Ayana expanded her family and needed to be closer to her home on Long Island and Nick relocated to the west coast for love (and perhaps a little bit more sunshine — although he would never admit it).
As I became entrenched within the SOUL community, I was more and more curious about the downtown rockstar instructors I kept hearing so much about. So I hopped on the 6 train, and my life forever changed when I ended up on the front sidebar in Danny Kopel's 5:30 NoHo class.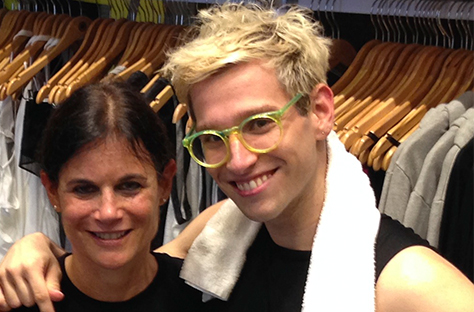 I was completely transfixed by this gorgeous, powerful, way-cool human. Danny is a fearless instructor who offers up a unique element of performance that electrifies the darkness and transforms the room. There is nothing ordinary about his class. Here, the challenge is always evolving, and that is what I love. I never know quite what to expect.
While I consider myself, first and foremost an athletic rider, Danny's class offers far more than physical challenge. The opportunity to not only celebrate life's happy moments but also work out angst is always part and parcel of the journey.
Danny is always a thoughtful instructor, and seems to instinctively know my inner pulse. In class, he responds in a nuanced, completely private way. I am forever indebted to him for his sensitivity and encouragement. I would also be remiss not to mention his ability to motivate and inspire. If I have grown at all as a rider, it's because I know he is watching. I love that he relentlessly pushes me to improve.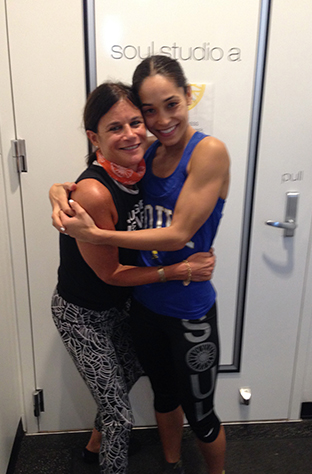 More recently, I have discovered Charlee and Marvin (all dedicated riders have to cross train!) and have learned so much from both of them. Under Charlee's guidance, my endurance and skill as a rider have grown substantially. Charlee lives and breathes fitness and is a master at teaching form. Marvin's amazing playlists, killer combinations and uplifting words of encouragement inspire me to continually push my boundaries.
Danny, Charlee and Marvin share many things in common. These amazing, rockstar instructors bring humor, challenge, and plenty of preparation and forethought to each ride. The conversation is always different, and there's always some new idea or form of inspiration for us to ponder. Strong leaders build thriving communities.
I have grown to love and admire my SOUL friends. The journey is far more meaningful and fun when there are special people to share it with.
October isn't just Breast Cancer Awareness Month; it is also my birthday month. On this — my 59th year — I can't help but wonder how long my legs can hold up? How long can my strength continue?
Cancer changes everything. I face my mortality each time I clip in. But the bottom line is that I am so lucky to be healthy and fit. I truly believe that my SOUL experience has made me a better person, both physically and spiritually, and I give a heartfelt thank you to the staff and community who makes it all happen for us.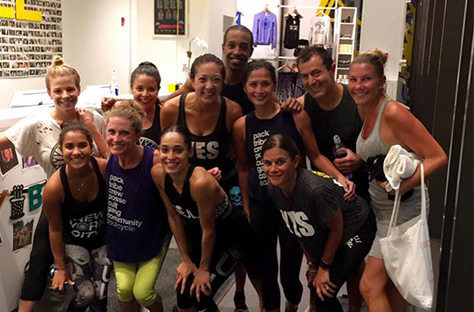 SoulCycle is honoring Breast Cancer Awareness Month all October long. Do you have a story to share? Email blog@soul-cycle.com, and check out our guide and breast self-examination HERE!
MORE FROM SOUL