Soul Story: Lisa Weinberg
September 15, 2015
Two years ago LISA WEINBERG shared why riding at SoulCycle had changed her life. Since then, she's endured debilitating mono and brain surgery after her doctor discovered an aneurysm. Now finally back on the bike, Lisa opens up about her journey and how Soul helped her find strength…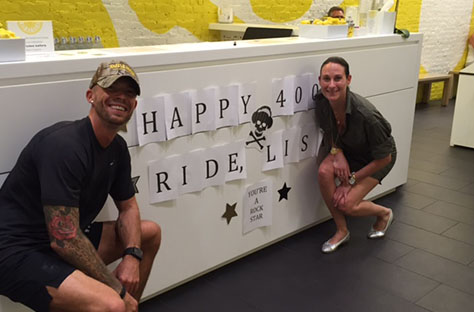 Lisa (right) with instructor Conor Kelly
A lot has happened since my last Soul blog post more than two years ago. I was riding six days a week and feeling the best I had felt in as long as I can remember. My fibromyalgia and chronic fatigue were under control for the first time in at least eight years. Soul was the best medicine and physical therapy that I had ever had. It literally changed my life, and my instructor and now friend Conor Kelly helped start my journey at that very first ride. I will forever be indebted to him. More on that later…
In November 2014, I got very sick with mono and at the age of 35, that was not fun. I remember being in the ER with a fever of 104 when the doctor came in the room to tell me I had it, and I immediately started crying. I was so upset for two reasons: I could not be near my two-year-old nephew, and I would be off of my bike, for an uncertain amount of time. Literally the two most important things in my life! I could FaceTime with Max, but I couldn't face time my Soul rides.
I was home resting with mono, and I started to get extreme migraines. It felt like a machete going into the back of my head. I couldn't even put my head down on the pillow. The pain was unlike anything I have ever experienced before.
After many doctor's visits — where I was told it was the mono giving me such pain and I was told to just rest as well as being given many medications that failed to help the pain — one incredible doctor sent me for an MRA test on my head. An MRA is different than an MRI because it focuses on the blood vessels inside the body. The test showed that I had brain aneurysm behind my left eye, and within four hours, I was in the ICU at NYU hospital. December 13th was the day my life would change forever.
I was very lucky that they found the aneurysm when they did. My surgeon said that when he went into my brain, the aneurysm was on the larger side and had begun softening — and that softening most often leads to rupture. Once ruptured, you can either have long-term damage or in most cases, not survive.
So that was that. I was alive (albeit in complete disbelief and shock), with a stent in my brain, and on an airplane a week later (thanks to modern medicine!) to recover in Florida where it was sunny and warm. I still had the mono in my system during my recovery, so I was still feeling pretty miserable, and I was still off a bike.
Everything suffered because of this. The pain from the fibromyalgia was back, I had zero energy, I slept all day every day, I was hardly working, I was just a mess. After four months or so, I got clearance from my doctor, and my healing journey 2.0 at SoulCycle began.
The recovery has been a slow process for sure, but I have been back at Soul steadily for a month now. There were days my ride felt like 45 minutes of chugging through the mud. I had to move to the back row. There were weeks I couldn't ride. With every passing day, my goal was to get on that bike and not have it be a struggle. It was not easy for me.
I wasn't always good to myself. I was angry and frustrated with how weak I was, and how far I had set myself back from the progress I had made in the year prior. I had truly hit rock bottom in my mind, and even though I was so extremely fortunate to be alive, I couldn't even reconcile that in my head because I felt so physically and mentally horrible. I just don't think your life is ever the same after you experience this type of trauma.
Cut to Conor. Aside from his relentless energy and passion for his riders, he has the biggest heart, and his actions prove that. He has supported me since my first ride two years ago, and stuck with me when I was off a bike for these last eight months. The smile on his face when he is riding that bike says it all, and it is because of him, that part two of my journey at SoulCycle has been so meaningful to me.
Conor's class got me through the hardest time in my life. The days where I felt guilty I was alive because I couldn't feel fortunate that I survived what could have been a deadly event. Every week was another doctor, another plan, another route that I should take to get healthy. Through it all, I craved being at SoulCycle because it made me healthy. Conor's classes make me stronger and happier. His words of encouragement have pushed me to keep fighting for my health, and keep making my life a healthier one.
People joke that I have lost my mind completely because of how much SoulCycle means to me, but one thing I have learned this past year is to just do me, whatever that may be. It is what keeps me going. My "new me" is because of the courage, determination, and strength I continue to get from Soul and from Conor.
I can't say I have a favorite ride. They are all my favorite! I have never met a theme rider I don't like, so any chance I can to dress up on a bike is always fun!
The people I ride with inspire me. I also ride with Stacey at East 83rd Street and I have made some incredible lifelong friends thanks to Soul, and each one of them have their own story. It is a place where we can all be ourselves, share a common bond, and push each other to be better and stronger. And each class I ride has its own loyal pack of people, so their dedication to show up and keep pushing themselves inspires me on the days where I may be physically feeling crappy.
What else can I say? I did this follow-up blog because I thought it was meaningful to show how I have had a reinvention of sorts with myself at SoulCycle. The first time around Soul breathed life into my bones, and this time around, Soul has helped me to appreciate every breath. Life may throw curve balls, and everyone experiences setbacks along the way. I have learned to never take one single day for granted, good or bad. No matter the situation, having a place to go that is reliable, safe, FUN, and supportive has been life-changing for me.
Do you have a Soul Story to share? Email blog@soul-cycle.com!
Want to ride at SOUL? Grab a series
HERE
and book a bike!
MORE FROM SOUL
null