Soul Story: Lisa Long Adler
October 28, 2015
After being diagnosed with breast cancer, LISA LONG ADLER felt shocked and afraid. But tapping it back throughout her treatment gave her courage, confidence and support from the Soul community. Now this warrior and mom of two shares her brave Soul Story...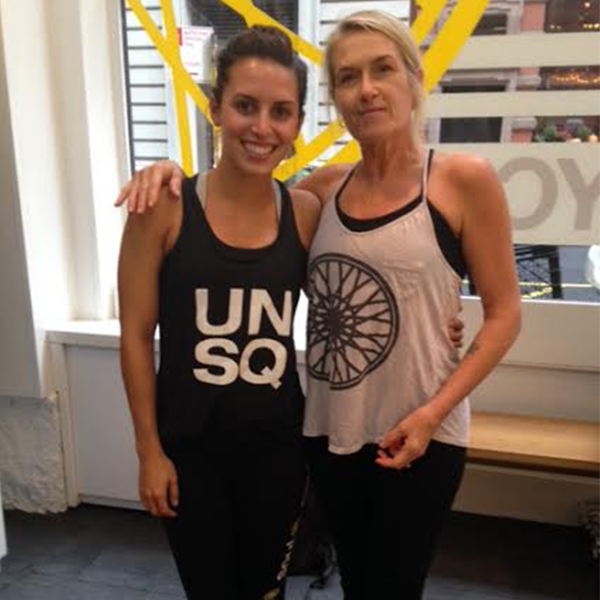 I learned about SoulCycle from a friend. She said it was a fun workout, so I decided to give it a go. My first ride was with Kym at Union Square, maybe five years ago. I remember it being tough, which I loved. I had been indoor cycling for years and was so happy I could be so challenged — plus it was super fun!
I love everything about the physical workout at SoulCycle, but honestly the sense of community from the instructors and other riders has really been the greatest, and has really kept me coming back.
SOUL is a form of meditation for me and it always sets a positive tone for my day (I love morning classes), even when I am experiencing a great deal of stress. I am a widowed mom with two children (one still at home) and I own my own business, but SoulCycle keeps my mind and my body strong.
Following a routine mammogram in early October 2014, I was diagnosed with breast cancer. I was healthy, fit, and had no family history of breast cancer, so I was shocked at first. Then fear set in; being told I had breast cancer was really frightening for me.
Since I was diagnosed in October, I had been reading the breast cancer survivor stories shared on the SOUL blog by riders. A few days after my diagnosis — and before I had any real information — I stayed after class to talk to my instructor, Madison (love her!) to see if she knew anyone who might be comfortable talking with me about it. She was going through her own struggles at the same time, and she was so kind and helpful to talk to. Madison connected me with Melanie Griffith (who is so inspiring!) and some riders who were going through the fight as well.
I was lucky. My cancer was discovered in an early stage, so I opted for a lumpectomy. I did have to have another surgery after about two months, then radiation treatments, but I am fine now, and I was really happy with my surgeon and my whole team at Memorial Sloan Kettering Cancer Center (MSKCC).
My surgeon at MSKCC, Dr. Alexandra Heerdt, is a big believer in exercise as an assistant to healing and encouraged me to get on the bike as soon as I felt able. Mentally, I really wanted to get back on as soon as I could, and I took my first class after my first surgery after two weeks. Even during my weeks of radiation, when I was definitely fatigued, I would clip in at least a few times a week and it truly helped.
My two incredible children — especially my older son Dylan, who was so incredibly supportive and helped me stay positive for his little sister — also gave me so much strength throughout my fight, as well as my other family members and dear, supportive friends. I felt a lot of gratitude for the love around me. I also felt very thankful that I was diagnosed so early.
I would tell anyone who is affected by breast cancer to continue to live their life; this disease does not define you. Never be afraid to reach out to others who have been through it, because there is a lot of strength to be found in community.
SoulCycle is honoring Breast Cancer Awareness Month all October long. Check out our guide to self-examinations HERE! Do you have a story to share? Email blog@soul-cycle.com! Want to ride? Grab a series HERE and book a bike!
Photo: Lisa Long Adler (right) with instructor Madison Lari
MORE FROM SOUL