Soul Story: Kylie Meek
August 24, 2015
Since clipping in at SOUL, rockstar KYLIE MEEK found inner strength and positive energy within the community. She shares her story…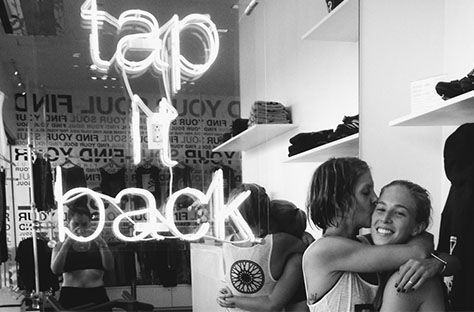 Kylie Meek (right) with instructor Halle Murcek.
Know your worth and you will be able to take on the world headstrong and fully committed. As you mature you realize that internal strength is something you need to work on every day. In fact, that internal strength can be seen and utilized from the inside out.
I surround myself with only those who bring me up and enlighten me. I respect my peers because they embody the light and love that life has to offer. And then there's SoulCycle: an ENTIRE community that can do just that.
Having just recently graduated from Loyola University Maryland, I wanted to set new goals for the summer to come. I wanted to expand my capabilities and set the bar higher than before. I decided to set new goals that were spiritually and physically aligned. That combination ultimately led to me back to SoulCycle.
I took my very first class back in November 2013. Right away I was hooked. Having always been a workout enthusiast, I was so eager to try SoulCycle. I remember booking my very first ride the night before Thanksgiving with Erin T. when she was an instructor at Soul Short Hills. And here I am now, stronger than ever: physically, mentally, and spiritually. I have endeavored on a journey with the SoulCycle community and myself, and I hope to continue to spread the word.
No matter your age or where you come from, SoulCycle can make any individual radiate. One of the most important values that members of our society need to constantly focus on is self-confidence.
Self-confidence is powerful, constructive, and moving – as long as you let it be. I believe all human beings have an inherent value, and a place where confidence and positive energy thrives is SoulCycle. No matter what studio you step into, the positive energy overtakes your spirit and makes you feel like a warrior.
Instructors Christina Pearson and Halle Murcek in particular have helped me channel my inner strength in more ways than one, and I cannot thank them enough. Their styles are entirely different, yet both embrace the power of now and the rider's internal strength.
Halle's class has truly challenged me physically, mentally, and spiritually. She brings all of her energy, passion, and love to the room. She pushes herself, as well as the other riders, to not only envision their full potential, but to start using their full potential right then and there. Lights off, music blasting – just you, the bike, and the pack.
I've clipped in with Halle weekly, and seen her grow in the same ways as I throughout this past summer. She is an incredible instructor and brings real-life emotion and vibes to the room. Her class makes you physically work hard and push yourself in so many dimensions.
You get off that bike feeling like you can take on whatever the world has to offer. She says it how it is and pushes you to lengths that you did not even know you were capable. Halle has channeled my inner warrior, and I can honestly say that her wonderful words of wisdom allow me to envision my dreams.
We all want this and that, but what about wanting to love yourself and wanting to know your self worth? Halle's fast-paced sprints, heavy climbs, and incredible arm series ignites this fire which is set deep inside your soul.
SoulCycle gives anyone the opportunity to feel something deep and know his or her value. I am now constantly thinking about the impact I leave on other people. I hope to influence others in a way that allows them to succeed.
I am so beyond grateful and inspired by the love and feedback that I receive from the SoulCycle community. Halle made me stronger in a multitude of ways, and I feel truly grateful for everything that she brings to Soul.
At the end of the day, we all want to live for something positive. Our energy and thirst for life can ignite and empower us. All it takes is one ride to start your journey. Halle has helped me in more ways than none. Rock on, SoulCycle. Rock on.
Have a Soul Story to share? Email blog@soul-cycle.com!
MORE FROM SOUL