Soul Story: Karen Hennigan
November 23, 2015
Rockstar KAREN HENNIGAN — currently a Major in the United States Air Force — shares how clipping in at SOUL gives her support and challenges her in day-to-day life…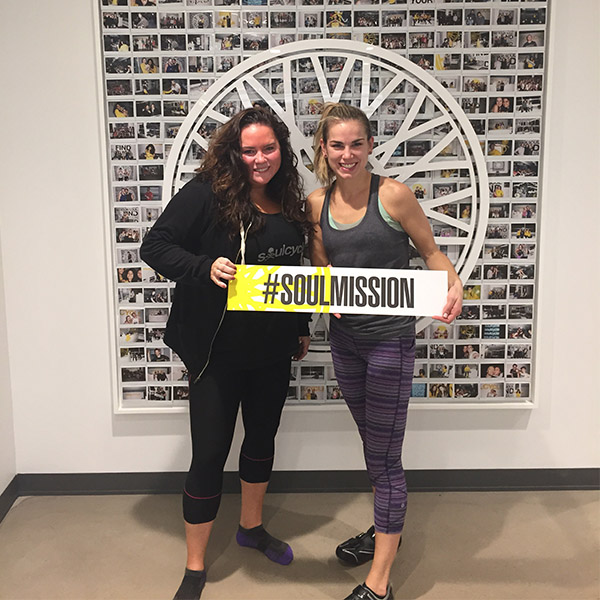 I was on active duty with the United States Air Force for four years. I am currently a Major in the Air Force Reserve. I began my military career in September 2001, a week before 9/11, and I'm still serving.
I started my career in the Air Force after receiving a direct commission from the President. I wanted to find a challenging way to utilize my law degree. I grew up in a very patriotic part of Brooklyn, in a family where three prior generations served in the military, so the idea of the service was both attractive and a little scary to me. When I was offered a direct commission as a JAG (Judge Advocate General), I jumped at it. It has been 14 years and counting.
Throughout my time in the Air Force, I've learned that the mission comes first. You get the job done. Period. Sometimes this means sacrifice — living in strange and unfriendly places, missing home and being uncomfortable. But it also gives you a sense of pride, purpose and perspective, and leaves very little room for nonsense. It also helps you practice gratitude.
I also received some of the best advice since I've joined the armed forces: Loyalty and respect must be earned. You will not get them if you don't give them.
I was thrilled when SoulCycle came to FIDI because it was so close to my office. I was apprehensive about trying it, but was so intrigued by the mind/body focus people seemed to rave about. Now I am one of those lunatics who never stops talking about how great SOUL is.
My first ride was honestly a blur because I was so enthralled with the atmosphere, the music, and the sense of accomplishment I felt in completing a good challenging ride.
My second class was what hooked me, though. I signed up for Christina P.'s Soul Survivor (though I didn't realize until it was over that a Survivor ride is actually longer). Again, I felt a sense of pride in a mission accomplished. I also connected instantly to Christina's style — she finds a way to make each rider feel challenged and supported, and her music is fantastic. Plus, she made even my eyeballs sweat (LOL). I was hooked from then on.
SOUL has helped me tap into a mind/body/soul connection that has long been missing for me in my workouts and my life. I injured my back while serving and felt disconnected with my workouts for years. At SoulCycle, each ride is an opportunity to clip in, tune out, be kind to myself and do a job well. The workout and the SOUL community have had an incredibly positive impact on every area of my life.
I also see a correlation between SOUL and the service; there is nothing more military than a pack of warriors moving toward a shared goal. I love it.
I love every part of the ride, though I think the stretch is the unsung hero of each class. I never get why some people skip those invaluable few moments. In particular, Christina P., Sam Y., Santron and Noa emanate amazing vibes at stretch time that set your day off into the best direction. I leave every one of their classes feeling like a badass warrior (but one with a giant smile on her face).
Last but not least, the SOUL staffers are pretty amazing, especially at FIDI. Anyone who can motivate me and make me smile and mean it on a Monday (and every day) is a true warrior!
Have a Soul Story to share? Email blog@soul-cycle.com! Want to ride? Grab a series HERE and book a bike!
• Photo: Karen with instructor Christina P. (right)
MORE FROM SOUL