Soul Story: Jessica Markus
November 4, 2015
BRENDAN BITTNER was a SoulCycle rockstar. After graduating from SOUL101, he shared his Soul Story on our blog — and soon invited his sister JESSICA MARKUS to try tapping it back as a way to push past the pain and temporary paralysis she endured from lupus and Guillain-Barré syndrome. When Brendan passed away unexpectedly last February, our community lost an incredible warrior. Now JESSICA shares her brave, beautiful Soul Story and how she honors her brother with every ride…
I never thought that a SoulCycle gift certificate could change my life… but it did, and I am eternally grateful to the community and the precious soul who got me started on this amazing journey.
I have always loved movement. I have been a dancer since I was three years old and have been taking classes, performing in shows, and choreographing ever since. A few years ago, a chronic string of health issues really slowed me down and I stopped moving altogether…physically, emotionally, and mentally. In January of 2012, after years of mystery health scares, I was diagnosed with lupus and it changed the course of my life in profound and difficult ways.
Lupus is a chronic, autoimmune disease that can damage any part of the body (skin, joints, and/or organs inside the body) that occurs when your body's immune system attacks your own tissues and organs. The disease left me tired, depressed, and unable to do any physical activity. The treatments made me gain 60 pounds and I pretty much gave up dancing, or any sort of movement, for good. I spent two years being a hostage to my disease and so much of my life and my soul suffered due to living with this chronic illness. It was the lowest point in my life and I succumbed to the fact that this was my "new normal"…until things got even worse.
In February 2014, I woke up one morning feeling sicker and more unusual than normal and by that afternoon, I was paralyzed. Later that day, I was diagnosed with Guillain-Barré syndrome (GBS). GBS is a disorder in which the body's immune system attacks part of the peripheral nervous system. After a rigorous course of treatment and an extended hospital stay, they were able to halt the effects of the GBS and keep it from doing permanent damage. But I still needed to learn how to walk and use my arms and legs again as I was left temporarily paralyzed. Weeks of intense therapy ensued and slowly I began to regain the use of my arms and legs and was slowly able to begin to somewhat function again.
My brother, Brendan, had always been my best friend and my biggest cheerleader through the ups and downs of my life. He was always there and always supporting me while lending his wit and hilarity to any situation. He watched me as I struggled with my lupus and GBS and claimed he had the suggestion to cure all of it… or at least a cure to help me regain some of my soul: SoulCycle. Brendan suffered from Type 1 Diabetes and had also been looking for ways to manage his chronic illness and he recently began "tapping it back" to feel better and regain his strength and health in the face of his own illness.
Living and working in NYC, I had heard of SoulCycle and seen all of those super-fit people bopping around in their skull hoodies and thought that these classes could never be for me. I was overweight, recently paralyzed, and depressed…a far cry from anything that even resembled a healthy person. But Brendan, knowing what I needed, SoulBullied me into my first class by buying me a SoulCycle gift certificate for my birthday in July 2014.
I attended my first class on July 24th, 2014 with Brendan for his birthday ride and it was 45 minutes that changed my entire life. We rode with instructor Becca Raphael in the SoHo studio (one of Brendan's favorites!) and I was so scared when I entered that room for the first time. Becca told me that my only goal for the evening was to stay on the bike and keep pedaling. It was so hard and I was so unsure of myself on that first ride after not having worked out in years…but there was something strangely exhilarating about it as well, there was a feeling that I needed to conquer my fears and all of these crazy moves on a bike. I was hooked.
SoulCycle became an important part of my life from that moment forward and a huge bonding experience for my brother and me. Brendan and I would take classes together every week in SoHo since we both worked in the city. We would explore other studios separately and update each other on the classes and the instructors we rode with. At Thanksgiving, we spent the holiday in Washington, D.C. with my family and rode together there as a way to bond during the holidays.
Brendan
(below with Becca Raphael)
loved SoulCycle and he was so extremely happy when he was featured on the
SoulCycle blog
on the October 6th, 2014. His
blog
spoke of his new obsession with SoulCycle and his goal to ride in every studio in the NYC/NJ/CT area with the studio's signature instructor. Brendan was well on his way to accomplishing his SoulTour and tapping it back all over the tri-state area when his life was suddenly cut short on February 13, 2015 due to complications of Type 1 Diabetes. SoulCycle was such an important part of the last months of his life that we spoke about his obsession during his eulogy and even buried him with one of his SoulCycle shoes. I have the other shoe and I now bring it to studios and ride with it frequently.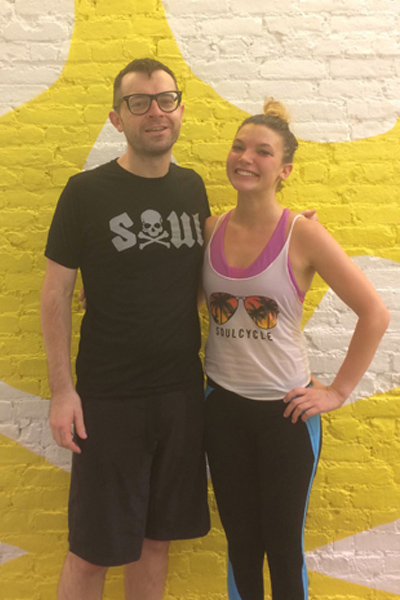 During the first days after Brendan's death, I vowed to never SoulCycle again. I feared it would bring me too much pain and sorrow to be in a place that my brother and I jointly loved so much. A few days after my brother's passing, I got a message from instructor Monique Berarducci, whom I had been riding regularly with in Bronxville, offering her support and letting me know that she would be there for me as soon as I was ready to get back on a bike. I thought her notion of ever getting back on a bike was ridiculous, but I was touched that she offered to help to heal my now shattered soul.
After a week or two, and due to her encouragement, I took my first SoulCycle class with her and I rode with my brother's shoe at my side. I cried. She cried. But I got through it with her support and made the decision that I had to keep going and pedaling, even if it hurt, because giving up this gift and passion that my brother instilled in me would hurt even worse in the long run.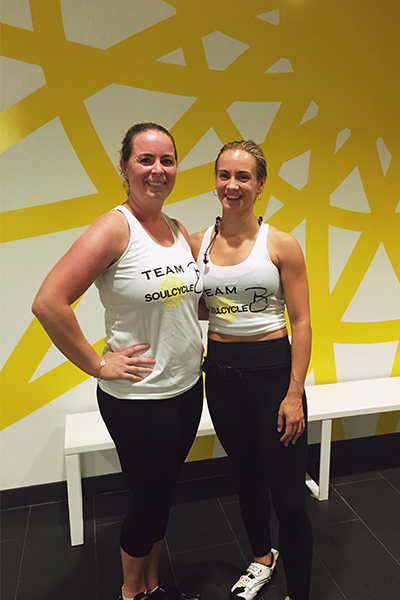 In the eight months since my brother died, SoulCycle has been my hope, my refuge, my safe spot from the chaos that now surrounds my life due to my brother's death. Monique (above, right, with Jessica) has been there every step of the way encouraging me and calling me out when I am giving up. She has been my inspiration, my cheerleader, my grief counselor, and my friend. Monique helps to restore my soul every time I step into her class and I am grateful to her and to the friends that I have made through SoulCycle who have shared their own stories of loss and how being on the bike has helped them too. There are not enough words to ever thank her for how she has been a light on this dark journey and I will be thankful for her for the rest of my life.
I am also grateful to Brendan's favorite instructors, Becca and Linsday Waxer, who made him so happy during every one of the rides he shared with them and for being people I have been able to seek out when I needed to feel a little more of my brother's soul on a bike. They are amazing and I am so glad he found such wonderful people to guide him on his Soul Journey.
As a tribute to my brother Brendan, his passion for SoulCycle, and to honor his life cut way too short, my family hosted Charity Ride to raise funds for the Juvenile Diabetes Research Foundation (JDRF). The ride was on October 16th at the Bronxville studio…and it was amazing. Monique led the nearly sold-out pack and we were supported by family, friends, Soul first timers, and the most amazing group of regular BXVL riders. The energy in the room was electric and Monique honored by brother by playing all of his favorite songs and sharing wisdom and inspiration that kept us all pedaling in his honor. The ride embodied everything my brother loved about SoulCycle: hard work, awesome music, fun, laughs, and a chance to challenge and change yourself. We will forever be grateful to Monique for helping us bring his spirit to life on the bikes and to everyone who supported us and made a dark time a little brighter. Brendan's SOUL was there with us that night and I know he was smiling down on all of us. We are also so thankful to SoulCycle for supporting the ride to celebrate Brendan and raise funds for such an important cause.
I miss Brendan every moment of every day, but I know that he is happy that I am still on a bike and finding my SOUL. I truly feel that SoulCycle was a gift he left me to help me through this new normal. The time I shared on a bike with my brother will always be some of my fondest memories.
I will be forever grateful that Brendan gave me that SoulCycle gift certificate for my birthday. It has changed my whole life and has helped my soul grow in countless ways. Thank you, SoulCycle!
Do you have a Soul Story to share? Email blog@soul-cycle.com. Want to ride at SOUL? Grab a series HERE and book a bike.
MORE FROM SOUL