Soul Story: Isabel Cheren
October 13, 2015
"Everyone at SoulCycle played an essential part in my fight against breast cancer," says NYC rockstar ISABEL CHEREN, 76. In honor of Breast Cancer Awareness Month, she opens up about how the community gave her strength while never missing a tap back through her treatment...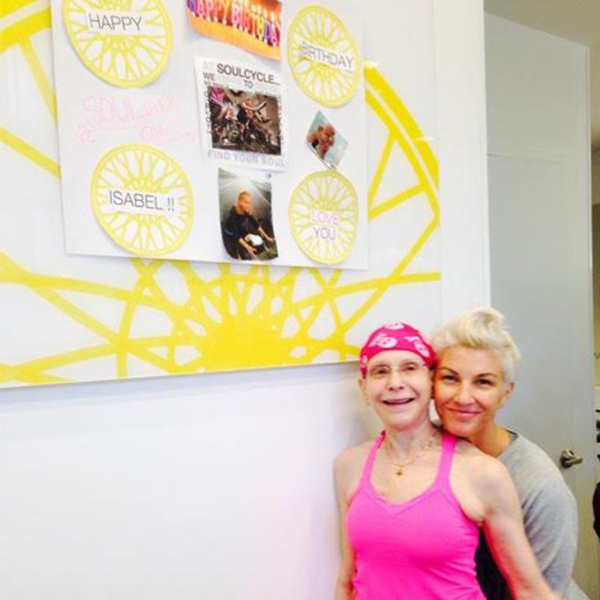 Isabel (left) with instructor Stacey Griffith after her birthday ride while she was undergoing treatment
I first came to SoulCycle a few years ago. I was walking my dog and passed the corner of East 83rd Street and Third Avenue, which was under construction. I was worried it would end up being a bank or something, but SoulCycle cofounders Julie Rice and Elizabeth Cutler were setting up bikes outside of the studio. They explained what SoulCycle was and offered me a free class to try it out when the new studio opened, which I took them up on.
My first class was with Stacey Griffith, whom I still ride with. Not knowing any better, I sat right in the front row — not the best place for a beginner! But it was a great class, and since then I've been attending three days a week, often doubling.
As a former nurse practitioner, I am very conscious about my health. Each year, I get a routine mammogram, so I was shocked when they found non-palpable lesions in my breasts in August 2013. It almost didn't register with me; when I read the results, I blocked that piece from my mind at first. I wound up having a lumpectomy, and I was told I would also need chemotherapy.
SoulCycle was an essential part of my support system during this time. Both Julie and Elizabeth worked hard to get me an appointment at Memorial Sloan Kettering Cancer Center after I was diagnosed, and another rider, who had a connection to the hospital board, helped as well. They were all instrumental in getting me into Memorial.
Throughout the winter of 2013 to 2014, I continued chemotherapy. I'm very independent, and after my initial appointment, I would take the bus by myself down to Memorial, have my appointment, and head home. It was a tough winter, though — very cold and very icy — and one rider from E83 offered to drive me to my appointments (and didn't take no for an answer). She would drop her son off at school, then drive me to Memorial and wait for my appointment to finish before taking me home.
In 2014, I had a double mastectomy, but I continued to ride throughout my entire treatment (I just skipped the pushups until I fully healed after my surgery). Everyone at SoulCycle played an essential part in my fight against breast cancer. I truthfully would not have gotten through it without them.
I haven't hit the five-year survival mark yet, so I suppose I might not call myself cancer-free, but I feel like I am. I feel good, and look at breast cancer as though "it's not bothering me, so just keep leaving me alone."
The most important thing I learned is to stay positive. If you are fighting breast cancer, don't run away from it. If you feel something, don't wait to address it. But you also don't need to rush a decision. You have time to make the right choice for you.
There are also special support groups who are there to help you. I personally didn't attend them, though — I had my support here at SoulCycle, so I didn't need them. But I don't believe in keeping something like this a secret, because you need that foundation in others. It's nice to know that people care, and each person at SOUL made it so clear that they did. To me, I'm past breast cancer, and it is because of SoulCycle.
SoulCycle is honoring Breast Cancer Awareness Month all October long. Do you have a story to share? Email blog@soul-cycle.com, and check out our guide and breast self-examination HERE!
Want to ride? Grab a series HERE and book a bike!
TOP PHOTO: Isabel (left) with instructor Stacey Griffith after her birthday ride while she was undergoing treatment
BOTTOM PHOTO: Isabel with her husband and great-granddaughter
MORE FROM SOUL