Soul Story: Genevieve Bahrenburg
November 5, 2015
Warrior GENEVIEVE BAHRENBURG spent 22 days in a coma and endured 13 brain surgeries after a devastating accident in 2013. After a long, grueling recovery, she's back on the bike and doubling almost every day. Now she shares her incredible and inspiring Soul Story...

Back in 2013, I was living in NoHo on Bond Street and working on a variety of projects — writing for Vogue, co-producing Claiborne Swanson Frank's second book Young Hollywood (I had previously done 2012's American Beauty), writing a book for Chuck Close called Close to Close and helping him with his Hollywood Portfolio for Vanity Fair's 20th Annual Hollywood Edition portrait series, as well as a range of fundraising efforts including The Lunchbox Fund, Coalition for the Homeless, and Paul Haggis' Artists for Peace and Justice (APJ) for Haiti.
But I always found time to ride at SoulCycle and I doubled at NoHo all the time. I was really pleased with the mind, body, spirit and athleticism at SoulCycle. I grew up as an athlete, and as an adult, I was very active doing SoulCycle and yoga and going to Equinox. All of this helped me maintain all the creative projects I was working on physically and psychologically. Those double SoulCycle classes, in particular, allowed me to keep up my physical, intellectual and psychological pace.
My life changed dramatically on December 31, 2013, when I had a brush with death. I was in the process of moving from Bond Street to Bowery on New Year's Eve (I was officially moving there on January 1) so after a dinner at Omar's, I went to 263 Bowery for a 'cheers' with friends.
The elevator [at the new apartment] wasn't working, so my friend went down the stairs across from the street because we couldn't get into to my new apartment. I was holding the door open and looking down the stairs. What I do remember is that there were lots of people walking around Bowery on New Year's Eve. Even though people kept trying to talk to me, I kept looking down the stairs. That's the last thing I remember.
My friend heard a loud thud and turned back around to find me lying at the bottom of the stairwell, unresponsive and without a pulse. I didn't make a sound and was blue. My friend gave me CPR, the EMS paramedics arrived quickly, and I was admitted into the ER for a level 1 Traumatic Brain Injury (TBI) — the most severe form.
Unfortunately, this wasn't my first traumatic brain surgery. As an eight-year-old, one of my Nightingale-Bamford classmates mistakenly crashed right into me while we were playing a game of tag in the Central Park playground. I fell uncontrollably towards the big metal sprinkler. Then boom! It caused a massive epidural hematoma and I was whisked away on a stretcher to Mt. Sinai.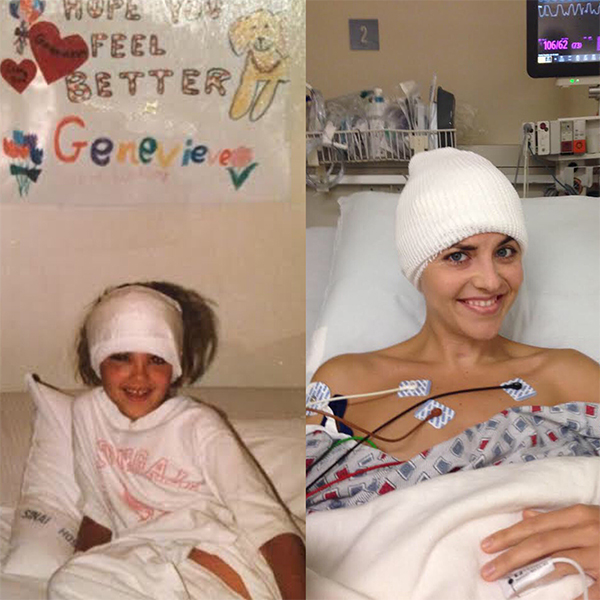 After my first brain surgery, I had to learn to speak and write again. I wrote a school essay later that year, saying: "Although the accident is over I still have a permanent reminder that stretches from my right ear to my left. This incident has taught me to live life the fullest way possible because it can be taken away from you very quickly. I also learned it was incredibly important to work on a goal and the satisfaction you receive from accomplishing it."
The second time around, the doctors actually used my childhood scar to open up my head at some of the surgeries. My childhood surgery helped me to undergo these recent surgeries, because I had already been taught that I could overcome brain surgery. I am fortunate that I had these two experiences, because they helped me believe that I could reach my goal and recover — which has infinitely more difficult this time.
I was admitted into Bellevue ICU on New Years Day 2014, and was in a coma for 22 days. The neurosurgeons had removed two large hematomas on the right side of my brain, then went back to remove the left side of my skull to ease the brain pressure. After multiple attempts to get me off the respirator, I was given a tracheotomy so I could breathe and a feeding tube was placed in my stomach (which has made me focus on Liqueteria and other smoothies).
I left Bellevue and Mt. Sinai, where I stayed without my skull, and finally went back to the Bowery apartment where I had fallen. My left side has been replaced three times — the last one was April 2015.
Throughout the fall of 2014, I spent my time seeing doctors at NYU, attending a psychologist and speech teacher at RUSK because of my severe aphasia, and working out with DVDs for exercise.
In January 2015, I switched gears profoundly. I moved to a new apartment. I began heading to double at SoulCycle again, and I spent my time writing for Vogue, writing my book and my Close to Close book, creating art, taking self-portraits of my surgeries and photographing and filming the ocean, and visiting hospitals to see people with TBI.
I came back to SoulCycle this past January after I decided that I should retry what I had done in the studio before my horrific accident. I missed the mind, body and spirit, and I had to try to return regardless of my state and the pain I was in physically.
I have also been working on my documentary with Amy Ziering and Jill Goldman, my mother and my father, my dear friend David Blaine and Chuck Close, all of whom were heroes during all throughout my surgeries. (I wrote about Chuck a few weeks ago for
Vogue.com
).
David Blaine has been an endurance artist for me during my recovery. He gave me a blue Smythson notebook and I would go to the Metropolitan Museum, MoMA, the Whitney and the New York Public Library to write down the names of artists and writers to help me overcome my aphasia and my inability to speak complete words. He taught me to handle extreme physical pain and force myself to higher mental awareness. I had to prepare psychologically for my 12th surgery — my seventh skull surgery — on April 2015, which put a plate over the missing part of my skull. I looked at the TASCHEN book he gave me called "Magic," and envisioned a levitation occurring from a magician while I was put to sleep. I needed to spiritually focus on purity, oxygen and magic for a therapeutic tool.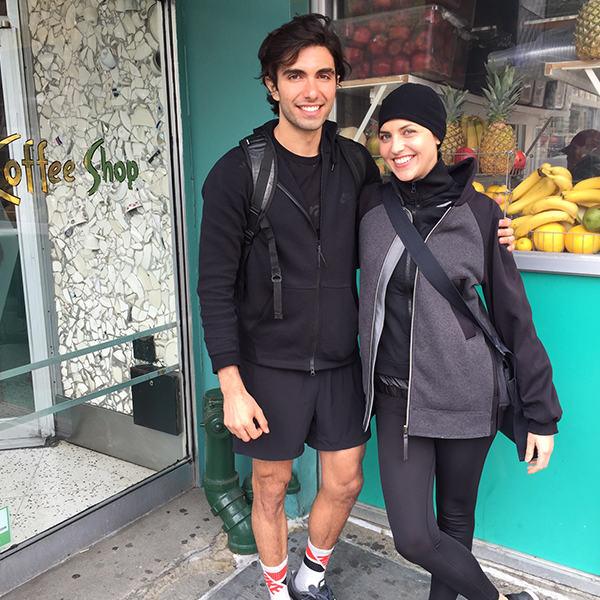 My other hero — who helped me tremendously with my 12th surgery, and helped me daily — is instructor Akin Akman. I met Akin at SoulCycle Union Square, and his quote, "Use fear as fuel to overcome your struggle" has helped me tremendously with my mind, body, spirit and the ability to make my struggle fearless and full of fuel. He is a warrior, fighter, legend, athlete, rock star and renegade (like it says on the wall at SoulCycle). I love his music, intense workouts, fighter-ship, strength, endurance and soulful positivity. His focused strength, resilience and energy have helped me considerably. He's badass and beautiful.
Akin shared this with SoulCycle recently about my journey, which made me feel even more confident in my improvements:
"Throughout Genevieve's journey since her 11th surgery, the progress she has made both mentally and physically has been remarkable. She was back to riding in my class only one week after her last surgery and initially had trouble keeping the rhythm and correct lead foot. She was so dedicated to improving and accomplishing the advanced moves that she consistently came to my classes and even progressed to doubling several times a week.
Because of Genevieve's visible motivation to better herself in every class, her form and ability to stay on beat have markedly improved. She now picks up heavier weights and stays up for the runs even longer than she used to. She rides every class with a confidence and positive outlook on her life that is evident both in and out of the classroom. She also initially had some trouble remembering certain words and names, but I've noticed she has become much better at communicating her thoughts. These mental leaps and physical accomplishments are so exciting for me to watch. She embodies everything I believe in. "You can manifest your own reality," "there is nothing you can't achieve when you will it!" Everyday she gets stronger and more driven to take on whatever comes her way."
My mind, body and spirit were separate before SoulCycle, but clipping in, especially with Akin, has helped me mentally, emotionally and physically put them together and help maintain the warrior I had become through all of my surgeries.
I have created my own self-portraits and photo collages to connect my lost self with my current self. To handle the depth of the darkness of my pain and inability to speak, I use art and double SoulCycle classes to help me focus and bring my mind — my fake skull and my real skull — together. I smile in every single hospital picture — they are smiling self-portraits.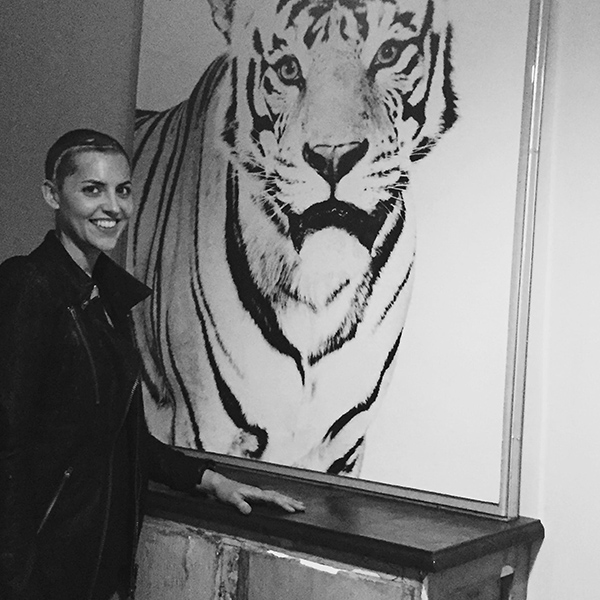 Doubling at SoulCycle with Akin and other incredible, inspiring teachers has been profoundly helpful. When I began SoulCycle this year, my right arm and right leg were in a bad place because I hit all of them when I had my accident. My balance was off. I was unable to speak, breathe regularly, write with my right hand, and I was still undergoing many surgeries to help with aphasia. But I had lived, so I was lucky. SoulCycle helped me so much with maintaining positivity and getting infinitely stronger and more athletic, like I used to be.
As I grow stronger every day, I am learning to forge a new path for myself. I see more, I feel more, and I'm infinitely more visual. Power and truth come from within when you align your mind to your soul. I've learned the importance of living in the moment — I wrote the same sentence when I was eight years old — and the discipline required to deflect doubt and nervousness.
In addition to taking SoulCycle classes twice a day, I drink green juice and eat omegas, vegetables, and coconut water daily. Holistically, I settle into meditation, breathe deeply, and close my eyes if my brain starts wandering into worry.
Listening and recognizing your mind, body and spirit is an essential part of naturally healing myself. I have set up four white boards to focus on learning my vocabulary, working on my documentary about struggle and perseverance, my TEDTalk speech, my book, and a coffee table book "Close to Close."
Defying all odds and forcing my will to live forward has helped me handle high trauma. I want to help others heal and encourage people to find their own courage and soulfulness. Changing darkness into lightness and spirit, working on art, and overcoming a transformation has provided me insight, wisdom and depth. I am very fortunate to have found physical, emotional and psychological rewards from this.
Have a Soul Story to share? Email blog@soul-cycle.com! Want to ride? Grab a series
HERE
and book a bike!
MORE FROM SOUL