Soul Story: Andy Price
October 9, 2015
After a devastating outdoor cycling injury landed ANDY PRICE in the ER, he traded bike races for rides at SoulCycle. To his surprise, he found an inspiring workout that strengthened his body while connecting him to a supportive community. Now Andy shares his Soul Story…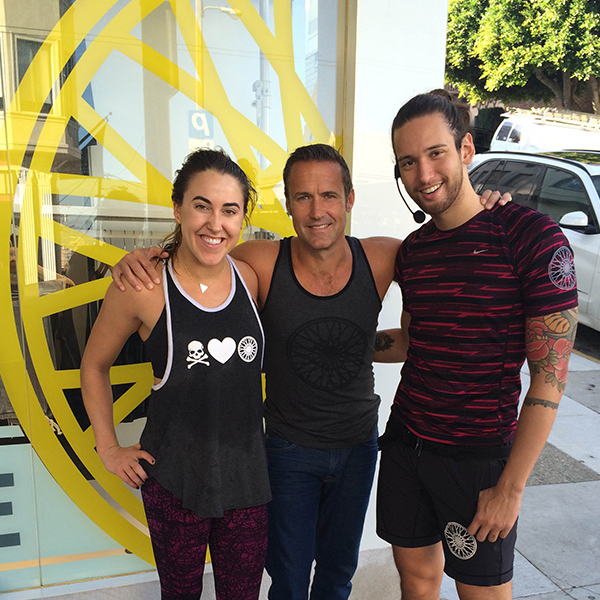 Andy (center) with instructors Jenny Gaither and Ian McAndrew
My SoulCycle journey has taken me to places I never would have imagined — or acknowledged, has brought my life completely full circle, and has made me a better, more complete human being. I'm beyond thankful for this community!
I want to tell a story that I hope speaks to men. Because way too many of us struggle with the same thing: "How badass do I really have to be?" When we should all really just be asking, "am I a human or a machine?"
To understand the depth of this story, you'd have to have known me at a very young age. I was soft-spoken, gentle and effeminate. The sensitive kid in a household of adrenaline-fueled, red-blooded American boys and men. We grew up on a farm, shot guns and rode motorcycles, killed rattlesnakes and happily acted like cave people. We built our own baseball diamond, our own soccer field and our own football goal post. We were real MEN, dammit. Sporting MEN. Dad was a Marine Corps fighter pilot and his sons would be killers and winners. I was a nationally-ranked runner at one point in high school, my brothers excelled at everything they touched and our family HATED to lose. At anything. We would never admit to fear or failure. This was our family narrative. It was an awesome thing to behold much of the time, but for me, an exhausting charade.
I quietly endured these rituals and burned more and more energy convincing myself of my hard cored-ness for decades until one day I woke up and realized that the sensitive, sweet little boy in me had slipped into the recesses of my mind and gone quiet for a very long time. I thought he was dead. "Oh well, he was weak anyway. Onto the next thing!"
Fast forward to today. In my forties, I had become what I thought was the epitome of the modern outdoorsman and an all-around tough character. I had raced mountain bikes, launched them off cliffs, did an IronMan, raced road bikes, climbed big mountains, extreme skiing, started a band. Surfed, wake boarded, on and on. If it involved adrenaline and jumping around and being loud and outdoors, and ideally a little blood, I was into it. A real man, right?
My wife Alexa, meanwhile, is the real athlete in our family and had competed at very high levels as a kid in two sports. She had fallen in love with SoulCycle, was a "Mariginal," and a devoted rider after struggling her entire adult life to find a sport that ignited her passions. She couldn't stop talking about the people, the music, workout, the service, the entire experience. She's got very, very high standards, so I listened amusedly and dismissed it as a place where guys who couldn't ride real bikes and other "weaklings" must be getting in a weekend sweat. No way I was going to ride at Soul Cycle. I thought I was too hard core. Too tough. Too cool. Laughing at myself as I write this. My cycling friends all felt this way about Soul Cycle. We were all so wrong.
Alexa finally succeeded in getting me to take a few classes and I had to admit, the workouts were a blast. They got me thinking about the selfishness of using up all that time to pursue my outdoor interests. "Maybe I should do this more often," I thought. "It's super fun and an amazing way to stay fit and still have balance in your schedule." But no, it wasn't hard core enough.
One misty morning, in the dead of winter, I was out on a training ride when everything changed. I was riding out by Alpine Dam, a gorgeous and remote mountain lake in West Marin. It's a secret stash for cyclists to test their fitness without fear of cars or stop lights or cops or people. You can absolutely fly out there. And fly I did, around a corner and into a wet patch of pavement. With no warning, my bike kicked up, my face smashed into the pavement, and the lights went out.
I was told later that I bounced off the ground, ignored everyone who came to help me, was bleeding badly, stomped around the bike, picked it up and started riding, but don't remember any of this. Rode around in circles, badly concussed, lost and confused, for a long time. Finally guessed correctly and started riding back towards my home, all the while thinking, "there are no mountain lakes where I live. I'm lost. Just keep pedaling." The next time I would have a clear thought was while in the CT Scan at Marin General...
The next phase of this story is all about fear, which in this place was a catalyst to finding vulnerability, and this unlocked a lot of good things. I had had some epic wipeouts in my life. Spilled a lot of blood and fatty tissue, torn ligaments, separated and dislocated shoulders, broken bones and beaten my body up badly over the years, but nothing had prepared me for true, base FEAR.
When you know you have a brain injury and need a hospital and you're far from home, no cell coverage, needing urgent medical care, not sure whether you're bleeding in the brain, you can get to a really dark place and that's where I went. To a very dark place. A place deep in my soul, in my subconscious mind. Glimpses of that sweet little boy appeared and re-appeared as all of this flooded into my mind. Confusion. Doubt. "What does this all mean? Who's that kid?"
The next morning, I dragged my beaten body out of bed and went to work. I should have stayed home but looking back, I am so glad I didn't have better judgment. It was, to say the least, a rough day. I had anxiety, some rage issues, was in a deep depressive funk and had no business in the company of normal people. I knew my sporting aspirations were on hold, and that I was going to have to slow down and change my life immediately, or risk a second brain injury and we all know where that can lead.
I knew that my insane work schedule and stress load would have to be channeled into something else in a hurry or I would implode but had no idea what could be an adequate replacement for mountain bike racing. On a whim, I took an Ian McAndrew evening SoulCycle class after work. It changed my life forever.
During that class, I found myself descending deeper into my anger and fear and confusion. I couldn't hear the music, just the voices in my head. And then Ian turned to me while giving one of his now-famous, always heartfelt and always inspirational sermons, looked right at me and said, "We all came here on a journey. We are all battling something." I almost cried. And as I write this, my chest is vibrating with emotion. He was so right. I looked around and knew I was in a safe, new place. On a new path. I will never forget that moment as long as I live.
My beloved Jenny Gaither, whom I refer to as "Super-G," because she's one of the strongest people I've ever met, brought it all home about a week later when she asked the class why they went to SoulCycle. I blurted out "because I don't have to be macho in here." I don't think I'd ever said anything more honest in my life....
So here it is: My SoulCycle journey in a nutshell. This place is special. You can just be you. You can sing at top volume to girl bands. Wear tank tops. Be effeminate. Be human. Connect with people and with music and yourself. Or no one. You can quietly turn that knob until your legs explode. You will connect your physical, spiritual and musical selves all into one fluid motion, which is as cool as anything you'll ever do outdoors. You can make incredible friends, because the place just attracts fascinating people who are curious and share similar interests in music and dance and art and sport, etc. You can tell yourself you're cross training. Or stop talking to yourself entirely. You cannot be measured. There is no data. No screen. Nothing but your senses, an instructor you know you would love to know socially and possibly have in your immediate family, you're surrounded by people who want you to succeed, possibly need you to succeed, and you can be exactly who you want to be in that little dark, sensual, otherworldly, candlelit room. There's no place like it in the world.
Do you have a Soul Story to share? Email blog@soul-cycle.com!
MORE FROM SOUL