Soul Story: Andrew Lennox
September 10, 2015
"I feel the happiest, healthiest and most confident I've felt in my entire life," says Bay Area rider ANDREW LENNOX, who shares how the SOUL community inspired him and helped him celebrate 10 cancer-free years by rocking the podium…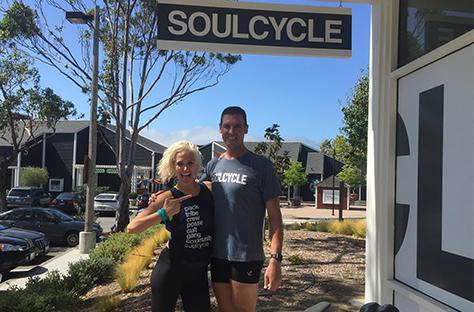 Andrew (right) with instructor Rachael Brooke
I had heard about SoulCycle from friends in New York and would see them post about their rides on Facebook or Instagram. When I found out that SoulCycle was coming to the Bay Area, I knew I had to check it out.
I almost feel like I've had two first rides. My first ride ever was shortly after SoulCycle Marin opened. I absolutely loved it! I had rowed competitively all through high school and college, and was looking for something different to stay in shape and mix things up. Working at the Marin Rowing Association — where I coach with the varsity boys team — I spend a lot of time helping others achieve their goals. But as weird as it sounds, I almost felt guilty taking time away from the team to focus on myself, so after a few classes I stopped riding.
About a year later, I was unhappy with where I was both mentally and physically. I knew that something needed to change, so I decided to go back to SoulCycle. My "second first ride" was with Paula, and was exactly what I needed. I rode next with Natalie, and I was totally hooked (again) after those two classes. The two of them have this incredible energy and the best music ever!
I'm so glad I did recommit myself to SoulCycle. As a coach you're constantly pushing others to become the best version of themselves, but sometimes forget to take the time to do the same for yourself. SoulCycle and their awesome instructors remind me to do just that — to show up, clip in and sweat it out for me. Because of that, I've become a happier, healthier, stronger and more confident rider, coach and human being.
Just being able to sweat out the stuff that wasn't serving me has been so refreshing. It's such an awesome mix - having 45 minutes to myself in a dark room with no distractions and no one watching — but at the same time being surrounded by all these strong, powerful and amazing people that have helped push me to become a better version of myself.
I always feel like I'm getting something new out of class too. After riding for a while and thinking I knew what my limits were on the bike, Jenny would challenge me to step out of my comfort zone or Rachael would come up and just lay on the resistance on my bike, turning that knob more and more. Those two have definitely helped push me to a whole new level and made me realize that no matter how long I've been riding, I'm always capable of more.
I feel the happiest, healthiest and most confident I've felt in my entire life, and I give 100 percent of the credit to SoulCycle and their AMAZING instructors! Paula, Natalie, Jenny, Rachael, Heather, Ian, Tiff, Todd, MK, Samara, Luigi and everyone else have had more of an impact on me than they probably know. They've quite literally changed my life.
I've noticed my stress levels drop, I have more energy, and feel like I'm in the best shape of my life. I never intended to focus on using SoulCycle to lose weight, but since I've started riding I've lost about 25 pounds. The absolute best part though has just been that as I've grown stronger and more confident as a rider, I've noticed that strength and confidence extend into other parts of my life outside of SoulCycle, both personally and professionally.
About six months after I started riding, I was asked to ride the podium for the first time in what would become my all-time favorite class. Earlier that day I had a doctor's appointment. I was diagnosed with leukemia when I was in high school — which I battled for two years — and this was my 10-year follow-up. After going through a whole bunch of tests and meeting with all different types of doctors, I was officially cleared as a 10-year survivor. I got out just in time to make it to class with Paula, where she asked me to lead the pack on the podium. It was an absolutely incredible feeling and meant more to me than she probably knew at the time, considering 12 years prior, I was told I might not live.
A very close second was my birthday ride! Paula and Tawny (one of the SoulCycle studio managers) decorated the entire front desk with pictures from Facebook and Instagram and a giant "Happy Birthday Andrew" sign. On top of that, Paula asked me to ride the podium again and her whole playlist that night was made of songs I had told her I liked over the past year. The boys I coach had also been riding as part of their cross-training for our National Championship and got to be part of the pack. It was a pretty awesome riding with so many amazing people and definitely the best kick-off to my birthday!
SoulCycle has given me so much strength and so many memories. My only regret throughout all of this is that I wish I had stuck with it the first time and took the time out of the day for myself earlier. If someone had told me a year ago that riding a bike that goes nowhere in a candlelit room with awesome music blasting would get me to where I am today, I would have thought they were crazy. But it has, and I'm so grateful I took that second chance.
A couple weeks ago, Heather told this great story in class that really connected with me. Basically it was about how obstacles, failures, disappointments, or people who come into our lives that maybe don't treat us they way we deserve to be treated are just a stories in the even bigger story of life. They don't define us, they just serve to make us stronger.
I feel that's been especially true of my journey. Cancer doesn't define me. Not committing to myself and sticking with SoulCycle that first time doesn't define me either. But both have made me stronger and helped me get to where I am today.
Have a Soul Story to share? Email blog@soul-cycle.com!
MORE FROM SOUL