Soul Journey: Lizzy W.
August 19, 2015
Rockstar LIZZY WASHINGTON made the jump from front desk to podium. Today, the Georgetown instructor shares her journey and tells us how leading the pack helps her do her part in the world…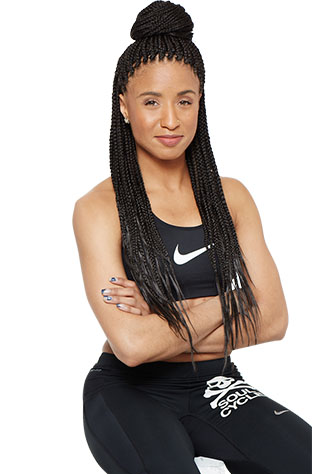 What first brought you to Soul?
The first time I was really introduced to Soul was through a Community Ride. I have a friend named Tina — who is now an instructor in LA — and she reached out and invited to her first class. Prior to this I had a bunch of friends who worked for Soul, but I never really took advantage of that, but for some reason I was really interested in taking Tina's class and showing her some support.
Describe your first class and how you felt.
The first class was honestly so scary. I had no idea what I was doing or what to expect. Even though it was scary, I was also really excited to see what it was all about.
And what did you think?
The class kicked my butt! I couldn't understand how you could have your butt off the seat and your legs were supposed to extremely fast. I think at one point in my head I said to myself "these people are beasts" and they must have some special type of Wheaties. By the end of the class I was so exhausted, but I had so much fun especially because her playlist was filled with some of my favorite jams.
What kept you coming back?
I didn't come back to class right away, but her class really motivated me to apply for a part-time position working at the front desk. I loved the atmosphere and the support that was being shown from everyone in the room and the staff at desk too. Once I began to work at the desk and I began to ride and I just got addicted to the positivity and encouragement from the instructors that worked at my studio.
How did you decide to make that transition?
What inspired me to make the move from the front desk to the podium was something really simple. I began to understand more and more what SoulCycle represents. It's a place where you can be in that present moment without any fear or judgement. It's a community that has this unspoken trust and bond that swirls through a dark candlelit room. I wanted to be someone who lead people on that journey.
How did you prepare to make the jump?
I knew it was going to be hard, but I just felt it inside that I could be one of those leaders. I began to ride more, trying a different instructor almost every class. I was so motivated that even with 2 other jobs I made it a point to ride everyday and dig deeper so that when the opportunity presented itself I would be ready. I often wanted to talk to instructors about it but I chose to just figure it out and really make my Soul journey to the podium
How is it different from being a rider?
Being a rider allows you to always check into an emotional place that can sometimes go really deep. As an instructor, you have to be an open, emotional being while also being a guide. I definitely an introvert whenever I meet new people and this has definitely made me leave that habit at the door. I have to immediately be vulnerable so that the riders in the room know that it's safe to get a little uncomfortable so they can breakthrough to the next level of who they are.
What is your biggest motivation or inspiration?
My biggest motivation is honestly wanting to do my part as a person in this world. I believe we're here to do good, and I have an opportunity to affect someone's day with good and I get to do it as my job — I feel like that's motivation enough. I would love to reach every rider, but even if I'm only able to reach one person in the studio one day, I feel like I've done my part. That effect could mean they stand a little taller, they have a genuine smile on their face, or they just feel like they're being seen and someone notices the effort they're putting. The things that inspires me the most are my past experiences. I've met a number of people and had a number experiences that have sparked a passion for life inside of me. I always revisit journals, photos, and I even go visit those people who have contributed to the passion that I have. Every time I revisit I'm able learn something new and I'm also very open to the new people and experiences that life has in store for me.
What mantra inspires you?
It's only 30 seconds out of a 24 hour day, set your mind to know you're stronger than that...
Catch classes with LIZZY W. at SOULCYCLE GEORGETOWN! Questions or comments? Email blog@soul-cycle.com!
MORE FROM SOUL