Sam Scaffidi's Marathon Motivation
November 13, 2015
In August instructor SAM SCAFFIDI conquered Pikes Peak Marathon, a race in the mountains of Colorado that ranks among the world's most grueling competitions. Now, as she prepares to run the Philadelphia Marathon next weekend, she talks about her training, the food that fuels her and how she stays mentally tough and motivated…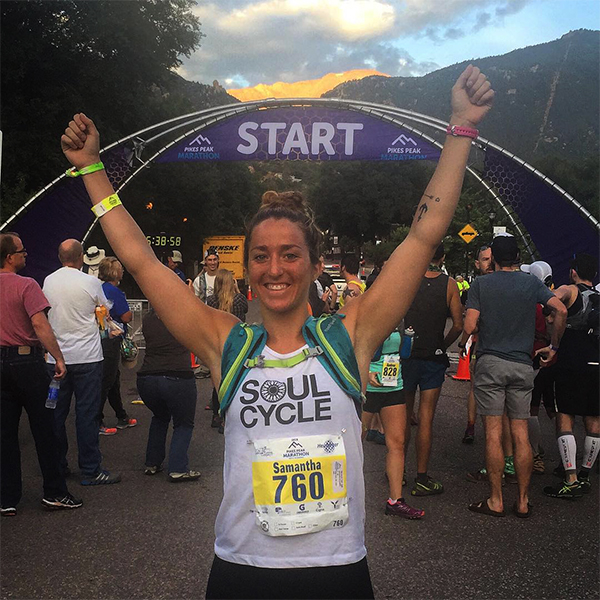 What inspired you to run the Pikes Peak marathon?
Pikes Peak Marathon is considered the hardest marathon in the country; call me crazy, but
that alone is reason enough for me. I had plans to take vacation in Colorado and wanted to run a marathon in the late summer or early fall and it all just kind of came together to be one trip. I love to find a challenge and overcome it, to push my limits and see what I'm capable of...this certainly did not disappoint.
What was it like?
It was without a doubt the most challenging thing I have ever done. It took 8 hours and 41 minutes (5 hours ascending and 3 hours 41 minutes back down the mountain), reaching more than 14,000 feet in elevation. To be honest, it was more of a hike than a run...an uphill battle for 13.1 miles… and the only objective was to keep moving forward. The descent is quicker but the course is very technical so it's nothing like any experience I've ever had running or training in New York.
How did you train?
A lot of riding, a lot of heavy resistance on the bike and a lot of cross training. It wasn't so much about running as it was about being able to keep going. Teaching on the bike and riding 14+ times a week was my cardio training. It takes a lot of endurance to teach that many classes and it takes a lot of endurance to run a marathon, lucky for me it's kind of built into my day-to-day living.
What kept you going during the rigorous training?
I held myself accountable by talking to riders in class about it; almost as if we were training for the race together. I felt like I had a whole team supporting me every step of the way. The moment I decided I was going to do it, there was no turning back! I also had someone to race with (for the two marathons I've completed and Philly this month) and for me, having someone by your side and going through it with you is all I need to keep going!
And next week you're running the Philadelphia Marathon — two marathons in one year! What motivated you to take on another one?
The Philadelphia Marathon is a road race (versus a trail race like Pike's Peak) and it's a pretty flat course. After having completed Pike's Peak, I still had the itch to RUN a marathon. My hometown is not far from Philly, so it's definitely a race I wanted to run and it feels like the timing (November 22) is right for me; enough time to have recovered from Pike's Peak and get some quality miles in before the big day!
What meals do you eat before and after a long run?
Before: oatmeal with chia seeds, banana and almond butter or gluten-free toast with avocado.
After: chicken, brown rice and sweet potato or a burger and sweet potato fries + whatever treat I'm craving… after all, this is AFTER the run. I also love watermelon after a long run!
Any goals?
This year, my only goal is to finish and enjoy the races, though I don't think it's unreasonable to hope to run Philly in under 4 hours. Maybe next year I'll train to run for time!
What's the first thing you will do when you cross that finish line?
Eat, rest and enjoy time with my family and friends!
How do running these races change your mindset and attitude?
Particularly after completing Pikes Peak, I remember thinking "if I can do this, I can do anything." And I really believe that to be true.
So much of a marathon (and a lot of challenges we face) is mental; it's about talking yourself into it even when you want to stop, then those thoughts go away...then they come back, and so on. It's making a choice to believe that you can over and over again.
Advice for people who want to train for a race or marathon?
DO IT! There is no greater feeling than crossing the finish line. Training is challenging and exhausting, I won't sugar coat it, but it is always worth it. Train hard, take rest days, listen to your body, drink A LOT of water, and don't forget to have fun — it's part of your
life, it doesn't have to be your whole life... there will be good and bad training days, but if it's what you want, it will absolutely be
worth it!
How did SoulCycle help you stay mentally strong during your training and the race?
SoulCycle was the foundation of my training for Pikes Peak (which was the equivalent of teaching or riding 11 classes) and the large majority of training for Philly. During races, I tell myself the same things I tell my riders, legs moving, eyes open, do the best you can. Our minds lead the way, I tell myself over and over again that I can and I will… then I do!
MORE FROM SOUL