Our Wedding SOULebration: Ryan and Jameson's Story
April 22, 2016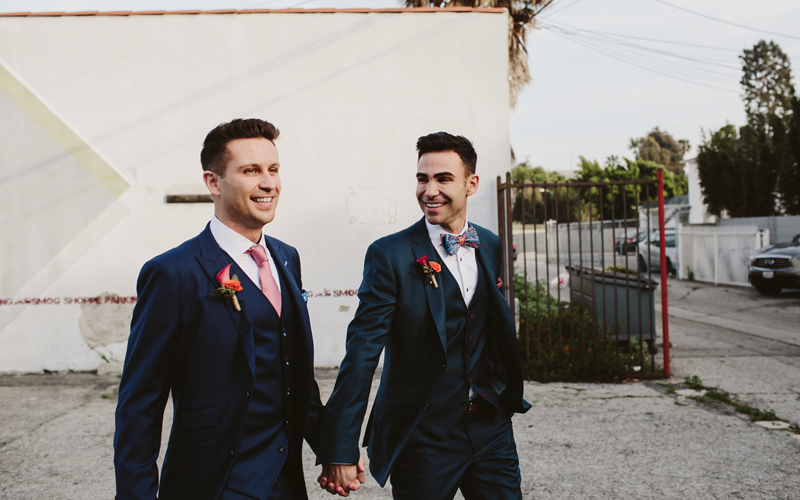 How did you meet?
We first met in San Francisco. Jameson was in town at a photo shoot for work. Having never spent any time in the city, he stayed the weekend with a friend. Said friend took him out with one of his friends, who turned out to be Ryan. We spent the night laughing and dancing — it was pure, blissful happenstance.
What first brought you to SoulCycle?
We each started riding about the same time, on our own before meeting one another. Ryan was friends with instructor Ian McAndrew, who brought him to his first class in San Francisco. Jameson started riding in Los Angeles after a friend suggested he try it. One of the things we instantly bonded over was our shared love of SoulCycle. We went to classes together and constantly wanted to become better riders.
How long have you been riding?
We have been die-hard SoulCycle riders for nearly three years now. From SAMO to SOHO, CSTR to WEHO, and countless studios in-between, we've moved from the back row to the front row, together. More important than our tap-back-push-up-prowess is the family we've found at SoulCycle. The riders, instructors, and studio staff we've met over the past three years at SoulCycle have created a network of friendships that will last a lifetime. Heck, Ryan had originally planned to propose to Jameson at the Santa Monica studio until one of our good friends Jeff Rieber (former SAMO studio manager, now instructor in Boston) and his husband Aaron beat him to the punch with an epic surprise engagement ride just weeks prior! It's ok, engagement Plan B worked out just fine!
Tell us about that proposal!
We had planned a weekend away in Murphys, California where Ryan's parents had a home he wanted Jameson to see before it was sold. So Jameson thought we were just driving up for a long weekend of relaxation. Ryan is a career pilot and has a dear family friend who owns a two-seat float plane. She invited us to each take a flight. Ryan went up first for a 45-minute ride, landed, then Jameson got in the plane for his aerial tour. While Jameson was in the air, Ryan changed into a suit and sneaked in his parents, Jameson's mom, cousin and several close friends to stand by the water side. As we were landing, we did a fly over to find Ryan and company holding large signs reading "Will You Marry Me?"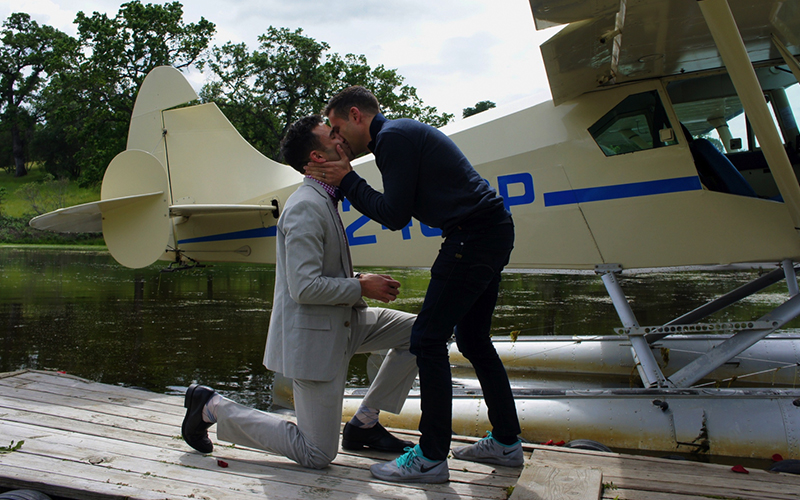 Wow! Were you about to parachute out of the plane?
It's funny because the plane couldn't land during the flyover so Jameson texted him "YES" before we even landed. When we touched down, Ryan got down on one knee. It was insanely romantic! Jameson was shocked.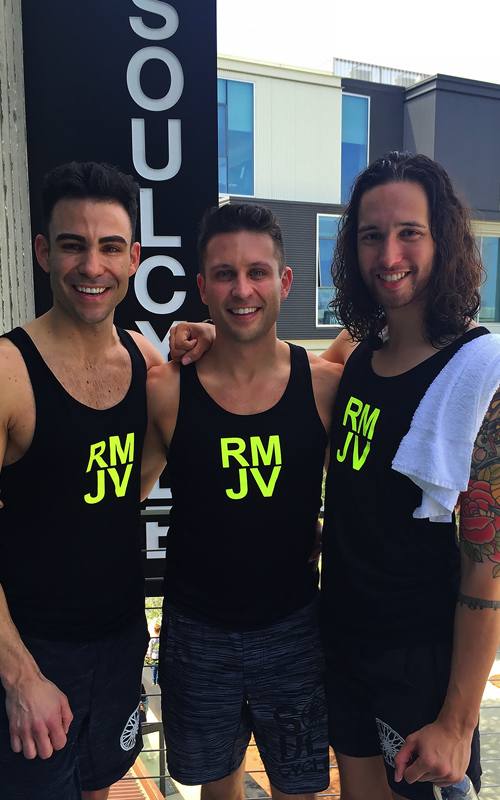 How did you prepare for your wedding?
When it came time to plan our wedding, nothing seemed more natural (and FUN) than starting the big day with SoulCycle. We asked one of our best friends, Ian McAndrew, if he would teach a private ride for our friends and family at the Culver City studio. (Side bar: Ian was originally campaigning to officiate our wedding, but we all agreed this would be a much better stage for him to preach, er, perform on. And he did NOT disappoint!).
So you did a wedding ride?
At 11:45 AM on wedding day, we rode the podium together and packed the CLVR studio with 50+ first-time riders, expert riders, friends, family, and Soul staff from all over to join us for a SOULebration. The cheering, dancing, laughing, tears in our eyes, and incredible energy encapsulated in one room made it not just the best SoulCycle class we've ever taken, but one of the most memorable moments in our lives! Later that day we got married one mile away from the studio in Culver City.
How was the wedding?
It was honestly the best day of our lives. The energy, the ceremony, the love. Actually, other SoulCycle instructors played big parts in planning for the wedding – Heather Peggs helped to select the perfect processional song, Kara Christofferson coached Ryan on how to speak his vows, and Luigi Aldon fueled an epic wedding dance floor. All of the planning just came together for an incredible day. You spend 8 or 9 months planning and putting your heart and SOUL into something that is one day – but it is the only day when your favorite people, friends, and family are all in one place, so we wanted to make it special.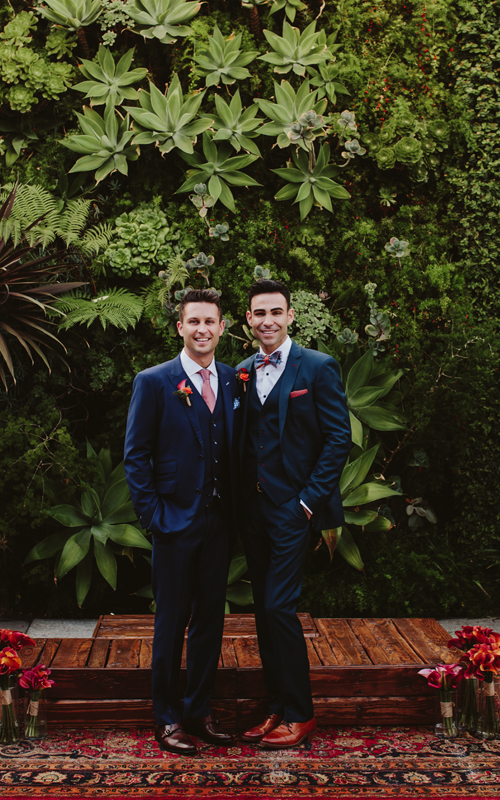 What was your first dance song?
It was "Your Song" — the Ellie Goulding cover for the first verse, then the DJ invited other couples to come join us and it slipped into the original Elton John version.
Where did you go on your honeymoon?
Tulum! The place is pure magic.
Anything you want to add?
From the beginning and throughout our time riding at SoulCycle, it has always been more than just fitness or a hobby. The connections we have made there have been so special. It's this crazy intersection between music and dancing where you can enjoy a sick beat, feel great about yourself, and be inspired to live life to the fullest. We are very thankful that we have a place like SOUL in our lives!
Photography by Nicole Leever
Do you have a SOUL Story to share? Email blog@soul-cycle.com! To book a bike, grab a series <a href="https://www.soul-cycle.com/series/"TARGET="_NEW">HERE</a> then book a bike!
MORE FROM SOUL