Our #MoSoul Contest Winner!
December 10, 2013
Introducing our Movember contest winner: VAUGHN SHANTEAU, who is eight weeks old today! Her mom JERI is an avid SoulCyclist, who rode all the way through her pregnancy, and her dad ERIC is a five-year cancer survivor who has participated in Movember for several years. JERI shares their family's Soul story.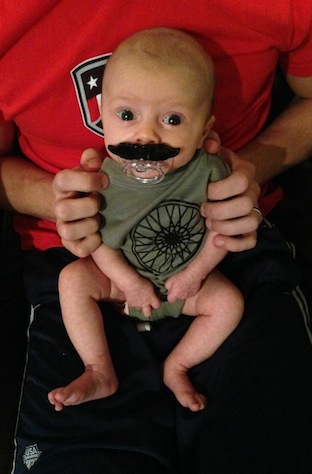 #MoSoul winner Vaughn Shanteau

I started going to SoulCycle about a year ago. I rode for just a month or two before my husband and I got pregnant at the end of January 2013. I rode throughout my pregnancy and I even did a class five days before I delivered! Because I developed preeclampsia I was induced at 38 weeks, but my delivery was so smooth. It lasted less than 10 hours and it only took three pushes before our daughter, Vaughn, came out. It was awesome.

I had a really great pregnancy and I think one reason is that I have been an athlete all my life and I stayed active while expecting through SoulCycle. Everyone at Soul was incredibly supportive. The instructors were great, and Nick Pratley, in particular, always talked to me a lot about pregnancy. I did everything all riders do and when my belly got bigger in the sixth and seventh months, the staff gave me an extender so I didn't have to bend over or lean too much.

While I was riding, so many women asked me about doing Soul while pregnant. I always recommend listening to your gut, but if you feel good and your doctor gives you the okay, I say go for it. Riding for those 38 weeks not only made my pregnancy and delivery easier, but it also made my recovery smooth after giving birth. I was back on the bike 13 days after I had Vaughn!

My husband, Eric, is also an athlete — he is an Olympic swimmer. A week before the 2008 Olympic trials, he was diagnosed with testicular cancer. He still competed in the trials, qualified and, with his doctors' permission, he delayed his treatment until after the Beijing Olympics.

Now Eric been cancer-free for five years — and he even won a gold medal in the 4 by 100 Medley Relay at the 2012 Olympics, where they broke the World Record. He is doing great, and he's a Global Envoy at the Livestrong foundation, where he focuses on the fight against cancer, specifically among young adults. He's also been a huge advocate of Movember and participated in it for the past several years.

When I saw that you were having a Movember contest, I thought we had to enter. So I put Vaughn in that little Soul onesie, which was a gift from the staff at Soul Santa Monica where I ride regularly, and she posed with Eric and his moustache. I thought it was perfect. She really is a Soul baby because I spent my entire pregnancy riding!
Have your own Soul Story to share? Email blog@soul-cycle.com! Follow Soul on Facebook, Instagram, Spotify and Twitter.