One Warrior Shares What Happens When the Walls Come Down
November 25, 2016
hen Jeremiah Patterson moved to Miami in 2015, he struggled with accepting his body image and, in turn, himself. Now stronger and more confident than ever (and down 100 pounds!) he shares how clipping in has made his "outside match his inside" and gave him the tools to overcome his insecurities.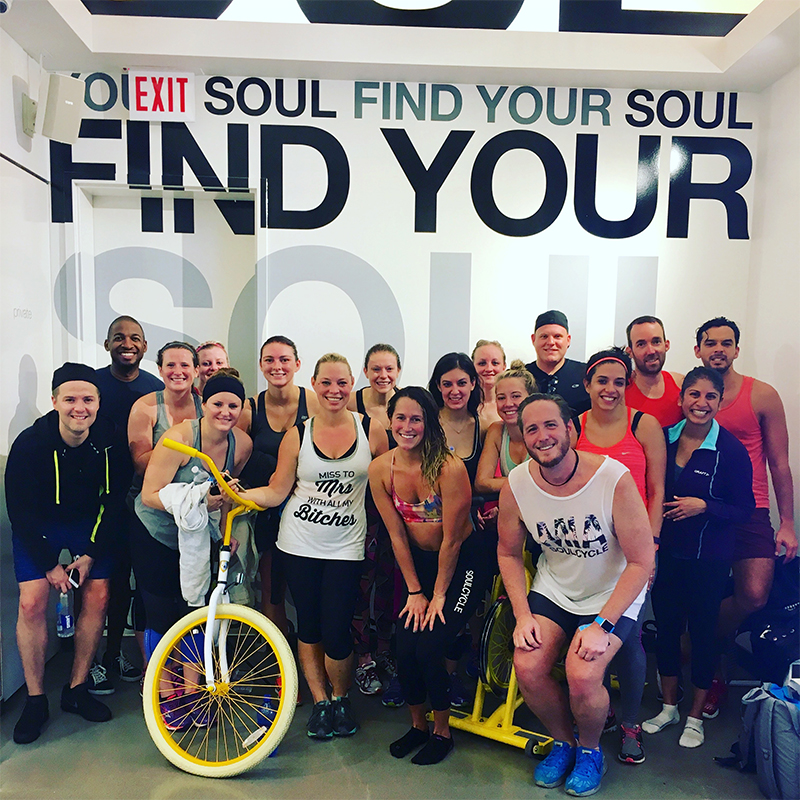 My life changed forever on June 16, 2016. It is one of those dates for me that will be known as a marker by which everything can be measured against. What happened before is the past; what happened since is my future. That night, I connected with my SOUL.
One of my friends had been telling me about this indoor cycling class that I had to check out. I was skeptical, to say the least.
See, I had felt ashamed of my body for so long. I have struggled my entire life with my weight, with my self-image. I had tried every fitness trend out there, every gimmick to lose weight. They all led me down the same path of inadequacy, feeling like a failure and the inevitable need to see myself as someone to be fixed. I felt broken.
I resisted for months. I made excuses. I gave myself permission to assume that this was just like all the other times and that this indoor cycling class was just another tool of torment. She kept telling me I had to try it.
Driving to the studio I kept negotiating with myself that I would get through this next 45 minutes and then be done. Just another dose of pain and failure in the perpetual lost cause to fix my body. To fix me.
I entered the space. I can still see it in my mind's eye – that sacred space. The room was dark and lit by candles and instantly something resonated inside my soul. It was a strange feeling – almost like coming home, but I had never been there before.
The instructor came in. She scanned the room and locked eyes with me. That's the pivotal moment in my life. I met
Soeuraya
. She greeted me, she welcomed me, she acknowledged me. The rest of that 45 minutes was a series of questions without the need to give answers. It was hope instead of judgment. She asked me to just experience. To connect with my breath. To connect with my body. Not to do anything. Not to fix anything – just to be. Completely me. Lost in the beat, inside the music.
The wall between my soul and my body started to come down that night.
My home studio on
South Beach
is my sanctuary. It is there that I connect with my breath, my body, my soul. It is there that I am so surprised at the amazing things my body can do. My body is sacred because it connects me to my soul and it's through this connection that I find wholeness, not something that needs to be fixed. I no longer hide my body, I nourish it. I no longer run from challenges, I embrace them. I no longer feel inferior; I am a legend.
Legend. That word in the mantra connects with me because I think that Legends are remembered long after they have left this world. To be a Legend implies impact. We speak about them long after they're gone. People are legendary because they touch others and they leave their imprint behind. I get to do that. My body gets do that. My soul gets to do that.
I have been on a journey for the past year since moving to Miami in 2015. SOUL has helped me find my breath and, as Soeuraya says, "quality of breath is quality of life."
I have now lost 100 pounds. Just writing that feels so hopeful. I never thought I would be able to say that or be able to do that. But I did.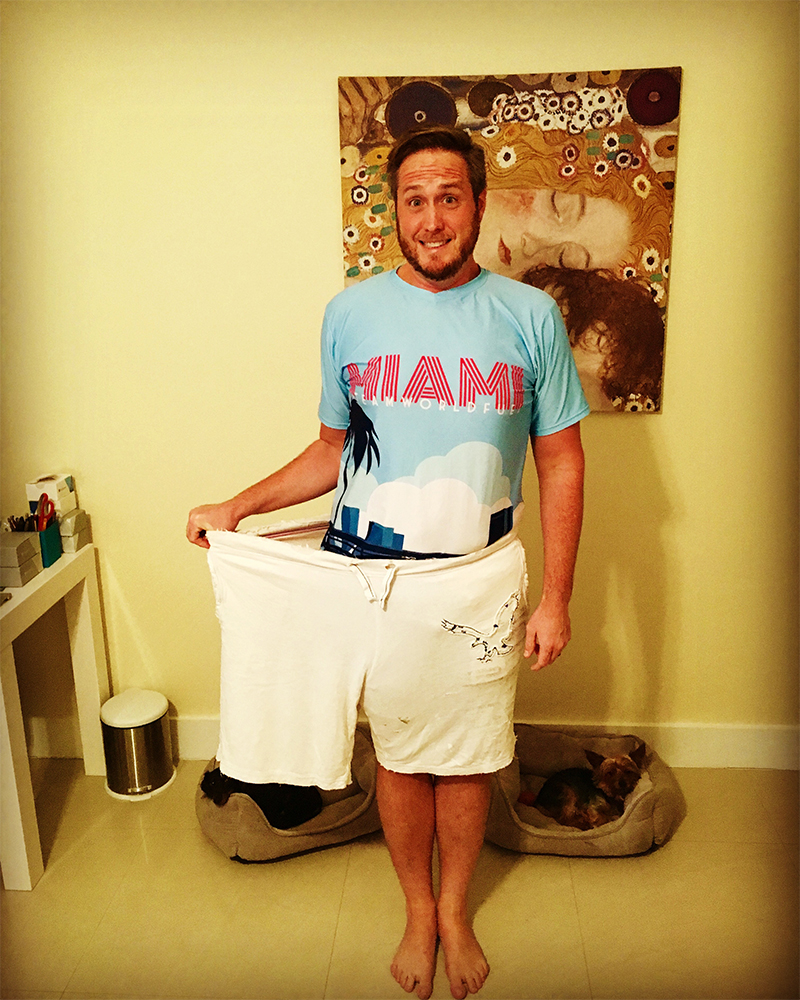 I want to inspire other people to use their bodies to discover their soul. I tell people all the time that "my outside is starting to match my inside" and that's how I feel. SoulCycle helped me connect my body and my soul in a way that I never have before and the result has been loving myself for the first time in my life. No fixing, just being.
I try to take this message of hope to everyone I meet. I ride with so many friends. My pack. At every special occasion (birthdays, anniversaries, weddings, etc.) we ride. We connect with each other and we find our souls and bodies strengthened for our individual journeys.
In October, my best friend got married in Chicago and I organized a ride for 17 of us to kick-off her wedding day.
Megan S.
played "Walls" by Kings of Leon. Never have I been so inspired to ride to a song. Maybe it was just the specialness of the day, maybe it was riding next to my best friend for the first time – who knows. But the lyrics resonated with me and sparked that same feeling I had the first night I encountered SoulCycle:
I can't get there on my own,
You can't leave me here alone,
I'm just trying to do what's right
A man ain't a man unless he's fought the fight…
When the walls come down…
Just this month I went back to the
Coral Gables
studio to ride for a dear friend's birthday. This friend is that force of nature that changed my life on June 16th — Soeuraya. That night she played "Walls" and I cried while I rode my heart out. I rode for her. I rode for all the people who need inspiration to find their soul, to acknowledge the beauty that is within them. I rode for me, the legend that I want to leave behind one day.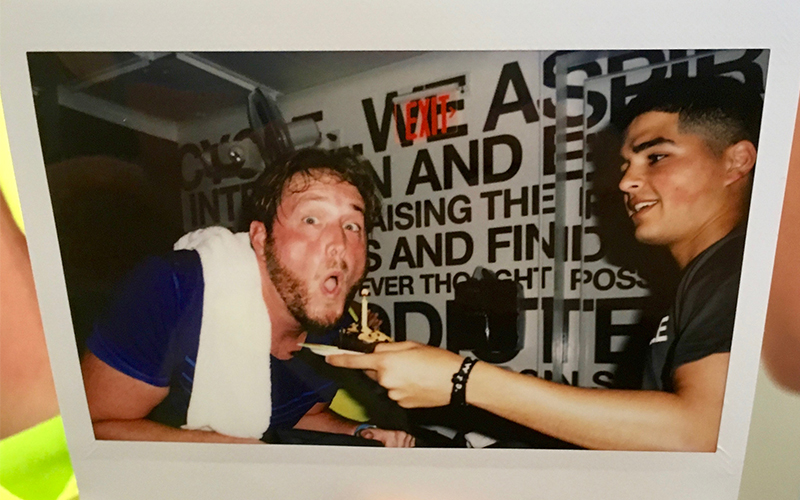 For me, it's about finding someone to help you bring those walls down, then using your soul to be the person that helps others bring their walls down too. It's about connecting with your soul and finding the "you" that was there all along.
That's why I ride. I want to inspire others to take the first step on their journeys and love their bodies and souls. If you're ever in South Beach, let's ride together and take down some walls along the way.
Questions or comments? Email SOULlife@soul-cycle.com! Want to ride? Grab a series HERE and book a bike!