Olivia and Tomas Share Their USO Experience
November 24, 2015
On November 18, SoulCycle instructors OLIVIA WARD and TOMAS MIKUZIS tapped it back with the troops of Fort Hood in three special SoulCycle rides. They share what it was like to lead a pack of inspiring servicemen and women…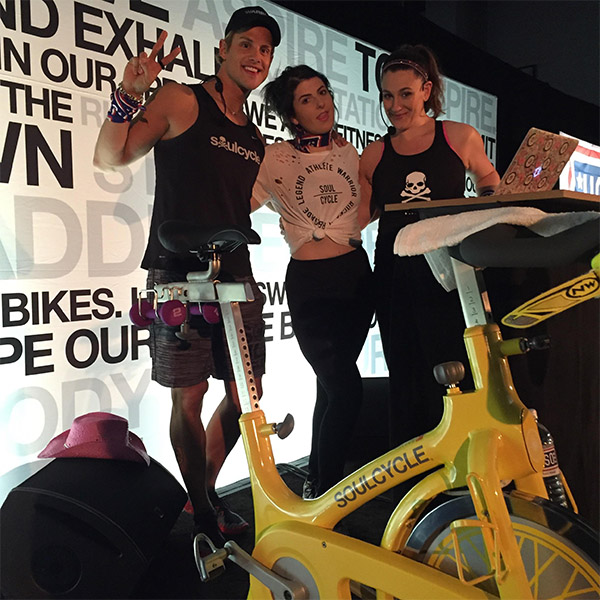 What was it like leading the pack on the USO tour?
OLIVIA WARD: I have to say, leading a pack full of soldiers and their families was a top-five life moment for me! Looking out into a crowd of strangers who give so much was incredible. It was pure fire, joy, love and soul all wrapped up into three amazing, sweaty classes!!!
TOMAS MIKUZIS: Leading the troops and their families was just beyond an incredible experience for me. They were all very eager and excited to ride and that just added to the energy in the room, which Olivia and I gladly fed off!
How was it different from the classes you teach in NYC, the Burbs and/or Coral Gables?
OLIVIA: At SoulCycle, we are so incredibly blessed to have riders that give 100 percent all the time; these classes to me were no different! For me, the only difference was my mindset — as in all my classes I give everything to my riders, but this time I really wanted these soldiers and their families to feel how thankful and blessed we as a Soul community are by their daily sacrifices. Every time I added resistance, pushed through a hill or even tapped it back, it was for one of them!
TOMAS: The ENERGY was beyond anything I could have expected. It was difference from anywhere I have taught, because you have people whose job and career it is to be very physically fit and they're always wanting a challenge. There was a group of indoor cycling instructors from the base that took up the front row for ALL THREE CLASSES. They truly set an amazing energy level throughout the entire day. Olivia and I even took their indoor cycling class the next morning and had a blast.
What surprised you most about the rides?
OLIVIA: I knew these soldiers would be in amazing shape, but what surprised me the most was how quickly they picked up our way of riding!! They have regular indoor cycling classes where they ride on the beat, so they just jumped right in and instead of spending most of the ride "teaching" them we were able to just ride and dance...it was a BLAST!!
TOMAS: What surprised me the most was how many riders quickly caught on and wanted MORE! It's a great feeling to share an experience with people that naturally get the rhythm and get the ride.
What inspired you when you created the playlists?
TOMAS: We (Olivia and I) teamed up with DJ EmmiesHouse to create the right balance of a tough class with a party time ride. Emmie KILLED each set!
OLIVIA: Tomas, Emmie and I just wanted the music to be fun. These rides were all approached in that manner; we wanted good beats, fun lyrics and songs that made you want to dance (and Oooooooh how we danced!!)
Which songs got the riders going most?
OLIVIA: I think the three songs that got the room going were definitely "BURNITUP!" by Missy Elliott and Janet Jackson, "Waterfalls" by TLC and "Apache (Kastra Bootleg)" by Sugar Hill Gang. But to be honest, they were into all of it!!!
TOMAS: Each song generated its own special reaction from the riders, but when Emmie put on "BIG (Tribute Re-Edit)" by SikDuo for weights… IT WAS PERFECTION!!!
Why was it so meaningful to teach these rides?
OLIVIA: With the state of the world today — especially the last few weeks — it was just a complete HONOR and PRIVILEGE to even be in front of these men and women. They dedicate their entire lives (and the lives of their families) to allow us to have the lives we do. To be able to give back to them in such a tangible way was just life changing for me. I loved every minute and tried to absorb as much as I could!
TOMAS: It was so meaningful to teach these rides because we often forget that there are people who make huge sacrifices each and everyday so that we can live our daily lives safely and protected. This is the one percent of our country that protects the other 99 percent. It's often too easy to take our freedom for granted, and to have the opportunity to give back and show love, support and gratitude for those that are out there risking their lives day in and day out… it just makes my soul feel good.
What else did you do while on the bases?
OLIVIA: Tomas and I were so blown away to have all of the base indoor cycling instructors ride the front row in EVERY class — they were such a rowdy, fun group! After class one of the officers named Chief said to us, "Ok, you two... we rode all three of your classes, so I think you need to come to our class tomorrow morning at 6:30 AM!" We didn't even think twice, and told them we would be there with bells on. So the next morning, bright and early, we went to an indoor cycling class lead by Chief with all the soldiers. It was so much fun and a once in a lifetime experience to workout with all the soldiers!
Favorite part about the tour and the visit?
OLIVIA: All of it... I don't think I can pick just one moment! I will say, as always, I was so incredibly proud to be a part of the Soul team!
TOMAS: My favorite part of the tour was meeting the troops and their families and watching them enjoy themselves and break a SWEAT. Being able to bring a new experience to those who would never have been able to get to a SoulCycle or didn't even know what it was made the trip so worth it for me. I love spreading the SoulCycle love and now we have added 300 warriors to the Soul Family!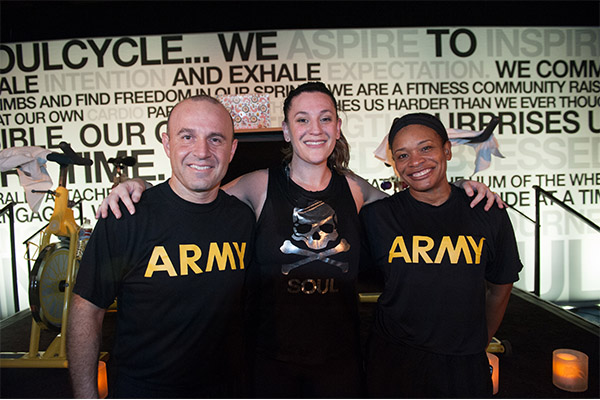 Anything you'd like to add?
OLIVIA: Just a huge THANK YOU to the USO for giving myself and SoulCycle this opportunity. I can honestly say I am a different person for having this experience, and I can't wait for the next one!!
TOMAS: I wanted to thank everyone who helped to make the first SoulCycle USO Tour a huge SUCCESS! It would not have been possible without the support of SoulCycle leadership and the hard work from our Soul and USO Teams working together to make this a special experience for everyone. I love you all, and I know the troops and their families do too.
• Featured Photo of Tomas (left), Olivia (right) and Emmie (center)
MORE FROM SOUL