'My Therapy on a Bike': MARNA TERRIGNO's SOUL Story
March 7, 2016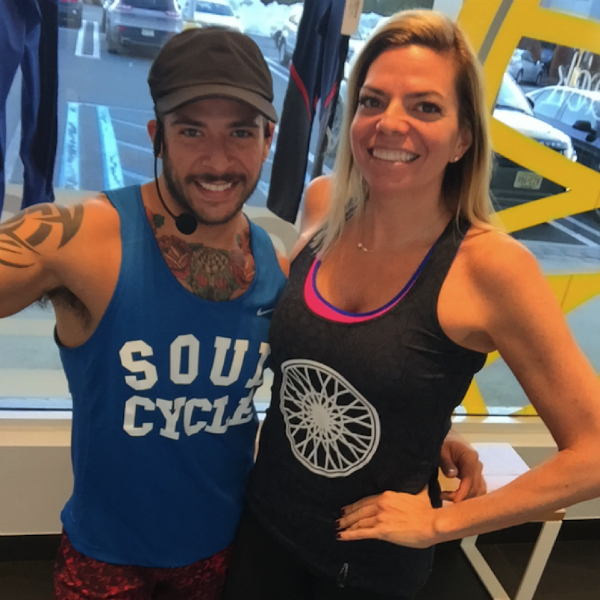 I've always been in relatively good shape. I played sports my whole life and always watched what I ate. I never "loved" exercising, but thought it was something I had to do. It was like I was just going through the motions.
A year ago, I was working out as usual and just did not feel right. I lived with this feeling for about a month until it got so bad that I could hardly breathe. In the emergency room, I was diagnosed with multiple pulmonary emboli (blood clots in my lungs). It turns out that for me,
birth control pills and being over 40
was not a good combination.
I had no clue this could happen! I spent a very painful week in the hospital and lost a part of my lung. After I was discharged, I couldn't walk up a flight of stairs without being winded, let alone go back to SoulCycle. It took a few months for me to be able to do an entire class again without feeling like I was inhaling glass.
Eventually, I got back into my routine, but in the meantime I had put on some weight and did not feel good about myself. This past September, I made a change. I started going back to Short Hills and found
Roger
. I immediately loved him and his message. He has kept me motivated, challenged and focused. On days that I just didn't think I had it in me, he took me above and beyond. He makes me a better rider. I spend my weekends with Roger… he's the best date ever!
I also make a special trip to the city from NJ just to double with
Tomas
for my wind down Wednesdays! His energy and charisma light up the room. I was having a bad day last month and his support and love moved me to tears. I don't know where else you can find this kind of compassion.
My SOUL journey began many, many years ago when I was sitting in the third row in the back of
Nick Pratley's
class. I was lost and confused, but knew that SOUL was something I could grow to love and succeed at. Nick was there to teach me and watch me grow.
I now find my solace in the front row. SoulCycle stopped becoming exercise for me and developed into a passion. That passion turned into drive and motivation. Those who know me know how much SOUL means to me. SoulCycle is so much more than a cycling class; it is my therapy on a bike. It helps me clear my head and my heart.
For the past five months, I have worked hard and gotten back to the best version of me. I have lost 31 pounds. I have a better relationship with and understanding of food. Most important, I feel fantastic, inside and out. I leave class every day knowing I can do anything I set my mind to. I have found invaluable friends who are like family here at SoulCycle. The friends I ride with have inspired me to push myself to a level that I never thought I could achieve. The instructors that have led me have given me the tools to mentally and physically make me a better person.
Looking back on what I've written, I realize how many times I used the word "love." It's just the word that fits. SOUL is such an amazing community, and I am so thankful to be a part of it.
Do you have a Soul Story to share? Email blog@soul-cycle.com! Want to ride at SOUL? Grab a series
HERE
then book a bike!
MORE FROM SOUL: