My Sister, the SoulCycle Instructor
May 19, 2017
oronto rider CALLIE CIPRIANO has a very special SOUL connection: Her sister Liah is an instructor in Boston. And thanks to SoulCycle, they've strengthened their bond while she's increased her self-esteem and dropped 60 pounds. Here's her story.

After recently celebrating my first Mother's Day as a new mama, I find myself reflecting on all the love that I have in my life and how truly lucky I am to have such an amazing and supportive family. I got to spend last week with my sister who lives out of town, and it so nice to catch up in person. Although our FaceTime chats are great, there is nothing like being able to give someone you love a big hug and kiss.
My sister,
Liah Malley
, is a SoulCycle instructor in Boston and is without question the most inspirational person I have ever met. I am not just saying this because she is my sister. In fact, I have spent a large part of my life resenting her for always being the pretty, skinny and popular one of the two of us. Having struggled with being overweight for most of my adult life, I have never had a positive attitude towards exercise as I didn't know where to start. Then Liah got hired as a SoulCycle instructor and has changed my life. Last year, I reluctantly went to ride in one of her classes, fully anticipating to hate every second of it. I was afraid of feeling judged, sticking out as being "bigger" than most people, and not being able to keep up with tempo or choreography.
Man, was I ever wrong. It was that day that I fell in love with SoulCycle and the day that all of my negative emotions towards my sister vanished. She is an absolute rockstar. She is genuine, passionate, inspiring and simply incredible. She creates an atmosphere of love and acceptance for every single one of her riders and truly embodies everything that SoulCycle represents.
Since that first class, I have travelled to Boston (I am from Toronto) to visit Liah numerous times, and each time that I take her class I get a little more confident, a little more comfortable, and a little more happy. She works so hard to motivate each and everyone of her riders, and makes you feel special while in her class.
Fast forward one year. I have an eight month-old baby who means everything to me, and she is the luckiest girl in the world to have Liah as an aunt. I am down 60 pounds and am loving every single second of my journey to being the healthiest and happiest version of myself. When SoulCycle opened its doors in
Toronto
, I was thrilled that I would be able to continue to tap it back north of the border.
I have developed a confidence that I never knew existed. I am no longer a self-conscious girl sitting in the back corner, but a confident woman and mother who loves being in the action of the front row. I am the happiest I have ever been, and I truly owe it to my sister for being the source of my inspiration.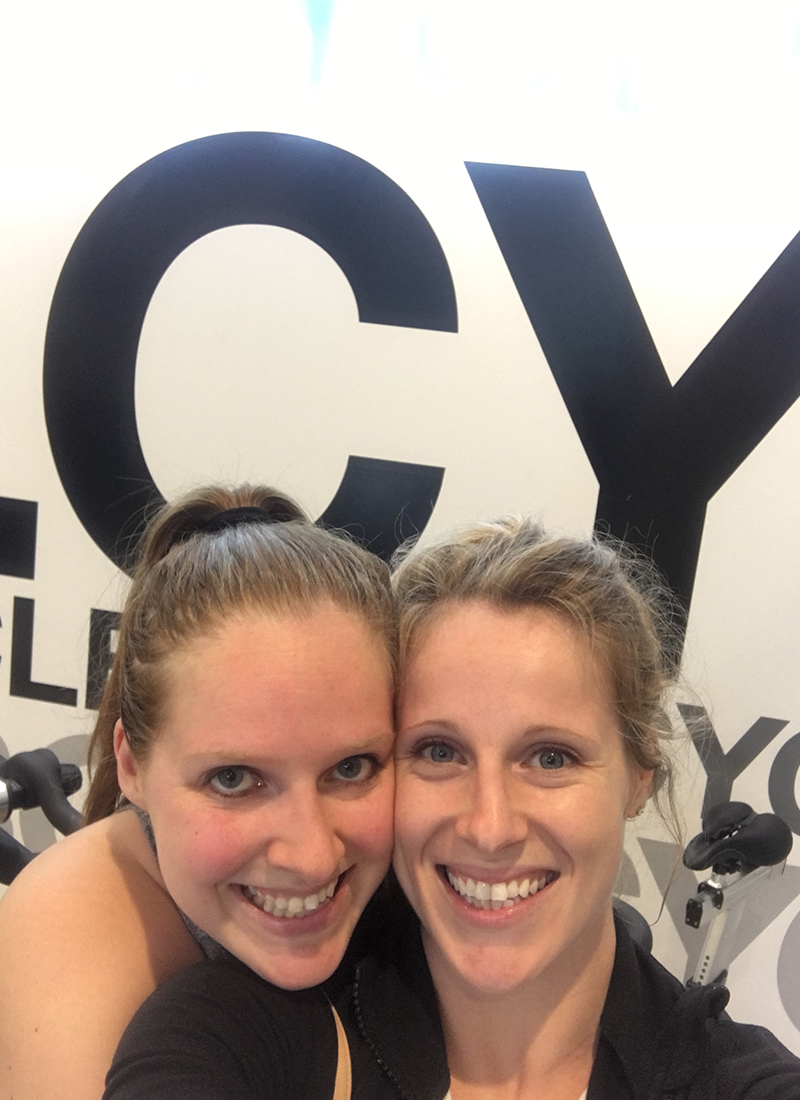 So, thank you, SoulCycle, for helping me to reconnect with my sister and for changing my life.
Do you have a SOUL Story to share? Email SOULlife@soul-cycle.com. Want to ride? Click HERE to grab a series and book a bike.