MK Hurlbutt's Happy Holiday Poem
December 23, 2015
Who's getting into the holiday spirit? Instructor MK HURLBUTT, who wrote a poem to celebrate that she's swinging into SoCal to lead the pack for five classes this week! Check out how she shows her SOUL with a whole different kind of rhyme...
I am SO EXCITED to be in SoCal for the holidays this year! So excited in fact, I wrote a poem. Let me explain....
I come from a big family (5 kids + 2 dope parents) and although it's harder for us to all get together as we get older, Christmas has historically been the one holiday we have always spent together. Last year, however, I was teaching in the Bay Area on both Christmas Eve and Christmas Day. So I had to break the news to my family that I would not be home and they were less than thrilled (full disclosure: I'm everyone's favorite sibling/child).
Little did they know, however, that I had bought a quick flight home - WHAT UP, SOUTHWEST MILES - to spend a short, but oh so sweet 16 hours with my fam. It was, in my humble opinion, the surprise of the century.
And to celebrate my extended stay in Southern California this holiday season, including the chance to teach a bunch of SoulCycle classes, I decided to write a poem recalling last year's epic surprise, to the cadence of "'Twas the Night Before Christmas.'"
**Please note, none of these names were changed because no one in my family is innocent.**
The Great Xmas Surprise of 2014
Twas the night before Christmas, when all through the crib
All the Hurlbutts were stirring, except for one sib
The stockings were hung by the chimney with care,
But sadly no hope that MK would be there;
They all assumed she was busy pedaling away
You see MK's a SoulCycle instructor in the Bay.
The family all dressed for their Christmas Eve Mass,
Thinking back fondly on holidays past.
Mama Hurl was happy, but missed her one child
Papa Hurl's temperament is just permanently mild
They made their way into church and began taking their seats
The girls in their dresses, the boys in khakis with pleats.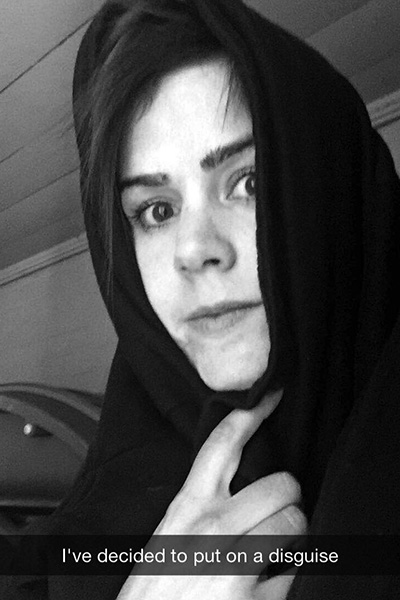 Wrapped up in a curtain, tho was a surprise
You see MK had flown down to LA, in disguise!
She peeked her head round to see who had entered the church
And that's how little brother Kevin received the reveal first.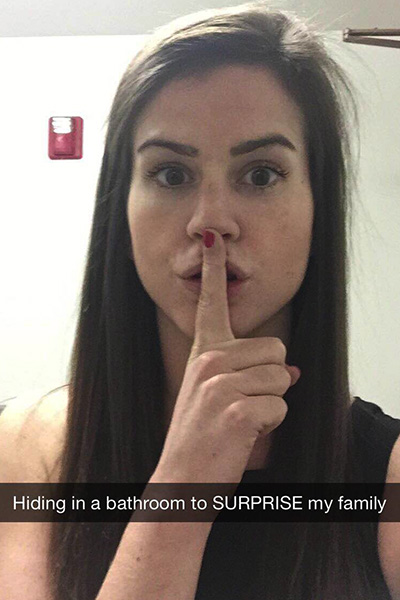 His initial shock gave way to deep laughter
And Papa Hurl joined the conspiracy quick after
They looked to each other wondering aloud
"She pulled this off on her own? Oh my we're so proud!"
But the greatest reveal had yet to occur
Mama Hurl was the true target, this surprise was for her.
So MK and Kevin creeped around slowly
To where their Mother was seated, we call her Moey.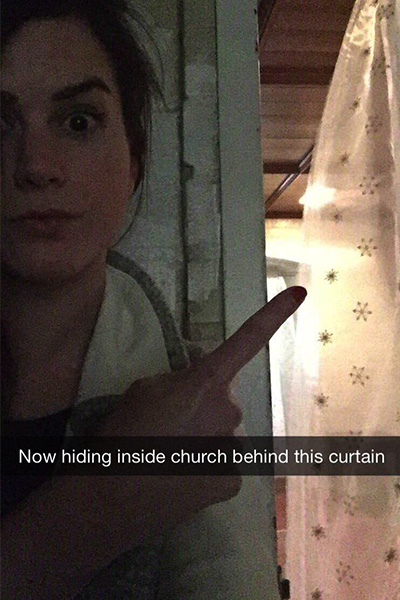 Her shoulder was tapped and she turned to see,
MK standing there, asking if that chair was free.
Moey shouted and squealed, she shook and she cried
"OMG HOW DID YOU DO THIS?!? YOU'RE CRAZY. YOU LIED!!"
As she looked at them all, and took stock of her brood,
Moey was suddenly in the sentimental mood.
"Oh, it's MK! And Kevin, and Terry and Tom.
Kasey's here too, I'm the luckiest mom!"
And just in that moment, with all the family gathered
It was very clear to see why the holidays mattered.
It's not about gifts or where you call home,
It's the feeling you give each other, the love that you sow.
So this holiday season, wherever you may be.
We hope there is love and joy to fill your heart endlessly.
MORE FROM SOUL