Mireya's Memorable Ride
January 16, 2015
On the second anniversary of losing her father, NYC instructor MIREYA D'ANGELO opens up about how one very special ride gave her strength and perspective as a parent while honoring the memory of her dad…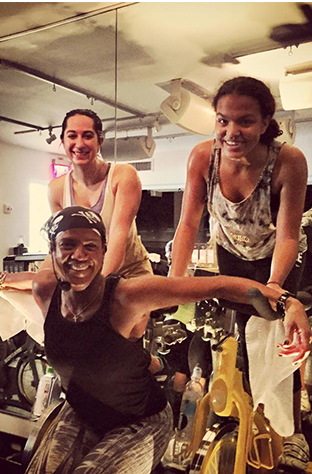 Mireya at Soul East 83rd Street with Malu (above, left) and her daughter, Sofia (right)
If you ride with me in my class, you've heard me talk about this. Similarly if you've taken class with me when I ride with another instructor (and therefore ride for me) you've seen it: The miracle that is SoulCycle and how SoulCycle is my solace.
SoulCycle allows me to clear my head, focus on goals, relax from stress and just be grateful for my life. The month of January is difficult for me since my dad died two years ago today: January 16, 2013.
So to say these last few days have been a tad difficult is an understatement. But on Sunday January 11, 2015 in my 9:00 AM class, totally unexpectedly, I was able to teach, clear my head, focus on goals, and be so very grateful — for everything.
The Saturday night before class was just a typical family night in the D'Angelo home consisting of:
1. The husband and I waiting up for the 16 year-old child to come home, and she did so right at the time of her curfew
2. Ongoing discussions with daughter and husband about life
3. Wondering how the heck I'm going to make it through parenting in these teen years, while the husband says, "Breathe, all will be fine."
The next day, on Sunday morning, I arrived at the studio and after a phenomenal 8:00 AM class, I decided to put two young riders on the podium for the 9:00 AM class. In a random act of life — or serendipity, as I like to say — I decided that a current high school sophomore (my daughter Sofia) and a college grad who starts law school in September (Malu Malhotra) will ride on the podium. Interestingly enough, Malu attended the same school that Sofia attends.
As I walked into the room while the girls were setting up, I looked up at the podium and suddenly saw these two young women as a message to me of my life. Malu is 22, and she too was once 16 and drove her mother and father crazy but I look at her now and her parents survived and all is good. Malu's mother Mary was in the class and raised the roof in celebration of surviving the teen years. I looked at my daughter Sofia and just mentally gave thanks that I am privileged to have such an amazing person as my daughter — sporadic 16 year-old snarkiness notwithstanding.
During the class, Sofia and Malu were dancing human metronomes. They pushed, tapped it back and flowed as one. They sang along to the new songs and the old; smiled, screamed and cursed - but they made it through. Most importantly, they brought the entire class with them - all adults of different ages as well as our youngest rider, Mason Fabricant. Both girls have been riding at SoulCycle for quite a while: Malu as a teen and Sofia since age 11. They're both athletic and intelligent and they love SoulCycle for all it does and all that it is.
At the end of class, because of what Malu and Sofia brought to the podium, everyone was ready to go off to their Sunday happenings, whether it entailed watching the NFL playoffs or just sitting around with family or in peace, alone. For me, the end of class conveyed a special blessing. These two beautiful young women gave me thanks and praise: Malu gave me the most wonderful and kindest compliments and admiration, and Sofia thanked me for being her mother — my life is special and in that moment perfect.
I had a smile on my face all day afterward because of the magic that took place at SoulCycle. What's the takeaway? you may ask: Well, there are several:
1. When you take a SoulCycle class, just let yourself go. My riders know I say, "Get out of your head; get out of your way and just be" — if you do that, you will be surprised where you may go.
2. Soul Teen classes are one of the most brilliant things ever created; they allow a teen to experience what the parent experiences in a regular Soul class but in a more relaxed environment where the parent is not present. The result: The child will want to ride with parent in regular classes.
3. Be grateful and have no guilt. What happens within the confines of the Soul studio space is simply magic, experienced by every single rider in that room. Once you let go, it somehow allows you to figure out everything else that is happening in your life.
4. I will make it through these teen years because I have an incredible daughter who challenges me every step of the way and I would not want it any other way. Yes, husband I am breathing and I agree, all will be fine. But also to my Dad: Papi, thanks for all the strength and calm that you send me from up above.
Catch classes with Mireya at SoulCycle East 83rd Street! Questions or comments? Email blog@soul-cycle.com!