Meet the Family Who Taps It Back Together
May 19, 2016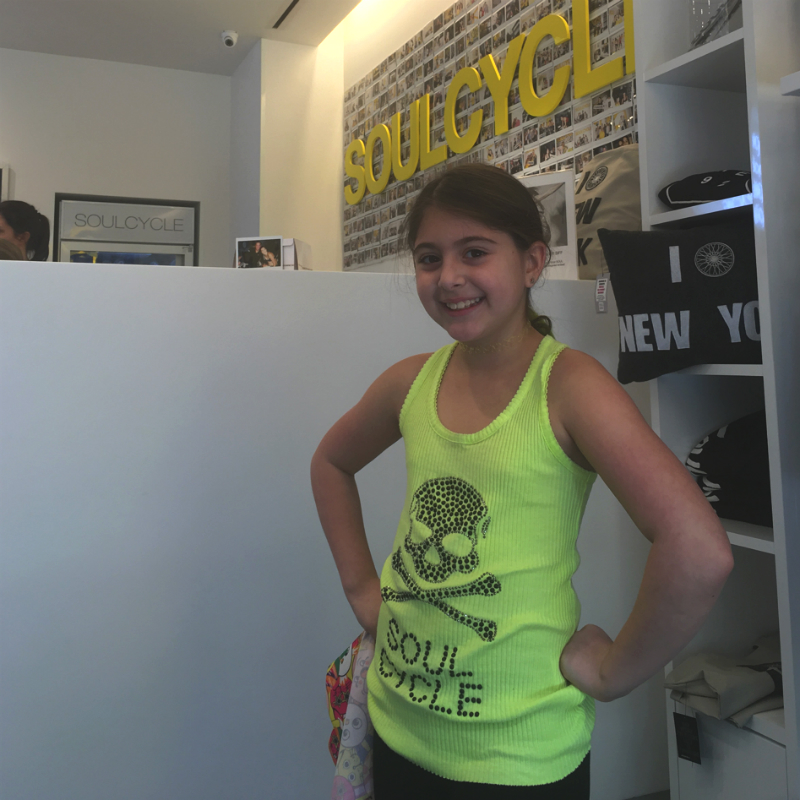 (Sofia before her first ride, W92)

Which family member found SoulCycle first and how?

Irma:
I decided to give SoulCycle a try after the
FiDi studio
opened a block away from my office. I walked by it for months and was intrigued (I'd heard about SoulCycle before, of course). I think it was the cheerful signs and the yellow bike stationed outside that finally convinced me to give it a shot.
Irma, how did you convince your husband and daughter to clip in?
Irma:
I was pretty much hooked after I started riding with
Julie D.
(she has wonderful, positive energy and leads a killer ride) and
James J.
(fantastically funny and a fun, fun ride). As with so many other things, I'm pretty sure I just wore Ali down – I nagged him until he decided to give it a try! I think it was only a matter of time before Sofia tried it out. It's just in her face all the time given how much Ali and I talk about it.
We all remember our first ride. Can you all describe how you felt clipping in for the first time?
Irma:
It took me months to take my first class. I'm a bit hesitant to try new things, so I waited until I saw that you guys were offering a SOUL 101 class at the FIDI studio. The folks at FIDI took great care of me.
Lindsay Waxer
and
Becca
taught my SOUL 101. It's all a blur, but I remember thinking to myself that I would NEVER be able to survive a full 45 minutes of that insanity. I'm just glad post-ride amnesia set in and I was back for more just a few days later.
Ali: My first ride was with James J. on Sunday, August 16. It was a Queen theme ride and, hot damn, James walked in looking like Freddy Mercury. Getting set up on the bike was so easy thanks to the team at W92. The music was amazing, the energy in the room was infectious and I basically crawled to the train station afterward. But I knew that I would be back in a heartbeat.
Sofia:
It was exciting to be there for the first time, even if my mom didn't let me get out of the saddle. It was fun listening to music and working out at the same time.
Elianna
was an amazing instructor and she even called me out during the ride! When it was over I took a picture with Elianna and they put it up on the photo wall!!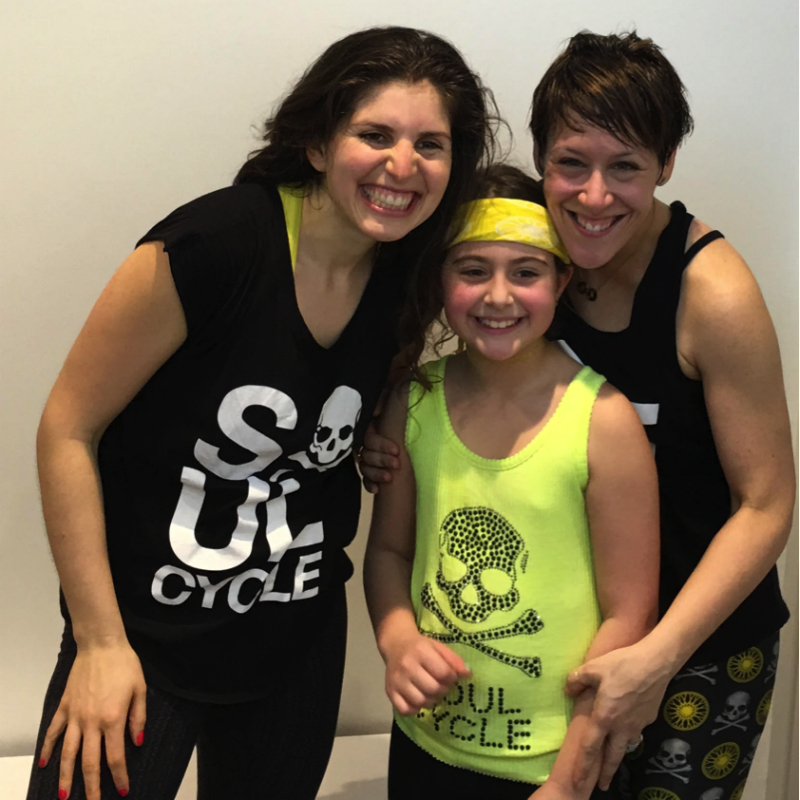 (Left to right: Elianna, Sofia and Irma after Sofia's first ride at W92)

What are the benefits of riding together as a family?
Irma: We get to spend time together – either as a couple (SoulCycle date nights with Ali are the best!!) or as a family with our tween daughter, Sofia. I think it's also been a great way for us to teach Sofia that exercise is good for you AND fun. And, hey, the physical results don't hurt either!! I'm turning 40 in June, and this is hands down the best shape I've been in since my early 20s.
Ali: SoulCycle is something that Irma and I can do together. It's something we have become obsessive about. If Irma didn't push me I don't know that I would have thought to try SoulCycle. Now we talk about it constantly – we spend time figuring out which one of us can ride when, fight over who rides with which instructors and we also try to ride together as often as possible. Is it bad that we get a babysitter so we can ride together? Can you say SoulCycle Date Night?
But the absolute best part of our newfound love for SoulCycle is the positive influence it's had on our daughter, Sofia. Sofia sees how happy riding at SoulCycle makes us. It made her curious enough that she pestered us to the point where we put her on a bike at the studio to make sure she was tell enough to ride. And the rest is history. I don't think Nicholas, our 3-year-old, is very far behind, either!
Sofia: My parents can tell when something might be a little too hard for me and they give me feedback after class that I use to help me become a better rider.
Who rides the most in the family?
Irma: That would be me. I'm up to around six rides per week and I'd absolutely ride even more if I had the time!
Ali: Irma, by FAR.
Sofia: Mommy!
We have to ask… who books the bikes?
Irma: We typically book our own bikes (Ali and I, that is; Sofia doesn't have her own account just yet, thank goodness). There have been a few times, though, when Ali has stepped up and booked bikes for me – once when I was driving through a snowstorm and couldn't pull over to book my bikes for the week and also a few other times when we just wanted to make sure we got bikes, like the 10th anniversary ride and the reSOULution ride with James J. on New Year's Eve of last year.
I swear my blood pressure jumps when I get that calendar reminder at 11:45am on Monday. I have the SoulCyle app open on my phone at 11:58am and I can feel the adrenaline coursing through my system when the clock strikes noon!
Have you learned anything new about each other since you started riding together?
Irma: Ali might actually have some rhythm!! I'm also really proud of him for try something new and getting back in the workout saddle!
Ali: I'm so proud of Irma and how great a rider she's become. She really cares about her form and getting the most out of every ride… to say that she takes her rides seriously is an understatement.
Sofia: I've learned that Mommy is an amazing rider -- much better than Daddy!
What does SoulCycle mean to you?
Irma: I truly believe it makes me a better person – a better mother, wife, employee and colleague – on a daily basis. I'm just much happier all around. When I walk into the studio and clip in I somehow manage to leave everything else at the door. It's just me, the bike, the music and the folks riding alongside me in the room. Nothing beats riding to the rhythm of a great song with the hum of the wheel in the background. I honestly don't know what it would be like to not ride regularly. We'll be on holiday in a city with no SoulCycle for almost two weeks in August and I'm already starting to get twitchy about it. What will I do? How will I get that endorphin high? SoulCycle has also brought great new friends into my life and for that I'll be eternally grateful. I love my pack (although Ali refers to us as "the mafia")!
Ali: SoulCycle is critical to my life now. I obsess about riding every week. Which instructors will I take? Which theme rides? Which ride will push me to the brink? I'm lucky to have a family and a job that offers me the flexibility to be able to ride as often as I do.
Sofia: SoulCycle is a fun way to work out. Everyone there is so friendly that it makes me want to do it more.
What advice do you have for families who ride together or who are thinking of getting started?
Irma: If you're thinking about getting started, book a bike already! And if you're intimidated, find a Soul 101 class. I'm so glad I started out that way. For families that ride together, be extra nice to the front desk staff – chances are they'll have to put up with you and your kids while you do a hand-off between classes!!
Ali: Marriage is something you have to work at every day and it requires a ton of sacrifice, compromise and teamwork. It spills over into incorporating fitness into your lives. You might have to sacrifice family time, time at lunch, sleep, etc. so that you or your significant other can ride. You have to work around each other's schedule and SoulCycle's format makes it easy: Classes are typically 45 minutes + shower time, so you're in and out in approximately 60-75 minutes. People ask me all the time how I make it work, and my answer is always the same: -- You \just have to get up and do it. I have three people that I love at home and I do it for them. I plan on being a pain in the rear to Sofia and Nicholas for a long time, and SoulCycle is helping me inflict that pain on them :)
(left to right: Irma, Ali and James J. after reSOULution ride on December 31, 2015 in Scarsdale)

Do you have a Soul Story to share? Email blog@soul-cycle.com! Want to ride at SOUL? Grab a series
HERE
then book a bike!
MORE FROM SOUL