Meet the Best Friends Who Tap It Back Together: ARIELLE KAHN and NIKI GRANT
September 1, 2016
RIELLE KAHN and NIKI GRANT have been friends for 21 years. They share how tapping it back together has strengthened their bond, on and off the bike…

How long have the two of you been friends?
Niki: Arielle and I grew up together. We each have two younger brothers, so in a lot of ways, we are the sisters the other never had.
Arielle: Niki and I have known each other for 21 years. After attending the same school from Kindergarten through 6th grade, we went our separate ways for middle school, high school, and even college.
After I graduated from the University of Michigan, I moved to Washington, D.C. for a summer internship on Capitol Hill. The timing couldn't be more perfect. Niki, who'd just graduated from George Washington University, was looking for a roommate. We fell back into our old ways as if no time had passed and the rest is history.
How did you two start riding together?
Niki: Arielle discovered SoulCycle when she started riding in the Hamptons with her mom. When we heard SoulCycle would be opening studios in DC, we were psyched.
Arielle: When I found out SoulCycle was coming to DC – and just two blocks from our apartment! -- I couldn't wait to have Niki as my riding buddy. We took our first class in DC together at
WEND
, a
SoulSurvivor
class with
Garrett.
How did that first ride go?
Niki: Arielle vomited. I fainted. Enough said.
How do you coordinate booking bikes?
Niki: We both have full-time jobs, but we still Gchat throughout the day to keep each other informed about which classes to book, which bikes to reserve, what the other one ate for lunch… OK, maybe we keep each other too informed.
Arielle: We usually discuss our weekly riding schedules on Monday and by noon we each have our mouse at the ready.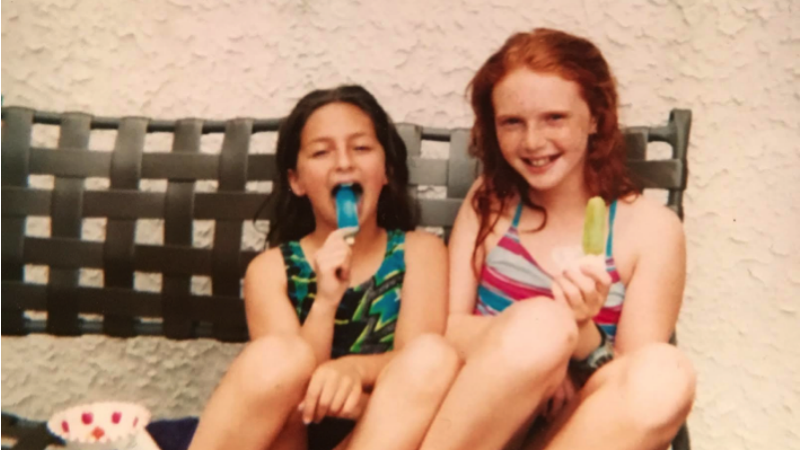 Does riding with your bestie change the way you ride?
Niki: We are HUGE fans of the "buddy system"! It's SO much easier to wake up for a 6:00 AM class when you have a friend going with you! Plus, the ROOSTER classes are the absolute BEST way to start your workday with a burst of energy! Arielle may disagree, but I think I actually turned her into a morning person (kind of...).
Arielle: I've never been a morning person, so waking up for the rooster classes was definitely challenging. Luckily for me, Niki was there to motivate me to get out of bed and out the door, even at my grumpiest. If I didn't have Niki, there's no way I would've even considered 6:00 AM rides. Now it's my favorite way to start the day!
Which word in the mantra best describes you? Your best friend?
Niki: Out here, we always be tappin' it back like ROCKSTARS!
Arielle: Since we've been little, Niki's always been the ATHLETE. She has the discipline and you can see it when she rides. Warrior is the word I'd use to describe myself -- I fight my own little battle for those 45 minutes.
Tell us about your home studio. What does it mean to you?
Niki: WEND is the studio where I took my first ride with
Garrett
, where Arielle found her twin in
Kathleen
and the place we both fell head over heels in love with
Natalia
!
A ton has changed since we started riding at WEND. Arielle moved to Cleveland Park with her boyfriend. I had an injury that prevented me from riding for three months. But, as much as things may change in our lives, we always come back to ride at our favorite studio for the kick-ass instructors and staff.
Do you have a SOUL Story to share? Email SOULlife@soul-cycle.com! Want to ride at SOUL? Grab a series HERE then book a bike!