Margaux Huff Got Cancer at 30 – Here's How She's Helping Other Women Heal
October 17, 2016
t age 30, MARGAUX HUFF felt a lump in her breast that changed her perspective on life. Before she even finished chemotherapy, she found a way to help other women battling breast cancer. Now, she shares why she's grateful for the past few months and how she's paying it forward…

In April 2016, I felt a small bump that hurt like a bruise on my left breast. Initially, I thought it would go away and figured it was probably an injury. When the pain didn't go away after a few days, I knew I needed to get it checked out.

On April 21, 2016. I went in to have it examined by my OBGYN, who then recommended a sonogram. The following Monday, April 25th, I went in for one, which then led to a mammogram and a biopsy. Forty-eight hours later, on Wednesday, April 27th, the biopsy results confirmed that I had breast cancer.
The days between April 25th and April 27th seemed to last forever. Thankfully, my amazing husband, Ryan, and I went right into action mode. We are not good at waiting, so we figured to keep our minds busy, we would do whatever we could to plan for the worst. I know it may seem crazy, because you always wants to expect the best, but we just wanted to be as organized as we could, given we had no control on the outcome. We called my internist, who immediately said he would make a call for me to see a breast surgeon, and we also called some close family friends who were able to make a recommendation for other doctors to get a second opinion.
On May 15th, I had a double mastectomy. Cancer was only found in my left breast, but given my age, I just didn't want to think about going through this again, so it was best to have both removed. I feel relieved. Since recovering from my successful surgery, I'm technically cancer-free.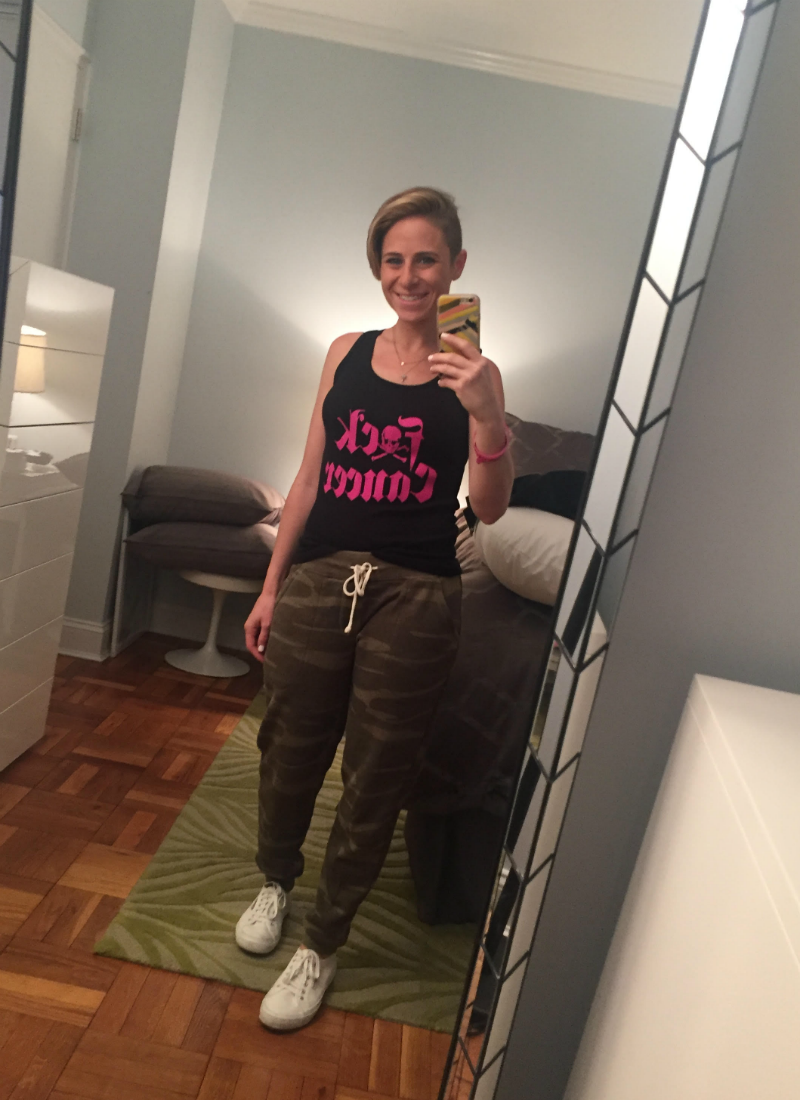 Margaux, right before her first chemotherapy treatment.
I am now over halfway through my chemotherapy treatment, with only seven weeks to go. (Because cancer was found in my lymph nodes, chemo was still needed even through it was removed, just to be safe.)
When I started chemo initially, I didn't feel great, but keeping a positive attitude has helped me tremendously. From the beginning, I always felt like even though this whole situation was unfortunate, it could have been so much worse. I just wish I had my hair – that part has probably been the hardest part for me. But it will grow back!
How are you feeling now?
I was never a person who loved to go to fitness classes. They always intimidated me. However, after taking my first class with my friends, I soon became hooked. I realized that SoulCycle was different than every other fitness class I had tried. The instructors were incredibly motivating and I could ride at my own pace. I ride in the front row now!
Physically, I leave the studio feeling healthier and I have never been stronger in my life, but emotionally, SoulCycle just makes me happy. Classes are never easy, and I always walk out feeling so accomplished.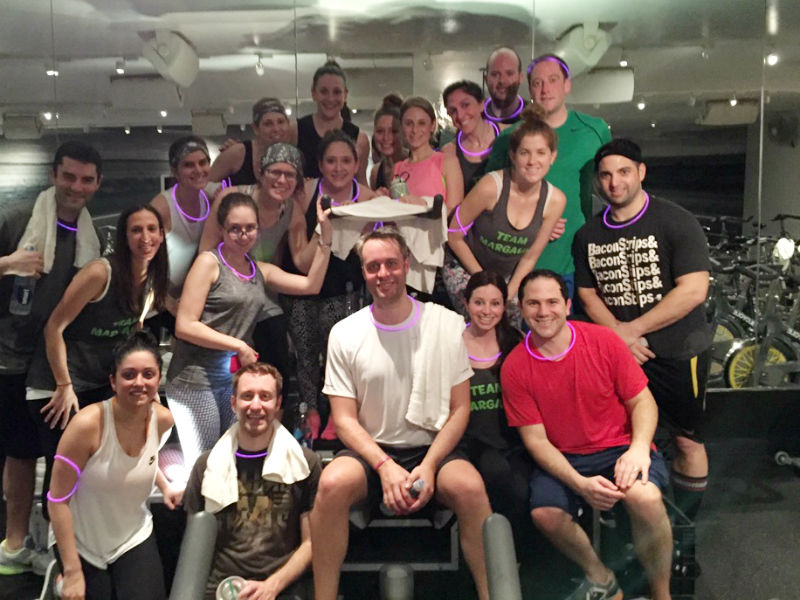 Margaux surrounded by friends at her pre-surgery ride taught by her favorite instructor, Olivia.

How has the diagnosis changed you?
Even before I was diagnosed, I had been feeling this urge to help people, but I hadn't settled on how or whom I'd help. I guess it fell into my lap after I got diagnosed. I knew that even though I was going through a lot, I was fortunate to have great medical coverage, the ability to be able to choose which amazing doctor I wanted to go to in New York City, and was fortunate enough to not have to worry about bills -- medial or non-medical – as I underwent treatment. I then decided I wanted to help people in my situation who are facing financial challenges, and came across an amazing organization called The Pink Fund.
The Pink Fund
helps breast cancer patients focus on healing, raising their families and returning to the workplace by providing short-term financial aid for non-medical bills. There are many people who struggle every day just to make ends meet. Having to choose between fighting breast cancer or feeding your children shouldn't be a decision that you're forced to make.
With my family, we decided to let everyone know what I was going through and created a website:
GAUXFORWARD.com.
We asked that instead of sending flowers, gifts or cards, to donate to The Pink Fund. I am so grateful, because with the help of family, friends and an anonymous donor, we raised over $125k. I found that by helping others, I helped myself emotionally and helped so many others.
That's amazing! What advice do you have for other women going through breast cancer treatment?
1. Stay as positive as you can because it really can help in the healing process.
2. Bring a spouse, partner, boyfriend, girlfriend or someone who can handle the situation emotionally and be your rock during this hard time and take notes during all of your initial appointments, because it's going to be hard for you to focus on things, let alone remember anything.
3. Listen to your doctors and no one else.
Anything else?
I think for women (and men) in general, at any age, you need to be aware of your body. If something feels weird, go to the doctor and get it checked out. Don't wait. Give yourself
monthly self-examinations
. Early detection saves lives.
Do you have a SOUL Story to share? Email SOULlife@soul-cycle.com! Want to ride at SOUL? Grab a series HERE then book a bike!