Joshua and the City
August 27, 2015
Whether you're looking for the best croissant in Manhattan or a great spot for retail therapy, just ask JOSHUA PELATZKY. The NYC instructor shares the downtown spots he depends on for food, shopping, dancing and more...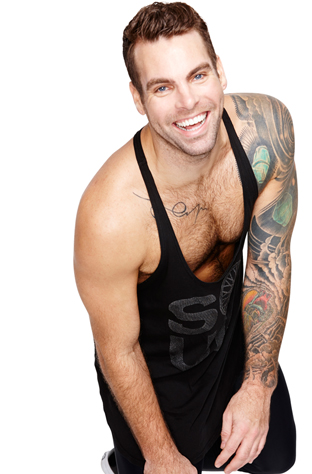 For the thousands of miles I travel around the world each year, when I'm home in NYC, I seem to spend a majority of my time within a mile or so radius of my apartment in the East Village. Going back and forth down one of the most iconic streets in the world, only a straight shot down a short stretch of Broadway separates the four downtown Soul studios I call home. From NoHo to the Nomad and everything in between, this is the diary of Joshua Pelatzky (insert MTV show theme song).
I would say it's probably common downtown knowledge that
Lafayette
(next door to Soul NoHo) has some of the best breakfast around. I love starting my day with the soft scramble or frisée salad — they will not do you wrong. The croissants are on point, too; I think we all know it can be just as hard as finding a new apartment to find a good croissant in this city. You're welcome.
A quick stop a few blocks south on Bond to one of my FAVE stores. The NoHo staff will tell you, at least once a week I walk in with a bag from
Oak
. The color palate and funky cuts…
le sigh
… just can't get enough.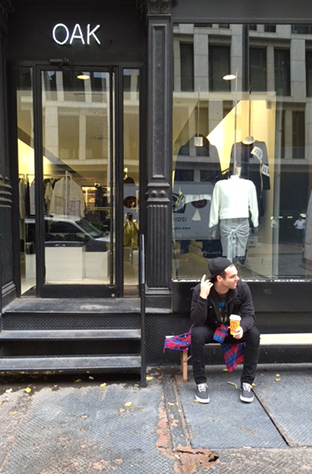 Shopping makes me hungry! Next stop,
Ippudo
, on 4th Ave. Known for its ramen (which lives up to the hype) and pork buns — take a tip from a regular and try the chicken buns. They are EVERYTHING. And so is the shōchū with fresh squeezed grapefruit cocktail, SUGOI!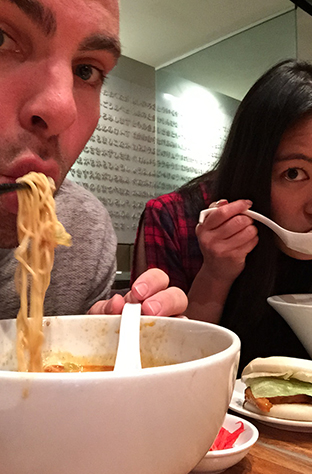 Now for some coffee to help me digest.
The Mudtruck
is often parked in Astor Place or Mudshop is conveniently located a few blocks from my apartment, and just east of Ippudo. I often stop here for a delicious pick-me-up; MUD is an East Side staple.
Continuing uptown,
Peridance Center
on East 13th Street has some great dance, stretch and yoga classes for when you are looking to work your body off the bike. I also teach dance classes here — get your dance on, I dare you!
After a stroll through Union Square Park and teaching my classes at Soul UNSQ and 19TH, I often head to my second home,
ABC Cocina
. From the staff to the food to the beloved mermaid statue behind the bar, I could write a whole blog solely devoted to
ABC
. To keep it brief, don't turn an eye at the arroz con pollo, Yum yum yum. And the dang corn, when it's in season and on the menu — get it. Margaritas and seasonal cocktails, goes without saying.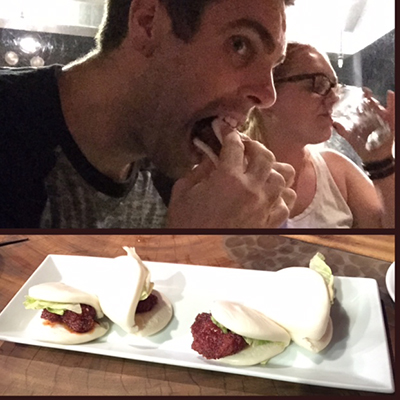 Movin' on UP (insert theme song), through another quintessential NYC destination, Madison Square Park, we are now in Soul West 27th territory in NoMad, a thriving and continuously growing neighborhood.
A few blocks north of the studio, on West 29th street is the
The ACE Hotel
, a one-stop shop of sorts. There's always something going on here, between drinks (and DJs) at the Lobby Bar, delicious food at The Breslin, events downstairs at Liberty Hall and coffee at Stumptown (sometimes a long line, but pretty flippin' delish) there is something for everyone. And not to be forgotten of course, is Opening Ceremony — not your average hotel gift shop. Much smaller than the original downtown OC, it still manages to get my blood flowing when I walk in.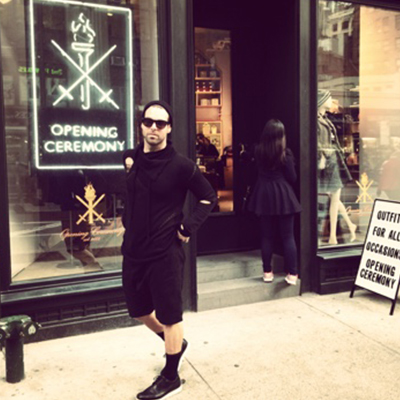 After working up an appetite (again) in class,
The Nomad Hotel
is right across the street on 28th and Broadway. I'm more of a fan of the bar than the restaurant because... mixologists and fried chicken, is this heaven!? Not yet. Take three SOUL classes then go and get the truffle hot dog and the chicken pot pie, life-changing and completely worth it.
Now I'm full and exhausted from all that eating, drinking, shopping and spinning. Let's get a cab.
Questions or comments? Email blog@soul-cycle.com!
MORE FROM SOUL