Instructors Share the Best Advice From Mom
May 10, 2015
What was the greatest lesson you learned from your mom? Our instructors shared the most inspiring advice they received from their own SOUL moms. Happy Mother's Day!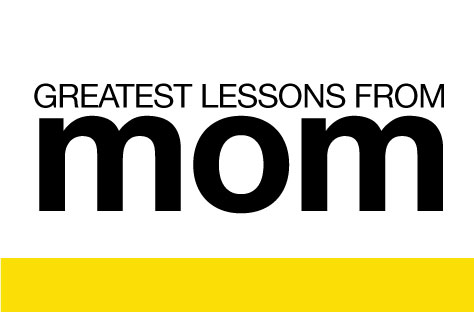 AYANA CURTIS
My mom always told me to stay persistent and to be consistent when pursuing my dreams or anything that was important to me.
DAVID ZINT
The most important, well, one of the most important things my mother taught me was that there is power in accountability. In taking ownership of when you are wrong. Don't lie. Don't hide and don't be deceitful. Be honest and in the end all will work out. It may not be easy but it will be worth it.
STACEY GRIFFITH
The most important thing my mother taught me was to respect all people. ️
JULIE DERMER
My mom taught me how to embrace life and love BIG!
BARI ROBINSON
One important thing my mom taught me is to be impeccable with my word; if I make an obligation, it is important to keep it!
JOYCE FRANCO
Live for your own dream, not anyone else's.
SARA SILK
There are so many to pick from! I think the one that stands out most, is to give without ever needing anything in return. Thanks, Mom!
MARTHA KAPLAN
My mother taught me to be good to others and to myself and by doing that — good things will come to me. She taught me how to do my makeup, how to cook, how to be a good mother myself and how to ride a bike.
JULIE ANNE QUAY
The most important thing my mum taught me: that she would always be there for me, always in my corner.
SABINE GERDTS
My mom is the epitome of hard work. She's taught me that you have to work hard for what you want, and that its always worth it.
AUBREY BAILEY
The most important thing my mom taught me was just to be myself! Don't waste time trying to please others, dance to the rhythm of your own unique drum.
TIFF CHEN
It is never to late to find a new path. When my mom was in her early 30s, she left her job in publishing to pursue her masters in education. She began teaching high school and middle school science in 1992 and has been changing lives ever since! After 7 years of working in fashion, with the support of both my parents, I took the leap of faith to follow a new path and audition for SoulCycle.
RYAN PIGNATIELLO
Smile and the world smiles with you!
CHRIS CHANDLER
The most important things my mom taught me is to own your story. She's been through a lot, yet manages to soak up every ounce of life that each day has. Connie Chandler = #badassrockstarhero.
JILLIAN DAVIS
Paula taught me to never back down. She has supreme confidence in who she is and never needed to impress people. She taught me to be my authentic self. And she will always be taller than me.
ELIANNA SABLE
My mother is the most dedicated mother you could ever imagine and will go above and beyond for everyone in my family. If I could be half the mother she is one day, I am in good shape! She never lets anything get in her way! So I would say the most important thing I learn from mother is to keep going, keep climbing, keep running — never let anything get in your way until you get the job done the way you want it to be.
RYAN FOLEY
My mom taught me to be a kind, caring and compassionate person.
JANINE CRECCO
My mom taught me so much not really by what she said, but the way she lived. She was always a super calm, go with the flow, make-any-situation-work kind of woman and it completely rubbed off on me!
MICHELLE POLERA
My mom is not one to shy away from doing or saying what she believes in. If you feel strongly about something, don't be afraid to act on it!
TIM MCGARRIGAL
My mom taught me to celebrate every day. It was not rare for friends to meet my mom while she was dressed up as a leprechaun, the Cat in the Hat, or Minnie Mouse for events and holidays that she'd planned for her Kindergarten class that she taught for 20 years. She makes everyone and every day feel special.
LIZ CHESTANG
Most important thing my mommy taught me. My mom is an amazing attorney who always taught me to voice my opinion, know what's happening in my world and to be an outspoken, risk-taking woman.
BETHANY LYONS
"Girls can do anything." — Cheryl Lyons, my mom and best friend.
MEGAN KELLY
My mom always said: "Follow your heart and the rest will follow." — I try and remember that everyday.
LISA MOLOSHOK
PAMcakes has COUNTLESS wise quotes... but I think it really comes down to: "Just be nice" and "For the last time, can you get your stuff off the landing? Please, I have guests coming over."
SYDNEY MILLER
Posture! My mom always rolls my shoulders back when I see her, which is funny since I am constantly reminding my riders to do the same.
NINA RUTSCH
My mom always tried to teach me to not sweat the small stuff... "Look at the big picture."
GRACE RAO
"Nature supports you when you support yourself" and "It's better to be the happiest one in the room even if you look a little kooky."
ALLIE FELL
The most important thing my mom taught me is "because nice matters." She is the kindest person I know.
ERIKA SHANNON
My mom taught me how to be self sufficient — to ask questions, take initiative, and take responsibility for my own happiness. I am so grateful for that every day, as I create a life that makes me truly happy!
DREW BEREZOWITZ
My mom taught me that you never grow old, you grow awesome.
GUNNER
The most important thing my mom taught me is to be myself — that being myself is original because there is no one in the world like me.
Happy Mother's Day! Questions or comments? Email blog@soul-cycle.com!