Instructors' Instant Stress Relievers
August 13, 2015
Tapping it back is a surefire way to relieve stress, but how do our instructors unwind when they're off the bike? Ten rockstars share some of their top tension tamers…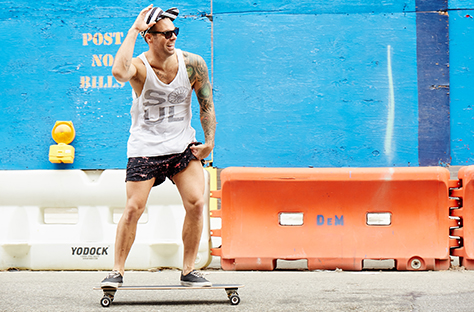 "My body loves to move... with each maneuver, I feel myself becoming free," says instructor JOSHUA PELATZKY (above).
LET THE SUNSHINE IN
FIND YOUR BASE
"When I get caught up in the momentum that is NYC, I just need to acknowledge my body is grounded and touching the floor. I close my eyes and feel all parts of my feet rooted below... I use this a lot on the subway," says instructor KRISTA BONURA.
MEDITATE
"I've been really getting into meditation. The practice of sitting still for even 10 minutes is a great way to relieve stress and get some clarity," says instructor TIRRELL CHERRY. According to a study conducted at Harvard University,
meditation doesn't just help us decompress — it literally rebuilds the gray matter in our brains
, which is necessary for neurological function including processing information and carrying information (including nutrients and energy) throughout the body.
JUMP IN THE POOL
"When I feel stress building, I swim laps. I was a competitive swimmer my whole life, so jumping in the water always feels like returning home. It's a place to reflect, re-center and re-connect, a place where it's just me, my thoughts, and that black line on the bottom of the pool. That connection to the water is a fundamental and powerful part of who I am. So it brings me back into myself, and it's where I do my very best thinking," says LA instructor ROSS RAMONE.
JOG OUTSIDE
"I would say my instant stress reliever is going for a run. I've just recently gotten back into it — whether alone or with a friend, there is something very calming about moving in the outdoors. It helps to clear my mind and reconnect with what's really going on in the world," says DC instructor MEGAN KELLY. And research backs her up:
Exercising outdoors can shore up self-esteem while reducing feelings of depression and tension
, according research published in
Extreme Physiology & Medicine
.
JUST BREATHE
"An instant stress reliever for me is breathing in and out of my nose very slowly and closing my eyes and just listening and tuning into my breath… Another instant stress reliever for me is going into the ocean or hearing the sound of whichever body of water I am nearest to. I feel like water has healing powers of sorts and can really ground means take the edge off." — BARI ROBINSON
TAKE A BATH
GRAB A PEN
TURN IT UP
"When I'm stressed, I listen to Christian music. For those who may believe in something different than I do, I would still suggest music in general; it is so incredibly powerful. I took a music therapy course in grad school and I truly believe music is one of our greatest tools," says instructor JO RUFFIN. A study from Brandeis University found that
cranking up music you love actually decreases feelings of anxiety and stress
.
Questions or comments? Email blog@soul-cycle.com!