Inside the #ItWasNeverADress Campaign
May 1, 2015
We're obsessed with #ItWasNeverADress, a brand-new project that was initially created for a Girls in Tech conference in Arizona. TANIA KATAN, an artist, activist and Creator of Code at Axosoft, came up with this inspiring concept… and we just had to hear more.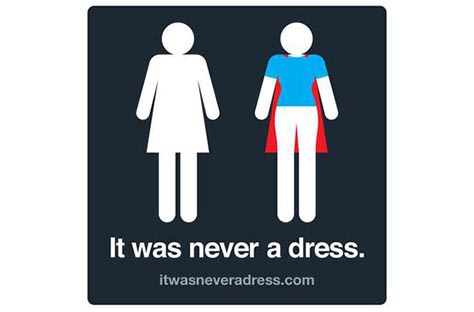 Tell us how you came up with the idea for #ItWasNeverADress.
We first started thinking about creating something to present at Girls in Tech, an international conference and organization that was having a conference in Arizona, where Axosoft is based, for the first time. We were getting ready for it and the CEO here, Lawdan Shojaee, said, "We need to do something BIG."
And big you did…
Well, I began thinking about symbols — universal symbols about women that everyone can quickly recognize. The bathroom lady was one of the first that came to mind. Here she is, this lady with a stiff triangle dress, holding in something, probably pee pee. We see her, stuck there, this rigid symbol for women and, pretty soon, we believe we're stuck too. That's when I realized this is a larger conversation and she can help facilitate it! So I started talking with my colleague Sara Breeding, and I said, "What if that's not a dress but a cape?" And we thought, what if this whole time we were seeing her from behind?
Genius.
Well, we started riffing on that and in three strikes I drew the cape. She was there this whole time! And once you see it, you can't unsee it. Your perceptions just shift. When we as a society see women differently, we see the world differently. Women are the superheroes. We have the skills to do anything — including programming, which really is an endurance sport.
Do you code and program, too?
I am actually an activist and artist, and part of my job has been to engage people in conversation. Before Axosoft I was working at a museum developing a performance art space so when a tech company called me, I was definitely surprised. It's been exciting to create and collaborate on #ItWasNeverADress, which challenges assumptions and perceptions about women in technology and, really, women in any and all spaces.
What's next for #ItWasNeverADress? It has its own website!
Yes, before the conference we decided to put up a website just because we thought we might have a little traction. We thought we would let the audience dictate how much or how little to offer. So I created some copy without being too specific and then it started trending. So now what we're working on will be three-fold: First, the site will be a forum where people can upload images, videos and text around this conversation. Second, we will seek out submissions for content and we will curate them. And finally, we will have some ItWasNeverADress stickers that we'll send people for free. We are also partnering with a university based in Arizona to offer other items like T-shirts that we will sell with proceeds going to fund scholarships for women to get into S.T.E.A.M (Science, Technology, Engineering, Art and Math) programs. This way, when people buy T-shirts, they are really funding a young woman to further her education in S.T.E.A.M. fields. How radical is that?!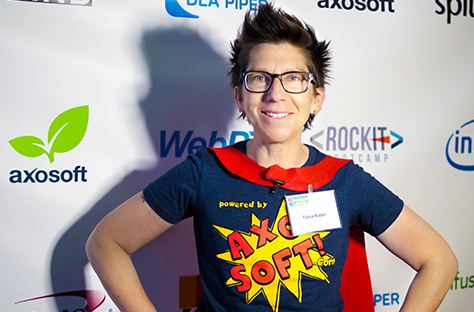 Tania Katan
You inspire us. What inspires you?
Grit and humor. Those who use both to take flight and bring everyone with them! My mom, Joelle Katan, dad, Elliott Richards, partner, Angela Ellsworth, and so many more human beings!
Incredible.
Well, I couldn't come up with good ideas if it was not for SoulCycle! I used to ride all the time in the Hamptons. True story!