Inside SoulCycle's Pop-Up at Art Basel
December 9, 2015
Before the cardio party began in SouthBeach, we celebrated by popping up at Art Basel and collaborating with artist GREGORY SIFF. Instructors LAURIE COLE, TOMAS MIKUZIS and SOEURAYA WILSON led the pack as DJs curated by Spotify dropped some incredible beats. Together they created a playlist inspired by ART BASEL… and chatted with us about the experience…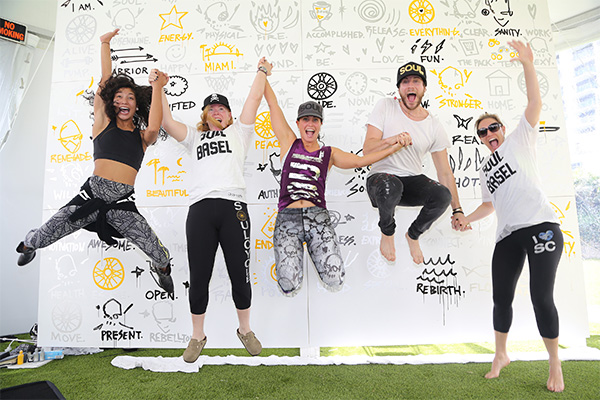 Last December, SoulCycle popped up at Art Basel Miami Beach for some special cardio parties and a collaboration with artist GREGORY SIFF. I
nstructors LAURIE COLE, SOEURAYA WILSON and TOMAS MIKUZIS led the pack at the 1 Hotel South Beach in rides featuring live DJ sets by ASTR, MS MR, Just Blaze and Kilo Kish curated by Spotify. We chatted with the Soul rockstars who kicked off the cardio party about the highlights of the experience... and interviewed GREGORY SIFF about creating a one of a kind installation.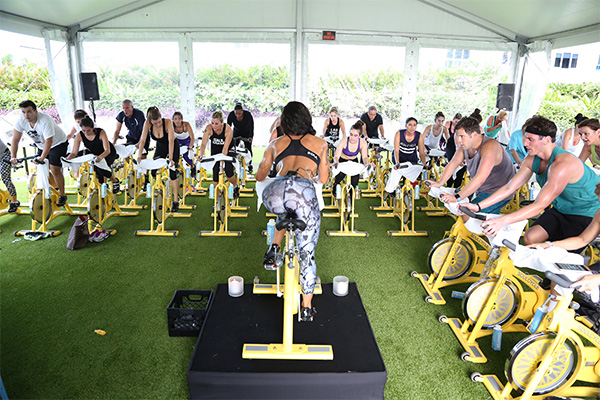 Senior Master Instructor LAURIE COLE
I think my favorite part of the Basel experience was my last class when I realized about 95 percent of the tent was my tribe from the Tribeca studio. We rocked it out looking out over the ocean on a gorgeous sunny day for an entire SoulCycle class. But a close second was watching artist Gregory Siff paint an original art installation as I was teaching, weaving in my motivational words into the painting. It was such a definition of a collaborative effort. Art meets Soul.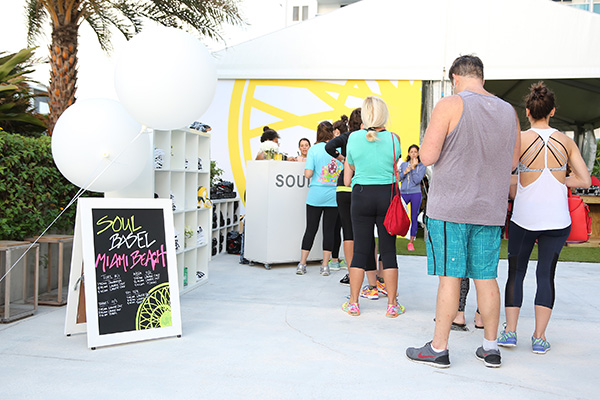 Senior Instructor TOMAS MIKUZIS
The most memorable thing about Art Basel this year was having all of our riders from different parts of the country come together and ride. New York, Miami, L.A., DC, and Chicago showed up strong!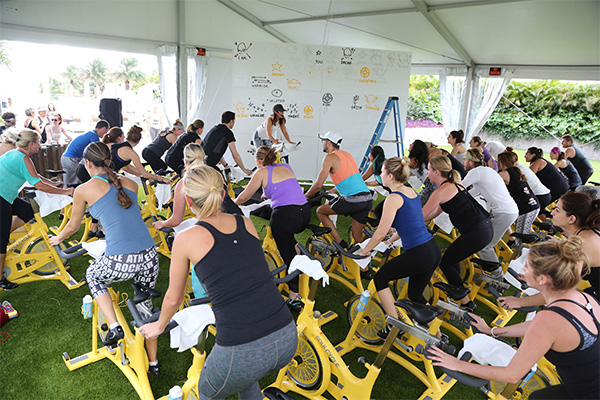 Instructor SOEURAYA WILSON
SoulCycle has this way of curating classes and creating a community that is fun, that is deep, that forces you to ask questions of yourself — much like a good piece of art. It's not up to any of us to say what is or isn't… which is why SoulCycle was perfect for Basel.
SoulCycle has this way of asking you to show up for you. To create something that you're not ashamed of and that deserves to be seen. Many pieces I saw at Basel this year were created in that fashion. Unashamed and bravely waving their thoughts and ideas to be seen and heard. We speak of AUTHENTICITY all the time. Basel is a beautiful representation of this. The melting of these two experiences was AMAZING. Also, being able to spend some time in our home at the 1 Hotel was awesome.
The playlists, thanks to Spotify, were curated by the DJs themselves in a live DJ ride during the class. I had the pleasure of dancing with Adam and Zoe from ASTR on Tuesday, and Max and Lizzie from MS MR on Wednesday.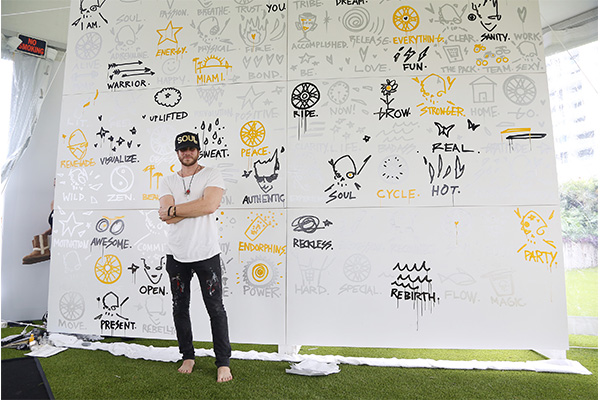 Artist GREGORY SIFF
What inspired your amazing art installation at SoulCycle's ART BASEL Pop-Up?
The energy from all the riders and their words of how SoulCycle makes them feel about their lives inspired the installation! Some of my best friends ride so I asked them to describe their experience to help me choose the right words. Then, when I showed up to paint, SoulCycle provided me with an additional five page list of more words from riders I'd never met. It was full of awesomeness. I incorporated as many as I could, and by the time I had finished painting, the piece had taken shape with the words and the power of the instructors, the music and the tribe. Its really a collective of positive powerful beings!
Why did you want to collaborate with SoulCycle?
I wanted to collaborate with SoulCycle because when I walked into the studio for the first time and took my first ride it was mentally empowering. As a painter, I have vivid visions of memories from the past and also foresee moments in the future. I feel that riding helps me connect the two. To let go of my physical shell and live in the present moment of the positive dreams I have, makes my art and my being stronger.
What motivated you to become an artist — I've read you initially came to L.A. to be an actor!
Life got crazy. When I paint I feel great about everything. Being born in Brooklyn and growing up in Rockaway Beach, my mom and dad always brought me to cool things like museums and Disney World. I always loved traveling and seeing new things. When I moved to L.A. I started painting everyday.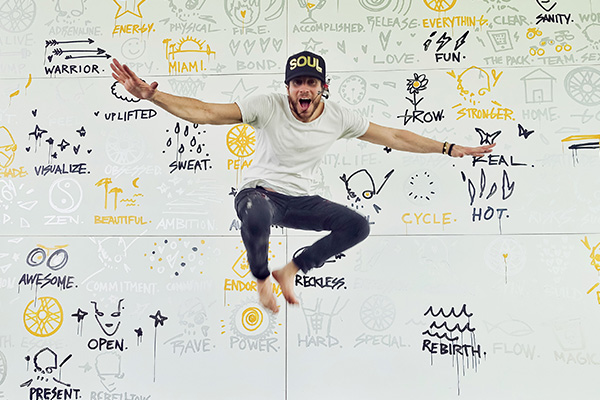 What was your first ride at Soul like?
My first ride took me to places in my mind that I have been going after for some time. "Dream, I'm coming for you!" — Angela Davis!
Where do you find inspiration?
I find inspiration in hamburgers, the world, candy, models, America, rap music, my parents, my girlfriend, my homies and being alone in the studio.
Best part about going to Art Basel?
The best part about Art Basel is being in a town full of people who are addicted to the same thing at the same time. People come here to fill up on art. As soon as I landed, I got to work on the 11 ft x 14 ft mural that lives in the 1Hotel's Miami SoulCycle. Waking up at 7:00 AM, arriving and seeing a class full of riders charged up to be a part of live art being created was a great moment.
Anything you want to add?
Painting while the ride is in session. Wow. Gotta feel that.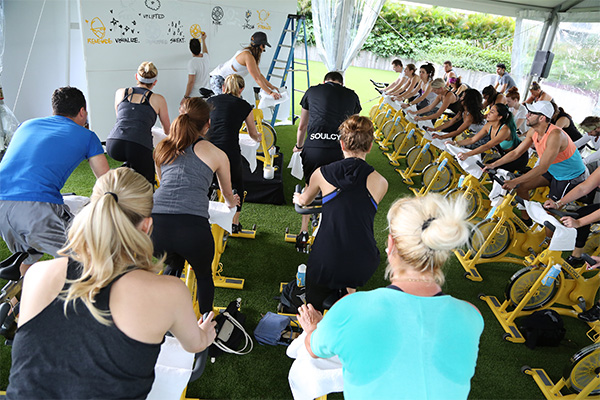 CHECK OUT OUR PLAYLIST INSPIRED BY ART BASEL!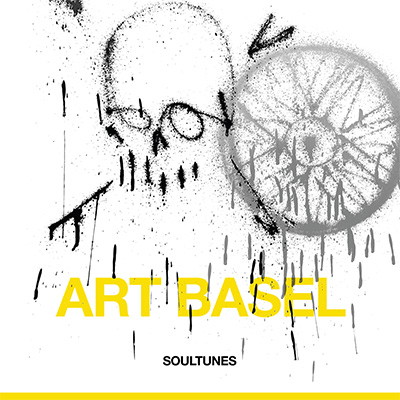 SOULCYCLE SOUTH BEACH is located at 2325 Collins Avenue, Miami Beach! Questions or comments? Email blog@soul-cycle.com! Want to ride at SOUL? Grab a series HERE and book a bike.
MORE FROM SOUL