'I'm ready to navigate whatever challenges come my way': Dara Perlmutter's Soul Story
February 9, 2016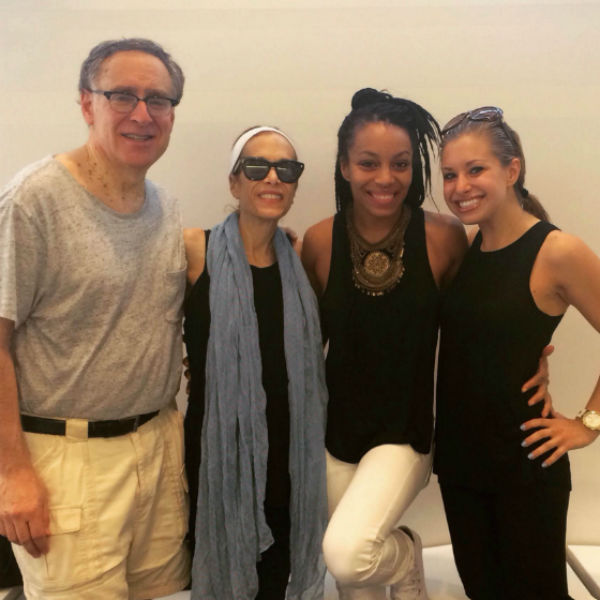 October 3, 2015: My beloved mother -- my best friend in the world's -- 63rd birthday. The first birthday she isn't alive to celebrate, as ovarian cancer claimed her life just three weeks prior.
October 3, 2015: The most uniquely special, heartfelt, emotional and memorable SoulCycle birthday ride in Mom's honor. My dad, my brother Eric, and 17 of my friends were led by none other than the bright, energetic and happy-go-lucky
Nick Spadaro
, my favorite instructor. In that dark studio, riding to Whitney Houston's "I Wanna Dance With Somebody" and surrounded by my loved ones, my perspective changed. Rather than crying and being sad on her birthday, I was filled with a deep sense of strength, happiness, warmth and resilience. I rode furiously as sweat dripped from my body. A huge smile radiated from my face as Nick's uplifting voice came over the microphone, saying, "You know Whitney's putting on a concert in heaven now for your mom and my dad, and they are definitely swinging from chandeliers, oh yeah! Let's DO this!"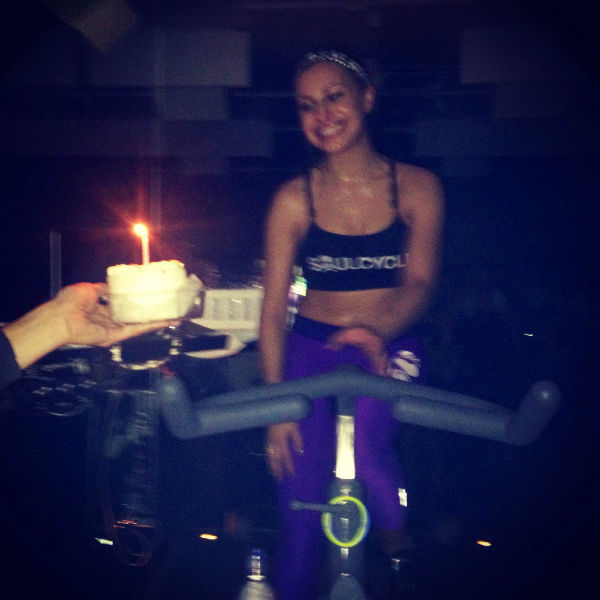 Anyone who knows me knows that there is no place I would rather be, no workout I would rather participate in, no people I would rather surround myself with than my SoulCycle friends and family. From my early, awe-filled days two and a half years ago riding at
East 63rd
with the incredible
Amanda Max
,
Erin Thomas
and
Olivia Ward
, to establishing close friendships and relationships with the
West 27th Street
staff –- in particular with Assistant Manager Marie Fortsch and instructors Nick Spadaro,
Sunny Walters
,
Trammell Logan
,
Nina Rutsch
and
Lily Miesmer
– SOUL has been sacred to me. It's a second home, a place of connection, inspiration, meaning, life, love and direction. It's a source of genuine happiness.
In the last few years, especially as I struggled to accept Mom's illness, I have dedicated a great amount of time to self-improvement and exploring the parts of myself that have felt out of sync and confused. I have felt lost and alone at times; off-track from the person I am at my core. SOUL is a place I can come on my hardest, darkest and most challenging days to connect, ride, smile and most of all, feel my strength not only physically, but mentally. It's where I go to keep moving forward, to move onwards and upwards, to be filled with light and determination. In essence, it's where I go to feel alive and happy.
The incredibly deep bonds I have formed with my instructors have given me the strength to really connect with myself, particularly after the devastating loss of my mom. They have helped me to believe in my worth and to gather the strength to leave less-than-fulfilling relationships and friendships. Most recently, they have emboldened me to make a complete career change to something I feel passionate about: working with cancer patients.
SOUL has made me the best and healthiest version of myself I can be since the loss of my mother. In the days surrounding her death, I truly do not know what I would have done – or the darker, unsettled moods and places I would have found myself in – if it were not for the love and connections I shared with my SOUL instructors, both in the studio and outside of it. There were countless days that nothing, aside from knowing it was time to wake up and show up to a class taught by Nick, Sunny, Nina or Trammell that could have helped shift my state. Being greeted upon arrival by the energetic, fantastic staff at the 27th Street desk and receiving hugs and love from everyone there makes me feel instantly calm. The way I feel when I am at SOUL and within the SOUL community is truly irreplaceable and priceless, and for that I am and will be forever grateful.
Aside from the inspiring instructors and friendships I have developed, one of the most important parts of SOUL for me is connecting with other riders: hearing their stories, laughing with them in the locker room and exchanging hugs, tears and phone numbers as we learn about each other as people.

Each time I come to class, I make it a point to meet at least one new person. SOUL is truly a close and uplifting community. Today, after an incredible class with the beautiful, vibrant
Samantha Jade
, I found myself exchanging hugs and life stories with another one of her riders in the NoHo locker room, as I did the day before after a Trammell class that filled me with smiles. I was struck after both encounters with a moment of pure presence, awareness and connectedness. Spending every Tuesday and Thursday of the past month with Trammell and the other amazing riders in his class has brightened up my days and helped me to make better decisions in many aspects of my life.

 Sunny and Nina often reiterate that while riding, "you are where you are meant to be," and I know now in my heart that they are absolutely correct. Today, I am able to trust that despite mistakes, bad decisions, life losses and challenges, I am where I am meant to be. I am genuinely happy, peaceful and on the road to understanding what life looks like without my Mom. I'm embracing a new career, deepening my friendships and thanks to the strength and love I have gained from SOUL, discovering a better version of myself. I'm ready to navigate whatever challenges come my way in this thing called life.
For all those who ask me why I love SOUL so much and who try to tell me "it's just a cycling class," this is what it means to me: It's my heart. I hope my story will inspire others to go, to ride with these life-changing instructors and to find the happiness that I have found in the studio.
Do you have a Soul Story to share? Email blog@soul-cycle.com! Want to ride at SOUL? Grab a series
HERE
then book a bike!
MORE FROM SOUL: