'I Will Never Stop Fighting to Get Myself Back': CHRISTINE CAPELLA'S SOUL Story
July 4, 2016
fter a devastating head injury, CHRISTINE CAPELLA worried she'd never get her life back. Enter SoulCycle. She shares how sprinting hills helped her reclaim her identity and her health…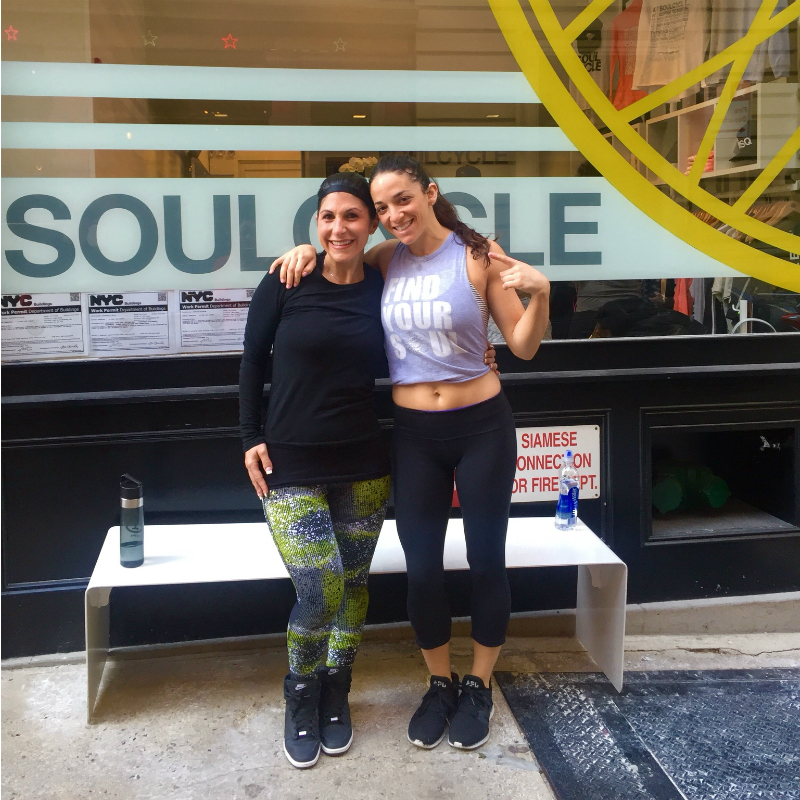 A year ago, I truly learned what it means when people say, "your life can change in an instant." I was assaulted on May 3, 2015 and my life was forever changed. I was with some friends on a Sunday afternoon and decided to leave to go to dinner. As we were waiting for our Uber, a complete stranger came up to me and began aggressively and inappropriately hitting on me. My friends tried to defuse the situation and pulled me away. We thought he had walked away when suddenly, he ran up behind me, picked me up and threw me over his shoulder. He was extremely intoxicated and dropped me headfirst into the concrete. The entire impact of the fall was taken with my head and face.
Everything after that is a bit of a blur. I remember complete chaos, strangers handing me napkins to wipe up my blood. I remember hearing the sirens of an ambulance and the cops coming. I was rushed to the nearest hospital to evaluate my injuries, which were extensive; I had suffered a severe brain concussion. I was vomiting and so dizzy that I could not sit or stand up, with pain going down my neck and into my arms because of the impact.
I had bone chips and compression in my neck. I needed stitches across the bridge of my nose, under my left nostril and inside of my mouth. My nose was completely shattered from the fall. My friends remained with me, but everyone tried to stop me from seeing myself in the mirror. When I finally did see myself, that's when I broke down.
I'm an elementary school teacher and was unable to finish the school year, which was devastating to me and to my entire class of 4th graders. Recovery became my only job, but the side effects of the concussion continued to plague me. I had trouble standing – the room would spin and I had a very difficult time being around more than one or two people at a time because I wouldn't be able to follow or even understand conversations. I was terrified I'd never be able to understand conversations or even be able to teach again.
I was constantly dizzy and I'd get violently ill on a daily basis. I became extremely self-conscious about the scars on my face and my crooked nose. I just wasn't myself physically, mentally or emotionally.
Before the assault, I had always been someone who worked out six or seven days a week. As I struggled to recover, my doctors told me that I couldn't work out and might never be able to work out like I had in the past. Once I was finally cleared to get myself back into the gym, I tried to take some of the classes that I had taken before, but I struggled, mentally and physically. I had to find a way to work out that did not trigger my symptoms or strain my neck.
On Veteran's Day 2015, I decided to take a SoulCycle class with
Jamie Glassman
. This was not my first time at SoulCycle, but it was my first class with Jamie. I sat in the very back in a corner, just praying no one could see me or what a mess I was. I was so happy that the lights were turned down low and no one could see my facial scars. But I didn't go unnoticed. Jamie came bouncing up to me, introduced herself to me and asked me my name. During that first class since my accident, I was completely off-beat. I couldn't keep up with the tap backs or the push-ups, I was getting dizzy and felt ill, but I kept pushing forward. The music was going and I had Jamie telling me to "push through the obstacle in front of me," saying "everything is temporary." I thought to myself, You know what? She's right — this is temporary, I'm going to get through all of this. I rode that bike with all my heart and soul and kept pushing forward.
I left SOUL that day dizzy and sick, but there was a renewed sense of hope within me. There was a noticeable pep in my step as I exited the Union Square studio that I hadn't had since before the assault. Jamie's words had struck a chord with me, and I resolved to return as soon as I could.
I started attending Jamie's classes regularly. I'd sit in the back corner and try to go unnoticed, but she never allowed that to happen. She recognized me and would always say hi and welcome me back to class.
Then she started calling me out during class. Each time I'd hear her shout out my name, I pushed harder. I had someone in that room believing in me, and I knew then that I could overcome all of my post-concussive issues, all of my anxiety about my facial scars, all the physical pain I would endure day in and day out and the depression and emotional stress that this assault caused me.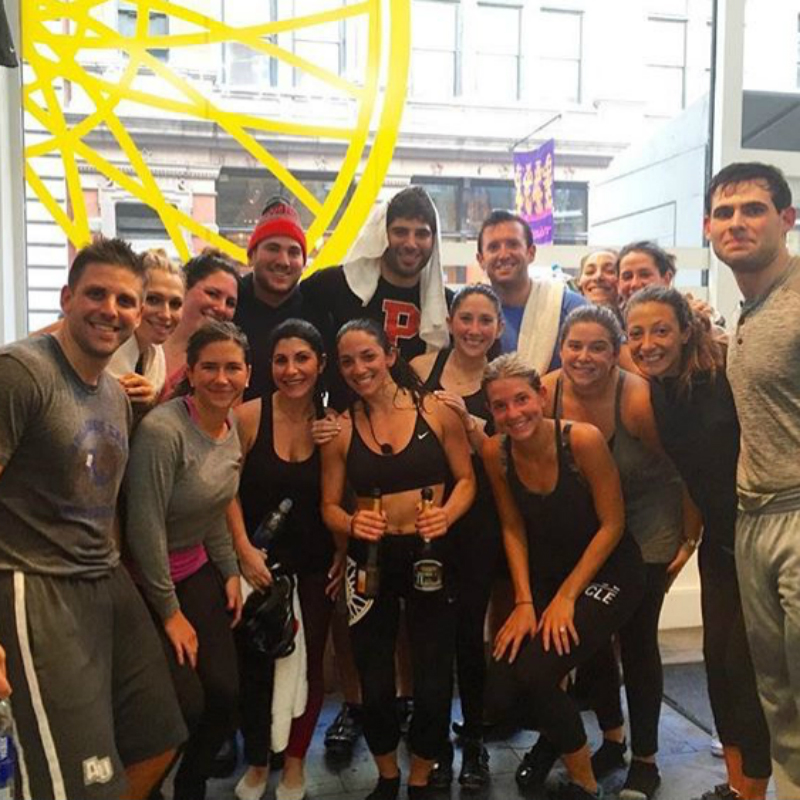 I kept going back week after week, and Jamie would shout me out during class and motivate me even more. She got me to overcome what I was going through. There were days when I'd cry through some of the class, praying that if anyone noticed, that they would just assume it was sweat rolling down my face. I was able to go into that room and ride through every emotion I was having that day or week. It wasn't until I found out that Jamie was leaving for Chicago that I went up to her to thank her for everything she had done for me during my recovery and to tell her about my injury. She had had no idea!
Lucky for me, Jamie made her way back to NYC and I am able to get my weekly SoulCycle and Jamie fix again.
This has been a very long, hard year, full of many ups and downs — more downs than ups. There were moments when I never thought my face would look the same and when I doubted I could endure one more second of the pain, but I have overcome so much within this year. I'm still nowhere near 100 percent. I still struggle every single day with symptoms from this assault. I probably will never ever feel 100 percent or feel like my old self. But I can tell you this much: I will never stop fighting to get myself back. I will live every moment like it's my last and I will push forward with everything I have to get through the obstacles.
You might see me struggle on that bike (and in life), but you will never see me quit. I will smile every day and hide my pain. I made a choice when this happened: I could be angry and have hatred in my heart, or I could release that and live a life full of kindness, faith, gratitude and positivity and find forgiveness in my heart. Hate is heavy; I chose to let that sh*t go. In the end, what truly matters is how well you rise after the fall.
Every time I get on that bike, I leave a little bit of my anger behind me and toss it to the side. I will never be a front row rider and I will probably always be slightly off-beat, struggling with tap-backs and push ups due to my brain injuries, but I know I will always try, I will "push through the obstacle to get to the other side."
As Jamie says, "everything is temporary." I'm no longer sitting in the back corner; now you can find me on the sidebar as close to Jaime as possible with a huge smile on my face throughout the entire class. You might catch me crying some days during certain songs or you might catch me singing along to the music, but you will always see me riding that bike with intention and everything I have.
I will forever be indebted to Jaime, and I am so incredibly grateful to have her reset and recharge my soul each week.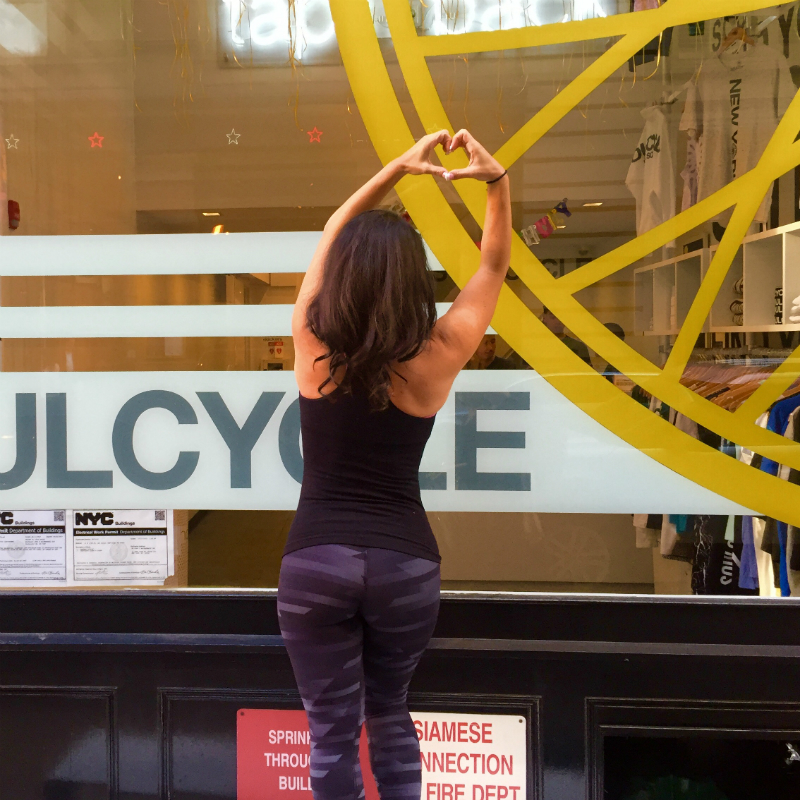 Do you have a Soul Story to share? Email SOULlife@soul-cycle.com! Want to ride at SOUL? Grab a series HERE then book a bike!