"I truly feel like a different person": Molly Krull's Story
January 4, 2016
When rockstar MOLLY KRULL moved to the Washington, D.C. area a year ago, she began clipping in at SoulCycle as a way to destress her mind and body. Now she shares how the past twelve months have helped her find her SOUL…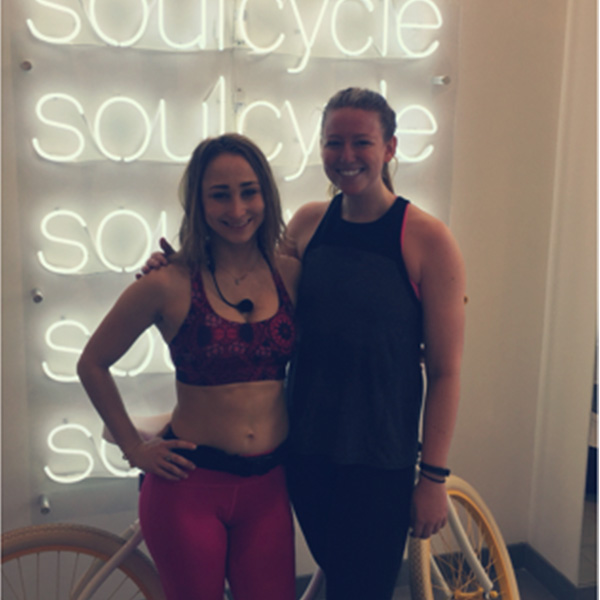 Let's rewind 52 weeks.
I had just moved to Arlington to start "adult life" after graduating from the College of William and Mary with an undergraduate and masters degree in accounting. I was getting settled into the area and figuring out the whole 9-5 (more like 9-9) thing.
The first few months of work were rough. Working late, ordering dinners, coming into the office on weekends, all things I expected, but didn't realize would actually happen. I was constantly thinking about work, not because my coworkers were always asking me to do work but because I was new and wanted to make sure I was doing the work the right way.
Two of my friends suggested we try SoulCycle since the first location had just opened in DC (WEND). Not knowing what I had signed up for, I found myself on Bike 35 in Abby's 10:45 AM Saturday class. Little did I know that this would be the one of the most life changing experience I would have to date.
I knew the class was going to be challenging, but I thought after playing four years of Division I volleyball (Go Tribe!) that my "retired" athlete body would be able to keep up. I knew once Abby started with Taylor Swift's "Blank Space" that this was going to be something that I was going to like. I had the biggest smile on my face the whole time. I was having SO MUCH FUN.
My body was shocked. Not only that, but my mind was shocked. It was literally the first time since I moved to DC and started working that I completely shut off my brain and just focused on myself.
After one class I was obsessed. My coworkers, friends and family heard about SoulCycle everyday. Literally. Even on the 45 minute drive to work, I would be listening to my music imagining how the SoulCycle class would go (yeah, I did push ups on my steering wheel…) The first day back after the holiday vacation, my coworker had a surprise for me at my desk.
Once January 1 hit, my office got slammed during our busy season. I knew I was going to need something to help me destress and allow me to have "me" time. Hmmm, what would it be? SoulCycle. I went two times a week to the Bethesda location where Allie constantly kicked my butt at 7:00 AM and on Saturdays I went to the WEND location so I could still catch Abby's class.
Then, when summer came, I took a little break from SoulCycle and taking care of my body in general. I was so tired from work, and needed to recharge the batteries.
Fast-forward to October — you know how I said above that the most life-changing experience was being introduced to SoulCycle? Yeah scratch that… it was going to Alex's 7:00 AM Bethesda class. This was the restart I needed. I called it "Getting Yo Mind Right."
I am pretty shy, so after the first class I was too scared to actually go introduce myself, but I was thinking the whole time, "This is so awesome." The next time I went to her class, I introduced myself and I am so glad I did! I kept going to Alex's class and riding on bike 28 (my comfort zone) and she was always there smiling and motivating me throughout class. I even got shoutouts during class, which always puts a smile on my face.
After a month of staying in my comfort zone, Alex suggested riding in the front row. As soon as she said that I got so nervous and didn't believe that I could do it. But instead of thinking about it, I took her up on the challenge. The next Monday I was on Bike 5 in GTWN. Front and center. Now that's all I ride, thanks to Alex. (If you haven't already gone to her class DC, you better go!)
I am SOUL thankful that my friends suggested that we try SoulCycle. I can't imagine my life without SoulCycle and my new "tribe." I am also so incredibly thankful for all of the instructors who have coached me throughout class. I can tell that I've gotten closer to getting back into my athlete body. I truly feel like a different person after reflecting on the past year. I am looking forward to 2016 and can't wait to see what it has in store for me at SoulCycle.
Have a Soul Story to share? Email blog@soul-cycle.com! Want to ride? Grab a series HERE and book a bike!
MORE FROM SOUL